Ritomo Miyata grabs the lead at the start to win Rd 6 at Sportsland Sugo
2020/10/18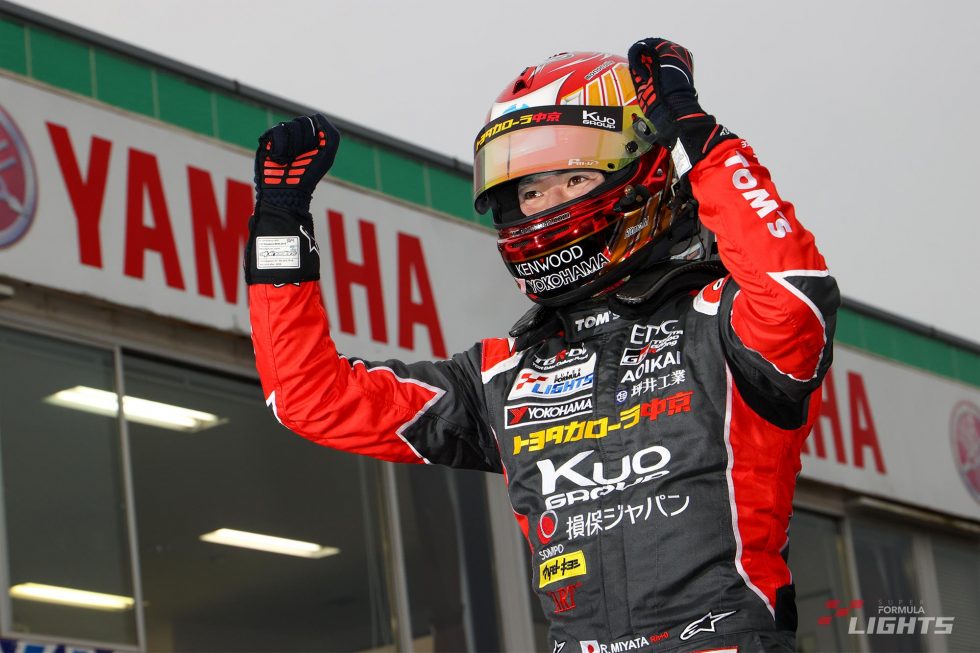 Ritomo Miyata(Corolla Chukyo Kuo TOM'S 320)
Unlike the practice sessions qualifying and Rd 6 race of the Japanese Super Formula Lights championship's third event took place in wet conditions on Saturday at Sugo.
When the qualifying or Rd 6 and 7 races started at 9:35 am in the drizzling rain Ritomo Miyata in Corolla Chukyo Kuo TOM'S F320 quickly picked up the pace, posting 1m30.921 and1m28.469 in trying to stretch his perfect streak of taking pole position of the season while Sena Sakaguchi (in Buzz Racing with B-MAX) surpassed Miyata on his fifth lap with 1m27.394 and reduced it to 1m26.848 a lap later.
Both Miyata and Sakaguchi pitted as the rain got heavier, and went out for the closing stages, but weren't able to improve their times. So, the 1m26.848 topped the times for Rd 6 race, with which Sakaguchi secured his first ever pole position and ended Miyata's streak.
Kazuto Kotaka (in Corolla Chukyo Kuo TOM'S F320) qualified third behind his team-mate after catching up in his last laps.
Teppei Natori (in TODA FIGHTEX) was fourth on the road, but was dropped down to nineth after an engine change, which promoted Shunsuke Kohno (in RS FINE K&N F320) to fourth on the grid.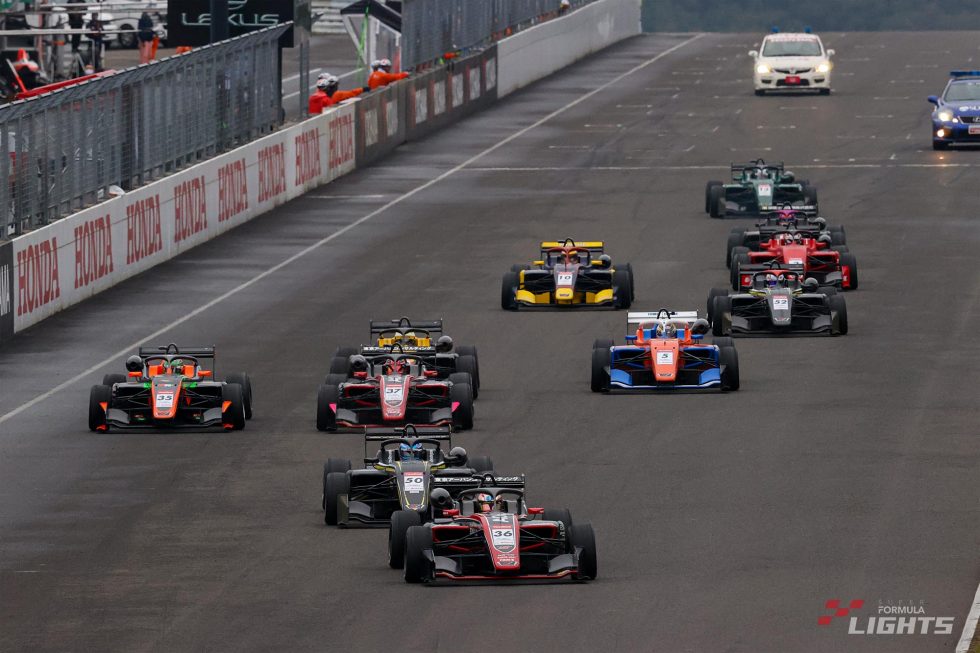 Start of Round.6
■Wet start decides the race
The rain had already stopped during the Super Formula's practice sessions before the Rd 6 started at 3:20 pm for 26 laps in the rapidly drying conditions with an almost dried record line and just the odd numbered grids still a bit wet.
The pole-sitter Sakaguchi was not as strong in acceleration as the other front row starter at the start following the formation lap to lose his lead to Miyata.
Kohno attempted to dive down the inside of Kotaka, only for the TOM'S to robustly defend his position through the first three bends to maintain the third spot.
Miyata proceeded to extend his lead on the opening lap, leaving Sakaguchi, Kotaka and Kohno behind.
Behind the leading pack DRAGON (TEAM DRAGON SFL) got a good start to go into a scuffle with Tsubasa Iriyama (in Albirex-RT), but allowed his rival to pass for fifth on lap five.
Miyata continued to extend his lead as if to recover the setback in the wet qualifying, which would become 3.842 secs on lap three and 5.260 secs on lap five.
Despite on a stable pace Sakaguchi in second was struggling to build a healthy buffer over Kotaka and Kohno.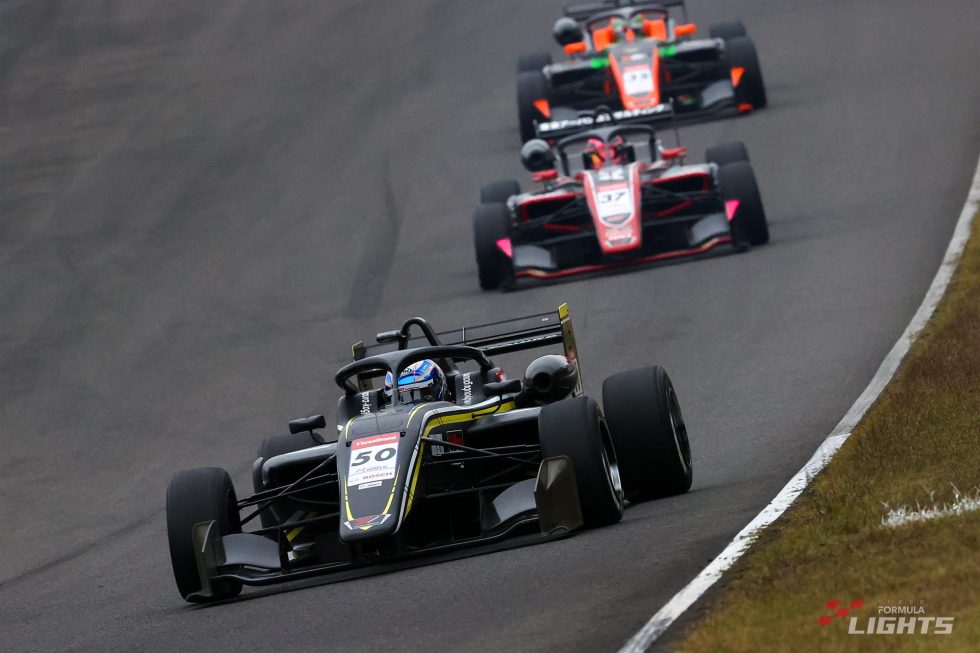 Sena Sakaguchi(Buzz Racing with B-MAX)
■Miyata holds for his fifth win of the season
Miyata posted 1m12.571 on lap 12 after constantly running at under 13 secs on every lap. Sakaguchi also bettered his times to under 13.5 secs in the closing stages, gradually shaking off Kotaka and Kohno.
Getting around lapped cars with a composed drive Miyata took his fifth win of the season. Sakaguchi and Kotaka secured the podium in second and third respectively.
DRAGON finished fifth and clinched the master class victory as Iriyama suffered a spin at the first SP Turn on lap 10. This brought the B-Max driver his long-coveted points finish.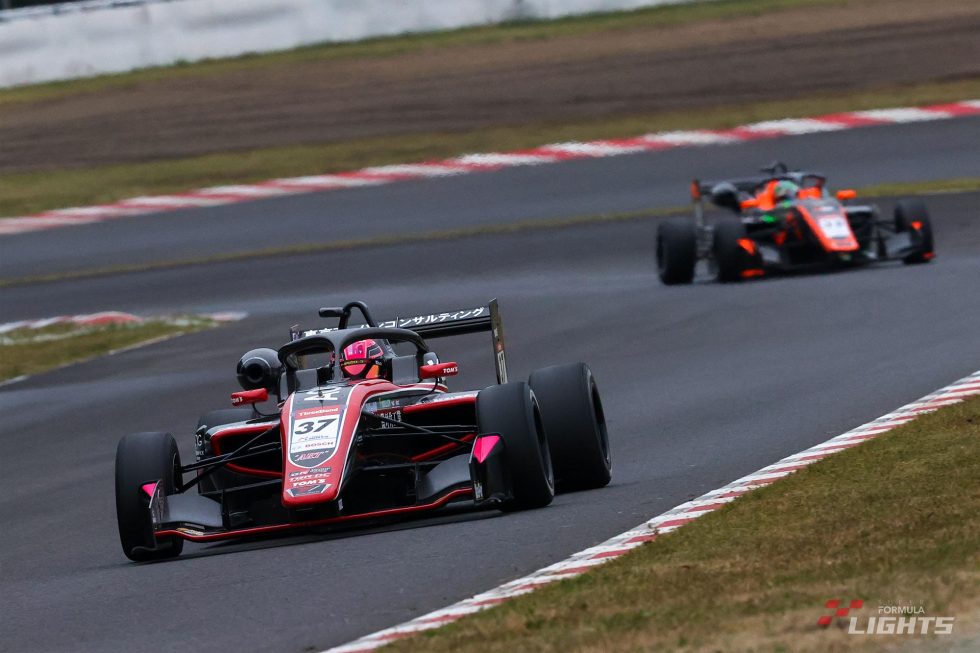 Kazuto Kotaka(Corolla Chukyo Kuo TOM'S 320)