Natori beats Alesi to his 5th win in a turbulent Autopolis race
2021/06/20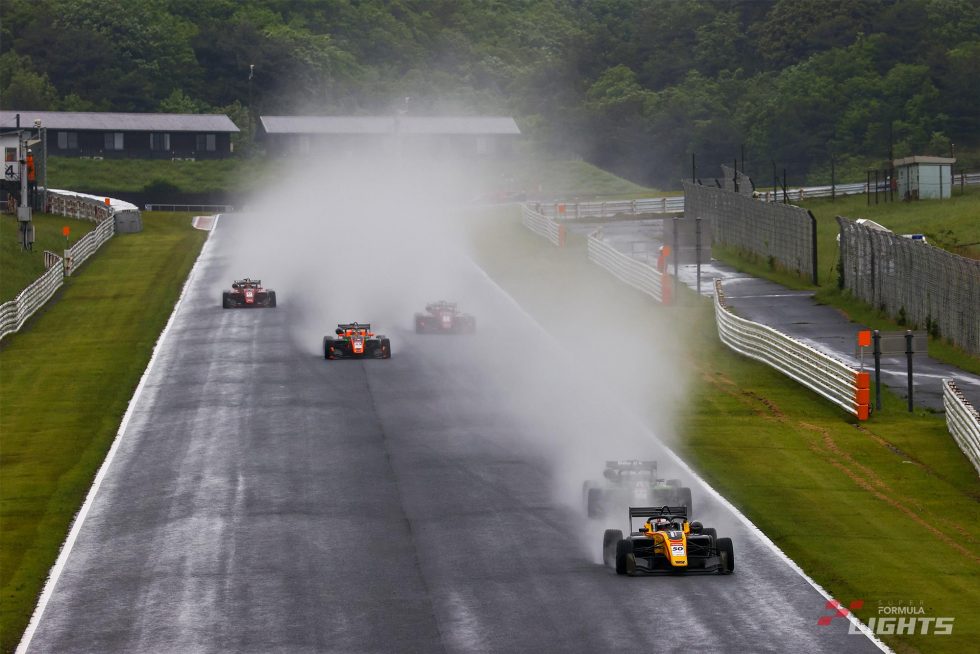 Restart of Round.8
Hita City in Oita Prefecture was shrouded by heavy fog early in the Sunday morning, and the Judging Committee of Buzz presents Japanese Super Formula Lights championship Autopolis event decided at 7:40 am to delay the Rd 8 race that was scheduled to take place from 8:25 am for 30 minutes.
After the delay was extended again and again with the fog still remaining, despite being occasionally cleared by the wind, the entrants finally had a meeting and decided at 10:10 am to reschedule Rd 8 race for 0:25 pm and cancel Rd 9 race that was scheduled to start at 0:30 pm.
Pole position for Rd 8 was given to Ren Sato in TODA FIGHTEX. Second position was taken by Teppei Natori (Byoubugaura B-Max Racing 320) with the second row secured by Atsushi Miyake (MAX RACING 320), Rd 7 winner and Giuliano Alesi (Deloitte. TOM'S 320).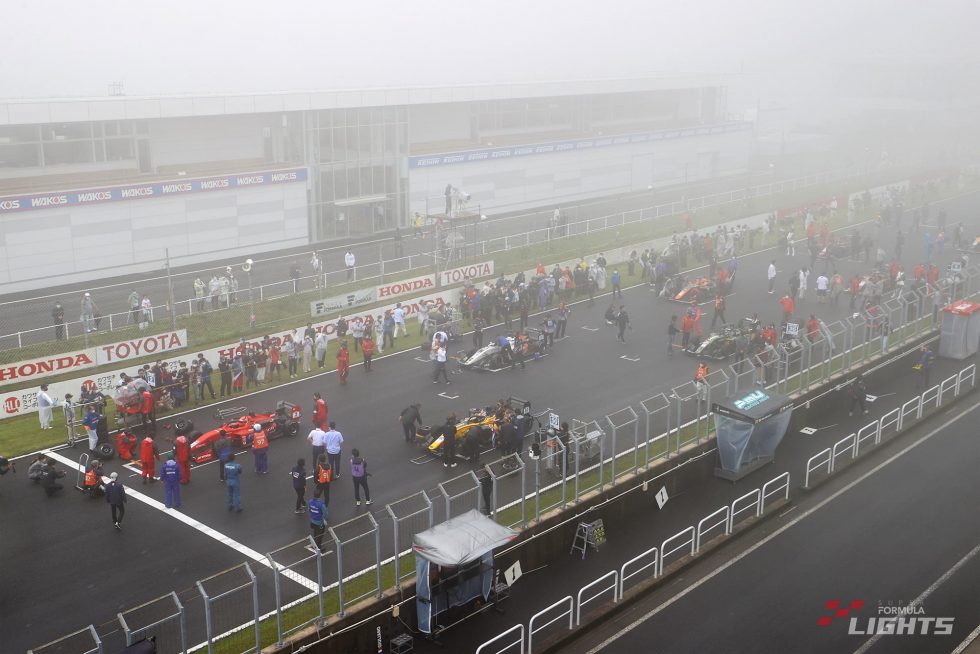 Starting grid
■Rd 8 also starts behind the safety car
The fog that was temporarily cleared around noon, began to roll in again with occasional rain about five minutes before the sighting lap, forcing Rd 8 race as well to start behind the safety car.
Pole-sitter Sato and Miyake in third opted for slick tyres for the track partly covered by fog. However, the weather changed from moment to moment, and Miyake eventually came in for wets on lap three when it began to rain.
On lap four the rain turned to downpour. It soon stopped but the tricky track conditions continued with visibility changing every lap in some sectors until lap nine when the race went underway properly as the visibility became clearer.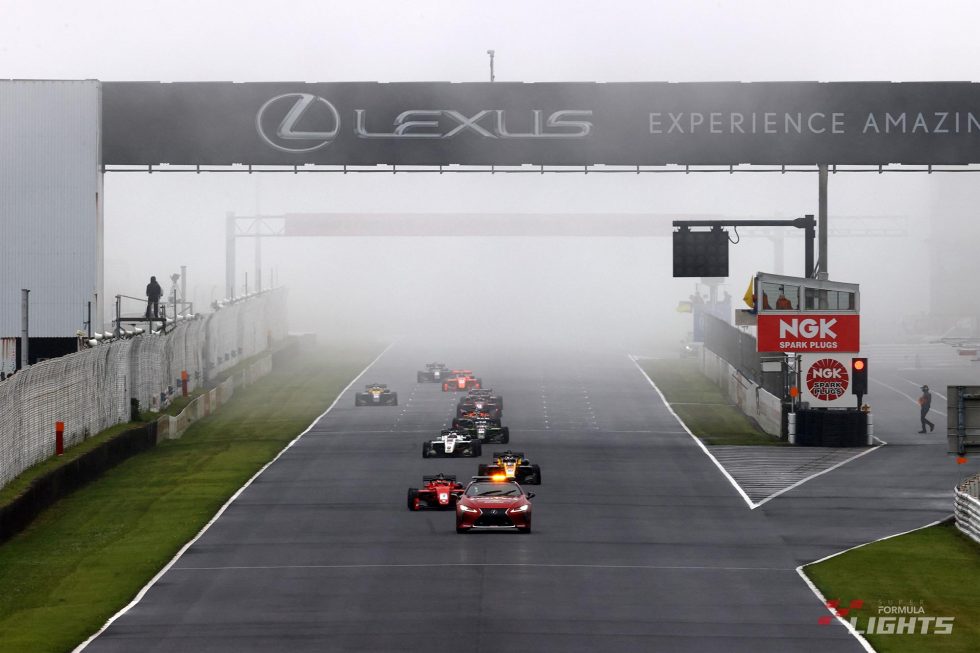 Safety car run
■Duel fought for the last 2 laps
At the restart Natori and Alesi immediately jumped the slick-shod Sato. Alesi swept past Sato and then dived down the inside of Natori, but the B-Max driver firmly defended his inside line to retain the lead.
"I was warming up my tyres every lap, and I guess that worked," related Natori.
Behind the two came Shunsuke Kohno (RS FINE K&N 320), Seita Nonaka (Kuo Corolla Chukyo TOM'S F320) and Hibiki Taira (Kuo Corolla Chukyo TOM'S F320).
With not much time left for the 30-minute limit the lead two went into the final lap nose-to-tail on lap 10. While Alesi never stopped aiming his car down the inside of his adversary, Natori held on for his fifth win of the season in the turbulent race.
Kohno fended off a late-charging Taira by 0.270 secs at the flag to claim the last podium position. Nonaka was passed by Taira to settle for fifth.
Having started from the back of the field after tyre change Miyake clambered his way up to sixth place.
SYUJI (B-MAX ENGINEERING 320) finished nineth to take his maiden master class win as Nobuhiro Imada (JMS RACING with B-MAX) suffered a spin on slicks.