Togo Suganami successfully manages his pace and tyres for an incredible first career win as persistent rain causes chaos
2023/07/02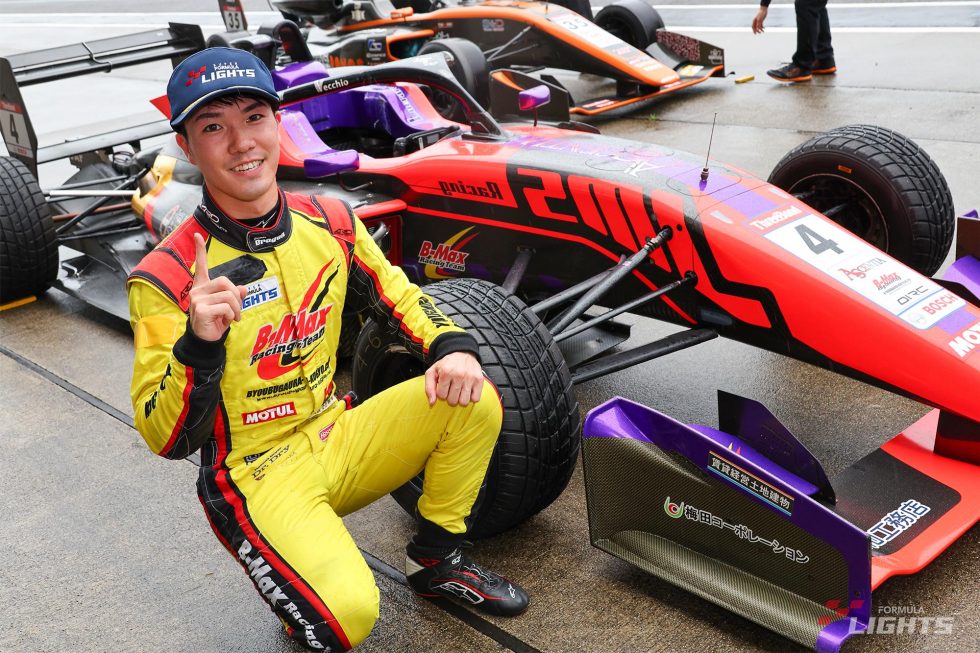 Togo Suganami(JMS RACING with B-MAX)
On the third day of the Japanese Super Formula Lights' third event qualifying for Rd 7 and Rd 8 and Rd 7 race were contested at Suzuka Circuit in Mie.
Contrary to no let-up in the forecast throughout the day the qualifying got underway at 0:45 pm in generally dry conditions with a few wet patches due to light rain, and every car opted for slick tyres, and set out on attacks on its third lap.
Maintaining his strong pace that brought him two wins in the last Sugo event Hibiki Taira (in Mobility Chukyo TOM'S 320 TGR-DC) quickly broke 1m54 with a time of 1m53.854. Shun Koide (HFDP WITH TODA RACING) was second with 1m54.152.
Iori Kimura (HFDP WITH B-MAX RACING) briefly placed third after posting 1m54.207 on his fourth lap, but soon be beaten by Seita Nonaka (PONOS Racing TOM'S 320 TGR-DC) who posted 1m54.201 on his fifth lap, and then by Igor Omura Fraga (FANATEC-GRAN TURISMO with B-MAX) who reduced his times to 1m54.184 on his final lap.
As a result, Taira was the only driver to set under 1m54 to take pole position for Rd 7. Koide qualified second, with Omura Fraga, Nonaka, Kimura and David Vidales (B-MAX RACING 320) rounding out the top six.
Start of Round.7
■ To take dry or wet tyres?
All the cars lined up on slicks except Yuui Tsutsumi (Rn-sports F320) in 10th, DRAGON (TEAM DRAGON B-MAX 320) in 11th and Takashi Hata (A-NeKT with B-MAX 320) in 12th on a slightly wet grid with drizzle, and the formation lap began 20 minutes late at 4:40 pm.
Nonaka made one place with a strong start and turned into the first curve in third behind Taira and Koide.
Right behind them Omura Fraga ran over the kerb at S corner as he went side-by-side with Kimura, hitting his team-mate on the outside and forcing both to spin off the track. Kimura returned to the track after a significant delay. Omura Fraga also managed to return to the pit but went back to the pits and into retirement. This safety car was immediately deployed.
Just before that Nonaka had made another place to move up to second behind Taira, and far behind them Tsutsumi had took full advantage of his wet tyres through spray in the persistent rain as he rocketed from 10th to fourth.
This prompted Vidales running in fifth and Togo Suganami (JMS RACING WITH B-MAX) in eighth to switch to wet tyres. Kimura also came in for wets, recovering from being a lap down.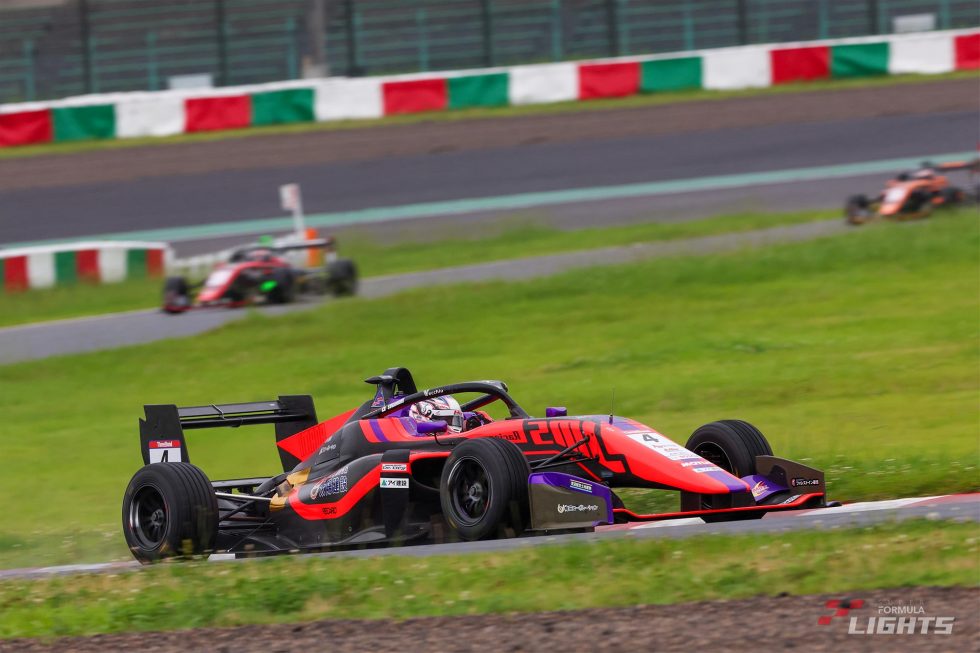 菅波冬悟(JMS RACING with B-MAX)
■ Wet-tyre shod cars take lead by turns
As the race properly restarted on lap four Tsutsumi passed Koide at the first corner and then overtook Nonaka at the hairpin. He looked on track for his first victory when he snatched lead from Taira on lap five.
However, he suddenly slowed down on lap six, seeing Vidales and Suganami quickly closing in.
On lap seven Tsutsumi was passed by Vidales and then Suganami, and allowed even some on slicks to get ahead as his pace further dropped off.
Vidales' lead did not last long, either. A close pursuer Suganami got past him at the first corner on lap nine, and on lap 10 he also suddenly slowed down, allowing Taira and Nonaka to ease past him.
As Taira finally posted a faster lap time than Suganami on lap 10 despite the rain he looked to proceed to give rapid chase to the race leader, only to see the adversary setting about opening up his advantage on the wets that he had carefully looking after in the early stages, and finding himself being rapidly chased by Nonaka in three, instead.
Keeping his solid lead Suganami beat Taira by 5.888 secs at the flag, an incredible maiden SFL victory for the stand-in. Nonaka and Koide placed third and fourth respectively. Enzo Trulli (Mobility Chukyo TOM'S 320) finished fifth ahead of Vidales.
The only master class driver Hata soundly secured a class win after taking chequered flag in eighth.