Last lap overtake brings Kazuto Kotaka his third win
2022/04/26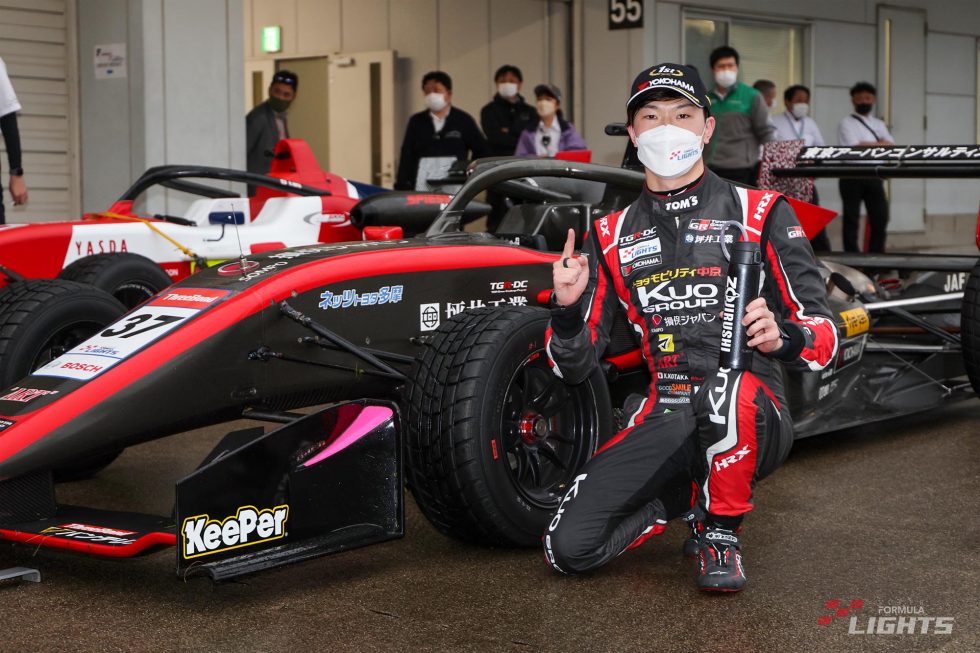 Kazuto Kotaka(Kuo MOBILITY CHUKYO TOM'S 320)
The final race of 2022 Japanese Super Formula Lights championship's second event got underway at 4:30pm at Suzuka.
Kazuto Kotaka in Kuo MOBILITY CHUKYO TOM'S 320 claimed pole position as the grid of Rd 6 was determined by the finishing order of Rd 4.
Another front row sitter was Kakunoshin Ohta (HFDP WITH TODA RACING). The second row was shared by Seita Nonaka (PONOS Racing TOM'S 320) and Yuga Furutani (Deloitte. HTP TOM'S 320).
The rain that had begun to ease during the Super Formula race and almost let up in the lead up to Rd 6, a bit intensified when the formation lap was started.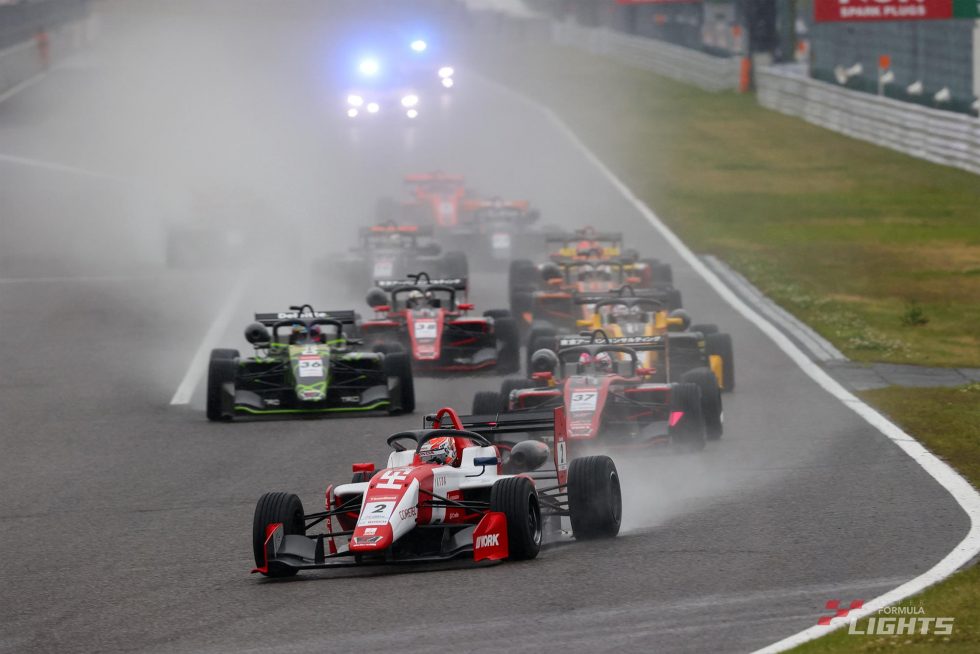 Start of Round.6
■Ohta snatches the lead to build a gap
Rd 5 winner Ohta got away best from the second on the grid to snatch the lead from Kotaka who got wheelspin.
A tardy start dropped Nonaka to sixth behind Hibiki Taira (Kuo MOBILITY CHUKYO TOM'S 320).
Togo Suganami (Byoubugaura B-MAX Racing 320) made up some positions from seventh on the grid to fourth.
Elsewhere, Seiya Motojima (Rn-sports 320), in third race of the series, mounted a challenge on Iori Kimura (HFDP WITH B-MAX RACING) in trying to gain as many positions as possible in the last race of this weekend.
At the front, Ohta had built up an early lead of more than three seconds, but Kotaka posted a fastest lap of 2m12.971 on lap seven and then reduced the gap to 1.505 secs on lap eight and to 0.982 secs on lap nine.
With the pace of the leading pack beginning to increase as it spread out on lap five Furutani running third turned in a new fastest lap of 2m12.762 on lap 10, which would in turn be reduced by Taira in fifth on lap 12.
Contrary to most of the drivers' expectations the rain showed no sign of stopping in the early laps, and when it finally began to ease Ohta was struggling on his waning rain tyres, with his over a second advantage at one stage being whittled away.
On lap 14 the race leader was closed in by Kotaka once again, and subsequently caught up by Furutani as well, which made the final laps quite thrilling.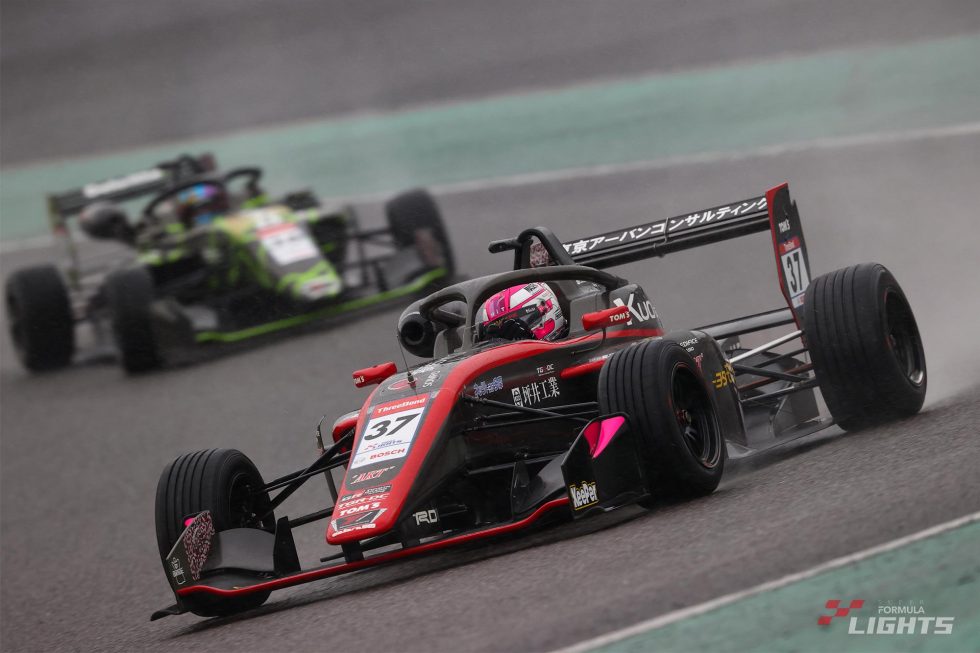 Kazuto Kotaka(Kuo MOBILITY CHUKYO TOM'S 320)
■Kotaka snatches back the lead on final lap
Having closely tailed Ohta for several laps just waiting for any opportunity to overtake Kotaka challenged his rival with some daring moves on the run from the reverse bank corner to Dunlop on the final lap, and despite Ohta's hard defense Kotaka reclaimed the lead on the straight towards Degner. It was the moment when the leaders swapped positions.
Kotaka immediately pulled away to cross the line for his third win of the season. Furutani secured third for the second race in a row.
Fourth and fifth went to Suganami and Taira respectively. Nonaka completed the points in sixth.
Kimura narrowly missed out on a point finish after finishing seventh but picked up a bonus point for setting the fastest lap of the race with 2m12.161 on lap 16.
Having come into Rd 6 triumphantly just after his own team's victory in the Super Formula Rd 3 DRAGON (TEAM DRAGON B-MAX 320) grabbed the master class lead from Nobuhiro Imada (JMS RACING with B-MAX) on the opening lap and extended it to a sizeable 14.643 secs at the chequered flag.