Ritomo Miyata wins Rd 14 to seal 2020 drivers' title
2020/12/07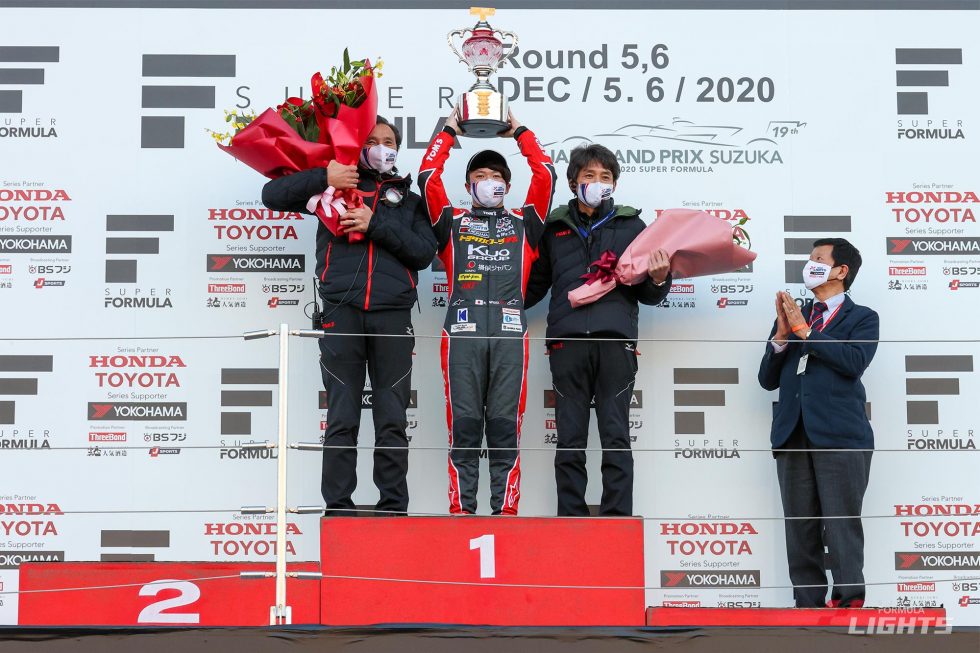 Series podium of 2020 Champions.
Rd 14 of the Japanese Super Formula Lights championship kicked off for 17 laps, the longest distance of the Suzuka weekend, at 3:10 pm to wrap up the Sunday's bill after SFL's own Rd 13, SF's qualifying and TCR Japan Series' and SF's races.
According to the results of Rd 12 race Ritomo Miyata in Corolla Chukyo Kuo TOM'S F320 secured pole position with Shunsuke Kohno (in RS FINE K&N F320) in second, Kazuto Kotaka (in Corolla Chukyo Kuo TOM'S F320) in third and Yoshiaki Katayama (in B-MAX RACING with OIRC) in fourth.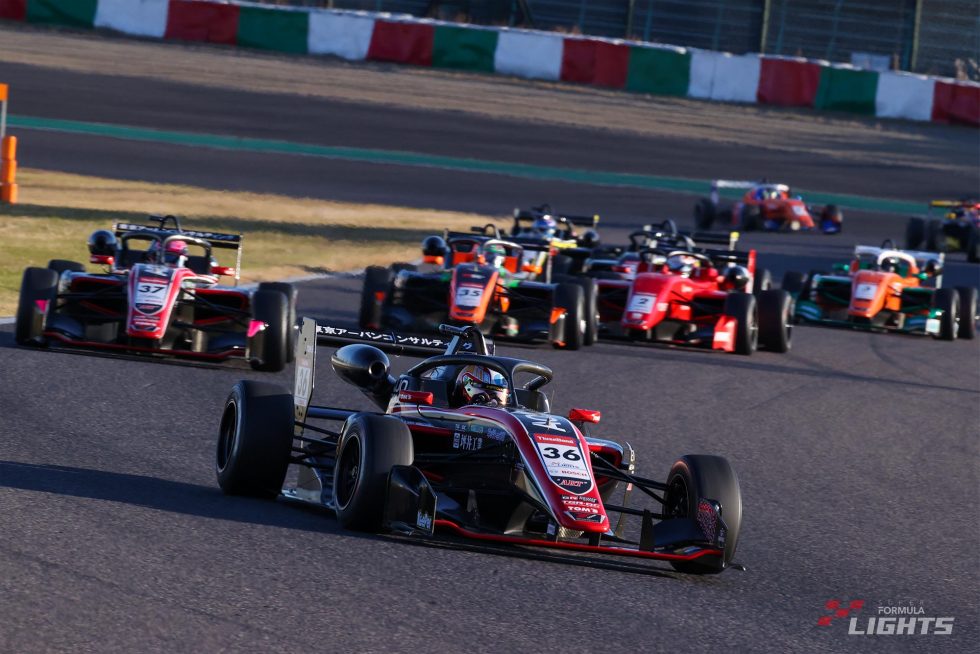 Start of Round 14
■Close midfield 5 scrap led by Kohno heats up
Miyata took a holeshot, and Kotaka made a strong start once again to breeze past Kohno into Turn one.
Putting on fresh set of tyres saved for this five laps longer round as many others did Teppei Natori (in TODA FIGHTEX) made one place to fourth, going into a midfield scrap with Kohno in front, Katayama, Lucca Allen (in Albirex-RT) and Sena Sakaguchi (in Buzz Racing with B-MAX).
With Sakaguchi consistently making his way up the order by passing Katayama on lap two and Allen on lap three, having started from eighth after being hit with a penalty in Rd 12, Tsubasa Iriyama (in Albirex-RT) spun into Turn two on lap four and came to a halt in the gravel, which cost him all the recovery from his engine stall at the start.
The resulting safety car to clear the car bunched up the race leaders.
As soon as the race restarted on lap six with Miyata still leading Kotaka, Sakaguchi put his car right behind Natori in fourth to overtake the TODA driver on the straight a lap later, and then got past Kohno into the Hitachi Automotive Systems chicane on lap eight before challenging Kotaka in second.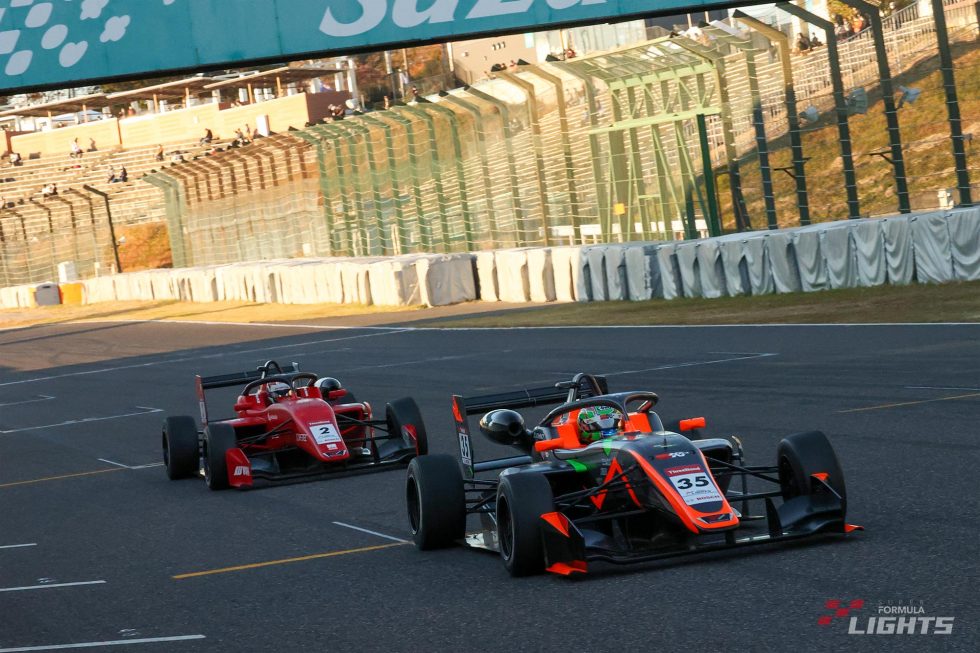 Shunsuke Kohno(RS FINE K&N 320)
■Runner-up contention fought between Kotaka and Sakaguchi
Setting the fastest lap of 1m51.475 on lap seven brought Miyata even closer to the championship title.
After spending a lot of time in patience Sakaguchi finally dived up the inside of the Hitachi Automotive Systems chicane on the penultimate lap to get ahead, and despite struggling to get up to speed at the exit, which allowed Kotaka to catch up on the straight on the final lap and go side-by-side through the first turns, the B-MAX driver eventually fended off his rival at the S-shape turn to secure the second position.
Miyata ended up with a comfortable 6.255 secs lead over Sakaguchi and sealed the drivers' title with his 10th victory of the year, bringing Corolla Chukyo Kuo TOM'S teams' and TOM'S Inc. engine tuners' titles.
The second placed Sakaguchi sent his congratulations to Miyata and Team TOM'S.
The close battle between Kohno and Natori that had already begun in the early stages came down to the very final lap, with Kohno holding on for fourth.
Allen placed sixth behind Natori, his fourth points finish of the season.
DRAGON (in TEAM DRAGON SFL) proved himself the 2020 master class champion with his 12th victory of the season. Masayuki Ueda (in Rnsports320) finished second ahead of Nobuhiro Imada (in JMS RACING with B-MAX).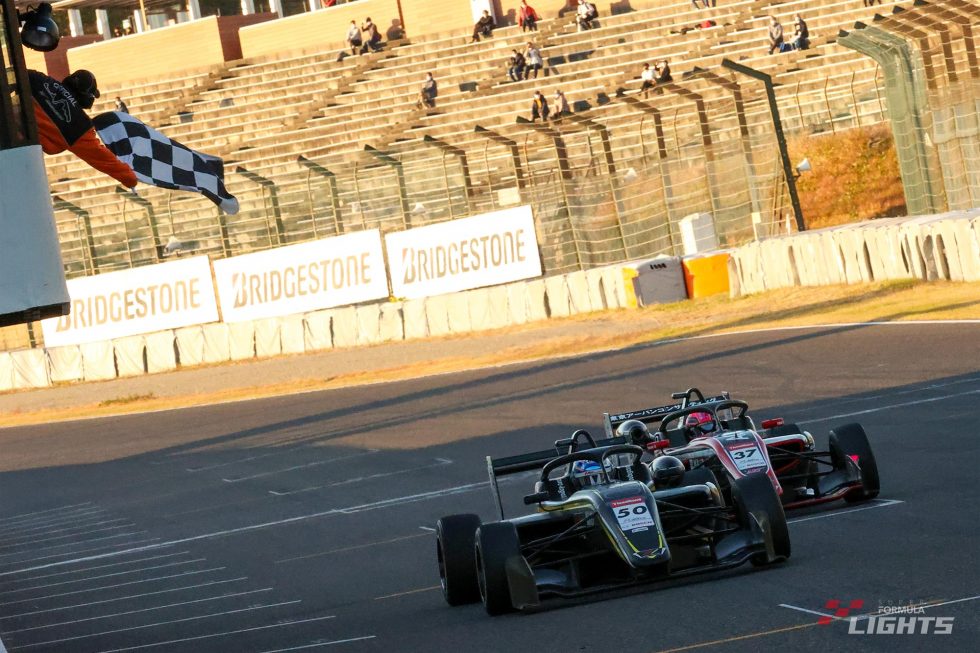 Battle of Sakaguchi and Kotaka