Ritomo Miyata leads away from pole position to claim his 7th win of the season
2020/11/15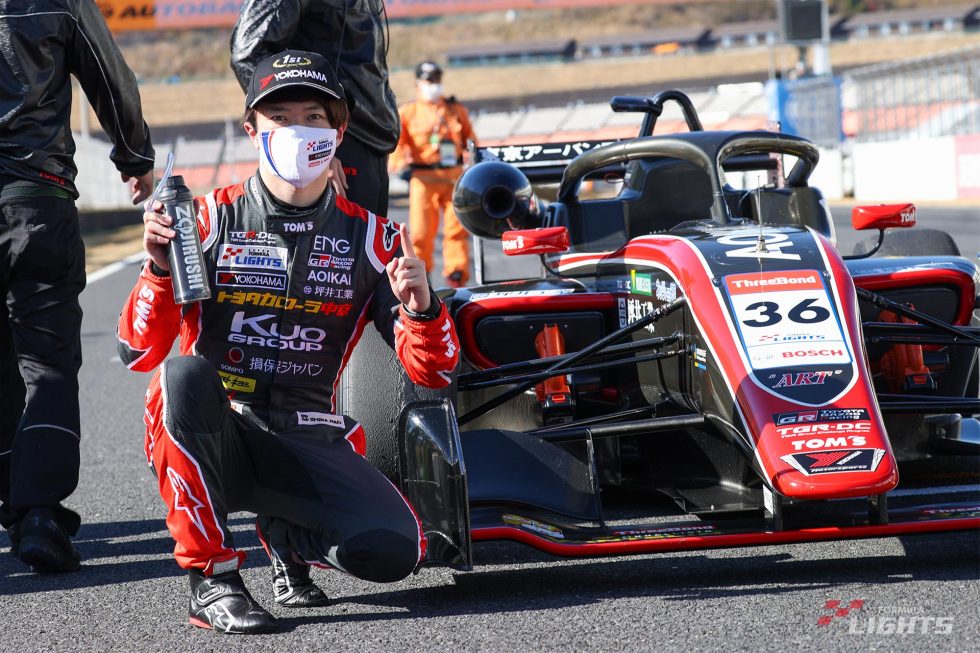 Ritomo Miyata(Corolla Chukyo Kuo TOM'S 320)
After the 2-day practice sessions the qualifying for Super Formula Lights' Rd 8 and Rd 9 was held on Saturday at Autopolis under a blue sky.
With each car warming up its tyres in the bright morning sunshine Ritomo Miyata in Corolla Chukyo Kuo TOM'S F320 posted a quick time of 1m36.548. Kazuto Kotaka (in Corolla Chukyo Kuo TOM'S F320) followed his team-mate, but the duo would soon be beaten by a delayed starting Sena Sakaguchi (in Buzz Racing with B-MAX).
In each driver's second attack after pitting it was Teppei Natori (in TODA FIGHTEX) who proved to be in good shape this weekend by drastically reducing his times to 1m36.049.
With 3 minutes and 5 seconds to go before the chequered flag the qualifying was red flagged when Lucca Allen (in Albirex-RT) stopped over the gravel at Turn 16.
In the very limited time left after the restart of the session Miyata set 1m35.493 on a fresh set of tyres to take pole position for Rd 9. Second went to Sakaguchi, who did not opt for fresh tyres. Natori came third.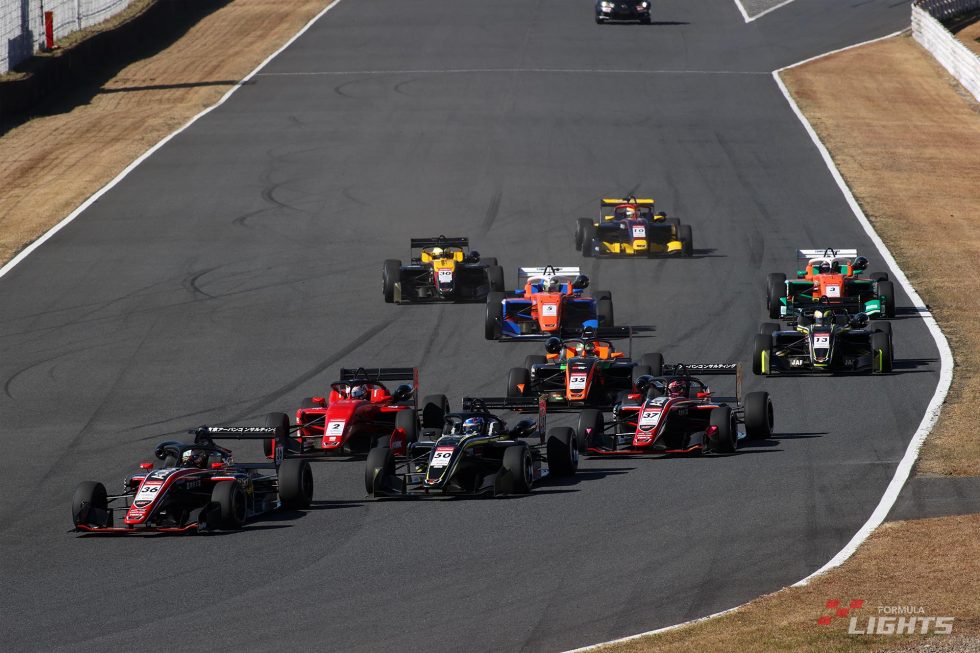 Start of Round 9
■Kotaka suffers a failure while running 4th
Miyata got the holeshot as the lights went out at 0:45 pm in warm conditions for November. Despite struggling to get up to speed Sakaguchi entered the first corner in second ahead of Natori and Kotaka.
On his debut race in Super Formula Lights Mizuki Ishizaka put his B-MAX ENGINEERING right behind Shunsuke Kohno (in RS FINE K&N F320) in fifth.
Albirex duo of Tsubasa Iriyama (in Albirex-RT) and Super Formula Lights rookie Allen played nose-to-tail fights in the early laps.
Once posting 1m37.683 on lap two Miyata proceeded to multiply his lead over Sakaguchi, two-seconds gap at the end of lap five extending to more than four seconds at the end of lap 10. As the race was approaching the halfway point the pack of race leaders would gradually spread out with no drams.
However, Kotaka running fourth suddenly dropped off the pace and run out of power at Turn 12, pulling over on the grass just before the uphill Sector three. This promoted Kohno and Ishizaka to fourth and fifth respectively, and then drew attention to which would score the last point, Iriyama or Allen.
On lap 17 Allen finally overtook Iriyama for sixth spot.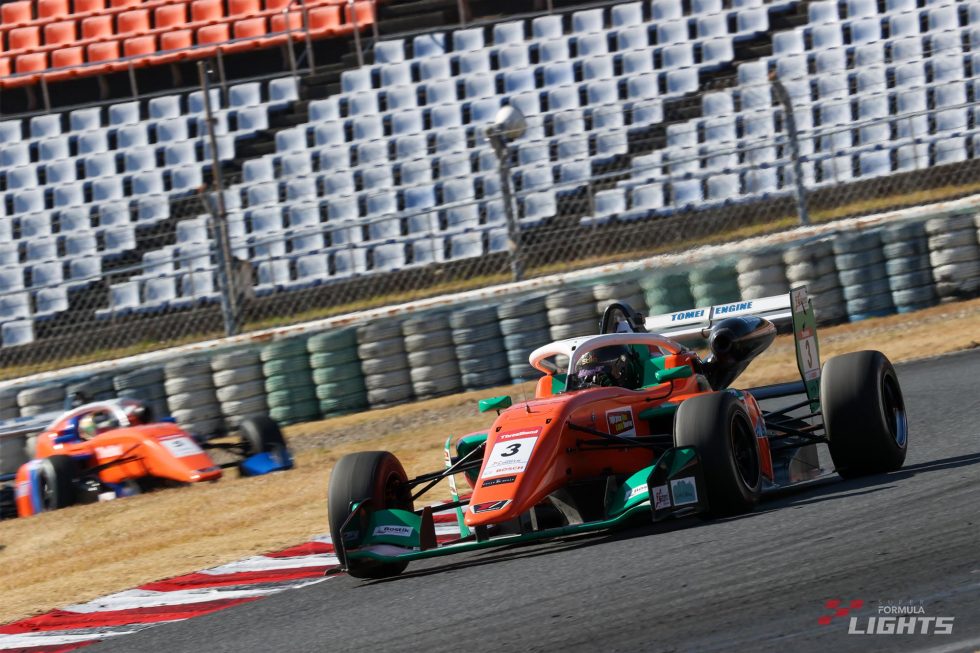 Lucca Allen(Albirex-RT)
■DRAGON grabs master class win
Keeping all his closing laps at 1m38 secs level Miyata completed 21 laps to win his seventh victory of the season. Sakaguchi was second and Natori third.
The battle between Kohno and Ishizaka over fourth place went into the final lap, but Kohno shook the close chaser off to finish fourth. Ishizaka placed fifth, an impressive result for the rookie driver.
Having constantly picked up pace over the weekend Allen took the final point in sixth.
In the master class DRAGON (in TEAM DRAGON SFL) led Masayuki Ueda (in Rnsports320) from the start, and despite a Friday's crash and a trouble in the qualifying, he grabbed his seventh class win of the season with fifth straight victory.
Ueda ran wide at Turn 12 on lap 18, hitting the barrier on the outside into retirement.