Shun Koide clinches his first SFL victory in a chaotic race where top three are penalised
2023/07/17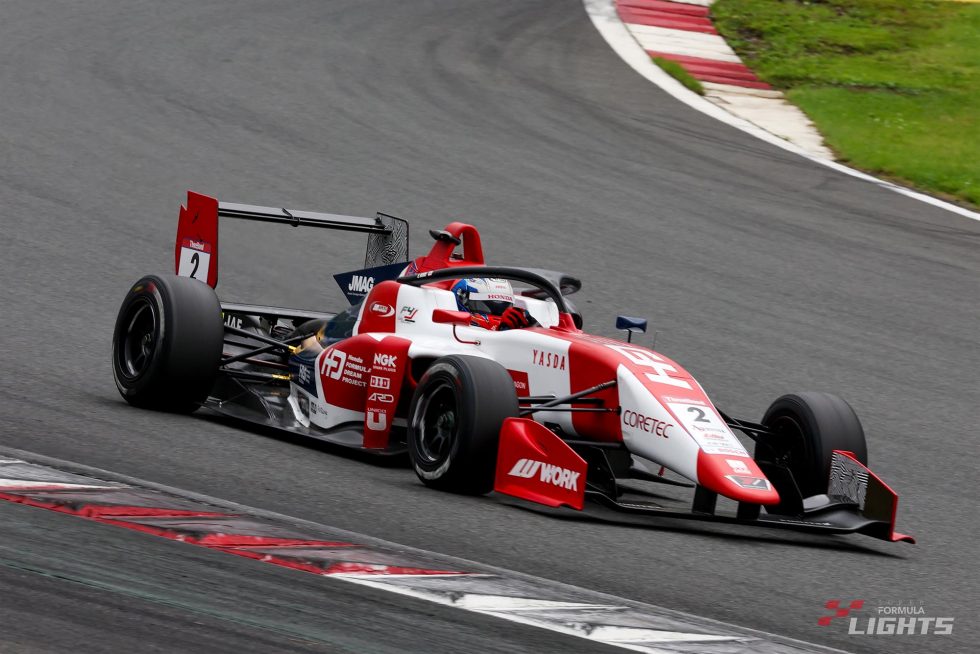 Shun Koide(HFDP WITH TODA RACING)
The day after the Enzo Trulli's lights-to-flag victory in Rd 10 the Super Formula Lights' Rd 11 and 12 took place at Fuji Speedway on Sunday.
Learning from their sluggish performances in the previous qualifying the championship leader Hibiki Taira in Mobility Chukyo TOM'S 320 TGR-DC and the second-placed Iori Kimura (HFDP WITH B-MAX RACING) had took pole position for the Sunday's Rd 11 with 1m34.103 and secured another front row position with 1m34.159 respectively.
Shun Koide (HFDP WITH TODA RACING) had qualified third ahead of Yuui Tsutsumi (Rn-sports F320) – who had finished second in Rd 10. Trulli (Mobility Chukyo TOM'S 320) would start from fifth on the grid.
The master class driver Nobuhiro Imada (JMS RACING with B-MAX) had placed 11th, but had been handed five-place grid penalty for engine change.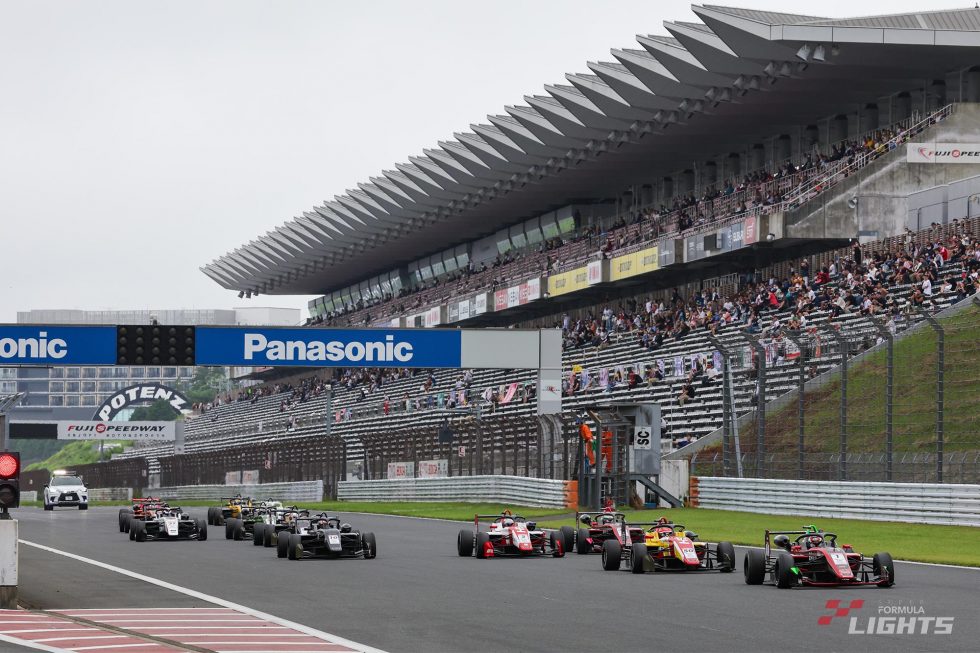 Start of Round.11
■Different duels unfold in early laps
As Rd 11 got underway at 8:20 am under cloudy skies Taira and Kimura each got a good start from the front row, fighting a fierce battle on the run from TGR towards Coca-Cola with the TOM'S driver holding on to the top.
After a good start Trulli prevailed in a three-wide with Tsutsumi and Koide to move up to third.
Tsutsumi lost several places early on as he struggled to get up to speed, allowing Koide to get ahead at Dunlop for fourth spot and losing out to David Vidales (B-MAX RACING 320) and Yuga Furutani (Deloitte, HTP TOM'S 320) as well on lap two.
By the end of lap two the order changes had died down, and on lap three different duels began to unfold throughout the field, with Taira and Kimura fighting over the lead, Trulli and Koide over third and Vidales and Furutani over fifth.
This situation continued until lap seven when Vidales and Furutani had a contact under braking for TGR, forcing the TOM's driver to come to a halt at the exit of the corner due to damage on his LH side front arm.
The lead scrap suddenly became tense on lap nine as Kimura closed in on Taira, and the field would see a thrilling battle fought that seemed to symbolise the 2023 Super Formula Lights season.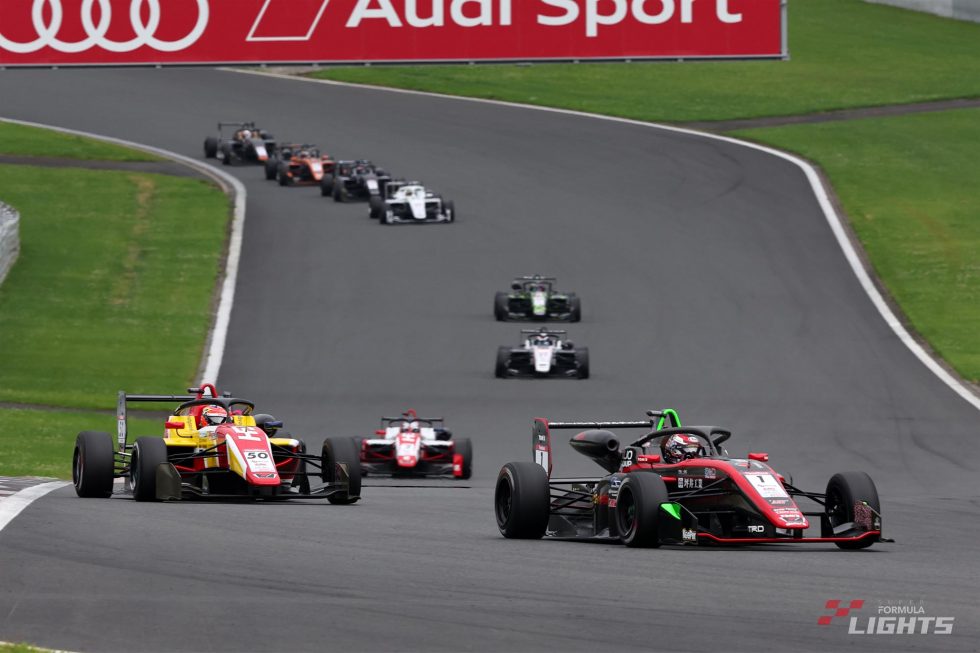 Hibiki Taira(Mobility Chukyo TOM'S 320 TGR-DC)
■Thrilling lead scrap won by Kimura
Kimura finally dived down the inside of Taira at TGR on lap 10, but Taira refused to back down, the two going side-by-side down the Advan Corner.
The lead scrap became so heated that Taira went off the track at the exit of Advan, causing a black-and-white flag to be shown to warn the two against their driving manners.
On a lap later Taira now attacked down the inside of TGR, only to be rebuffed by Kimura.
The lead fight continued until the last lap when Taira made another move to pass down the inside of the final turn, but Kimura held on to cross the line 0.415 secs ahead of Taira and raise his arm triumphantly. The result marked his fifth win of the season.
Despite on used tires Trulli firmly defended Koide to take the final podium place.
Igor Omura Fraga (FANATEC-GRAN TURISMO with B-MAX) passed Tsutsumi to finish sixth behind Vidales.
■Top three finishes hit post-race penalties
However, unexpected twists came after the race. The Okayama event organiser announced in its No. 24 official notice issued at 10:35 am that Trulli was excluded after his #37 car was found in a post-race scrutiny to be less than the minimum weight required.
Moreover, in a provisional results sheet published at 10:55 am Kimura and Taira each were hit with a five-second time penalty for violating Art. 9.3 of the Series regulations (multiple course changes and multiple times of off-the-track running respectively).
Accordingly, Koide – who had finished fourth on the road – was promoted to his first SFL victory.
Vidales was also demoted from fourth on-track to 10th in the final classification after receiving a 30-second time penalty as his contact with Furutani was deemed a violation of Art. 19.4 (dangerous driving). This moved Omura Fraga, Tsutsumi and Seita Nonaka (PONOS Racing TOM'S 320 TGR-DC) up to fourth, fifth and sixth respectively.
Imada came out on top of the master class on the opening lap, and despite a squabble with DRAGON (TEAM DRAGON B-MAX 320) on lap six, held on to make it back-to-back win after placing eighth overall.