Iori Kimura snatches lead at the start and holds on for his maiden SFL win
2022/05/22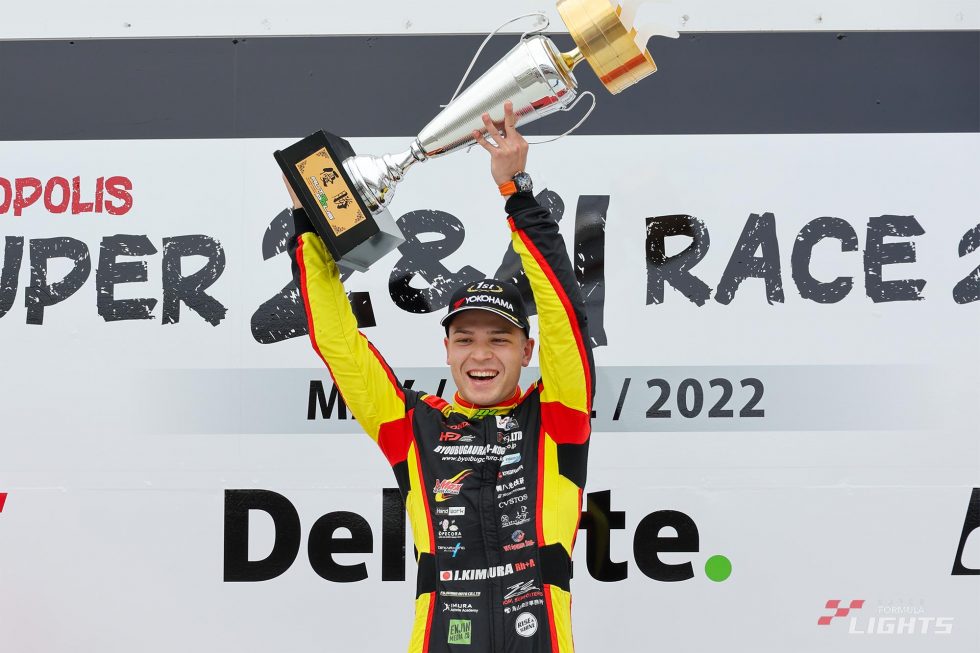 Iori Kimura(HFDP WITH B-MAX RACING)
The qualifying for Rd 7 and Rd 8 of Japanese Super Formula Lights championship started at 4:30pm on Friday at Autopolis under cloudy skies with gradually dropping temperatures, and Kakunoshin Ohta driving HFDP WITH TODA RACING took pole position for Rd 7, after posting 1m36.932 on his first runs and then 1m36.608 on his second runs.

Maintaining his good form from practice sessions Iori Kimura (in HFDP WITH B-MAX RACING) qualified second with 1m.36.647.
Third and fourth spots were taken by Seita Nonaka (PONOS Racing TOM'S 320) and Togo Suganami (Byoubugaura B-MAX Racing 320).
Yuga Furutani (Deloitte. HTP TOM'S 320) placed seventh in the qualifying, but due to five-place grid penalty for an engine change would start Rd 7 from eleventh ahead of Kohta Kawaai (in Rn-sports 320) who had to give up on qualifying after sustaining damage to his monocoque during practice sessions and having it replaced.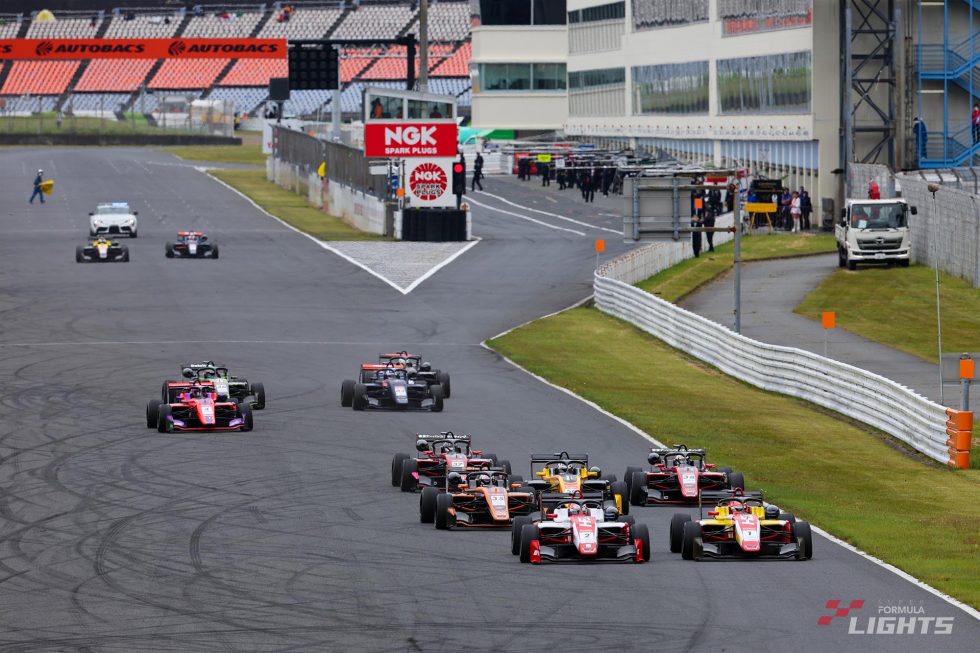 Start of Round.7
■Opening lap sees close top battles fought between Ohta and Kimura
Early on Saturday morning the track was still damp with the rain on the night before, but it dried out during the Japanese Super Formula's practice session, and the SFL machines completed the formation lap, waiting for the moment to start at 11:45 in completely wet conditions.
However, the start was delayed due to a signal failure, and the formation lap began again at 0:50pm.
While Yuya Hiraki (HELM MOTORSPORTS 320) bogged down in P9 at the start both Ohta and Kimura got a clean getaway from the front row, with the B-Max man getting alongside his rival into the first corner and running side-by-side at the subsequent turns.
After almost contacting with each other Ohta allowed Kimura to nose ahead on the run down to Turn four. 'I thought I shouldn't push further,' said the Toda driver after the race.
Hibiki Taira (Kuo MOBILITY CHUKYO TOM'S 320) gained two places off the line for third, but yielded the spot through a fierce tussle with Seita Nonaka (PONOS Racing TOM'S 320).
At the end of the opening lap came Kimura, Ohta, Nonaka, Taira, Suganami and Kazuto Kotaka (Kuo MOBILITY CHUKYO TOM'S 320).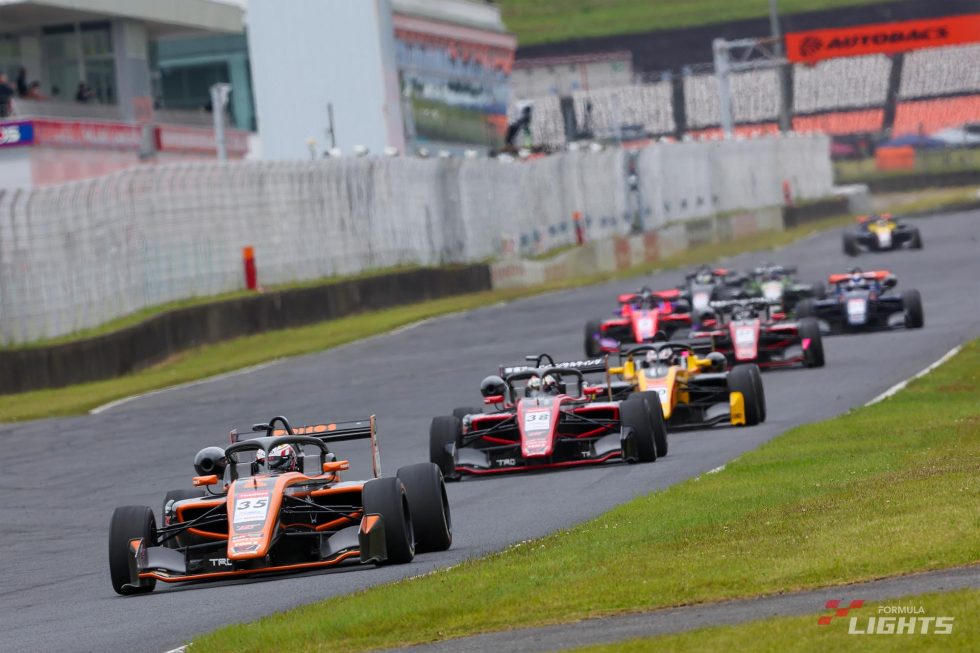 Seita Nonaka(PONOS Racing TOM'S 320)
■Kimura wins the 13-lap race
At the front Kimura proceeded to open up his lead, but Ohta also pushed hard to keep up, leaving Nonaka in third and Taira in fourth behind.
As it started drizzling on lap five, Ohta slightly dropped off the pace due to his degrading rubber, and his slight off the track at the second hairpin saw the gap to the race leader extend from the 1.363 secs recorded at the end of lap five to over two seconds.
Kimura retained his lead all the way for 13 laps, a lap less than originally scheduled, to the chequered flag for his maiden SFL win. He also scored a bonus point for setting the fastest lap.

There were no order changes in the leading pack from the early stages, so Suganami and Kotaka rounded out the points in fifth and sixth respectively.
Nobuhiro Imada (JMS RACING with B-MAX) fought fierce battles with youngsters in the early stages and notched up his third Master class win of the season as DRAGON (TEAM DRAGON B-MAX 320) got a slow start.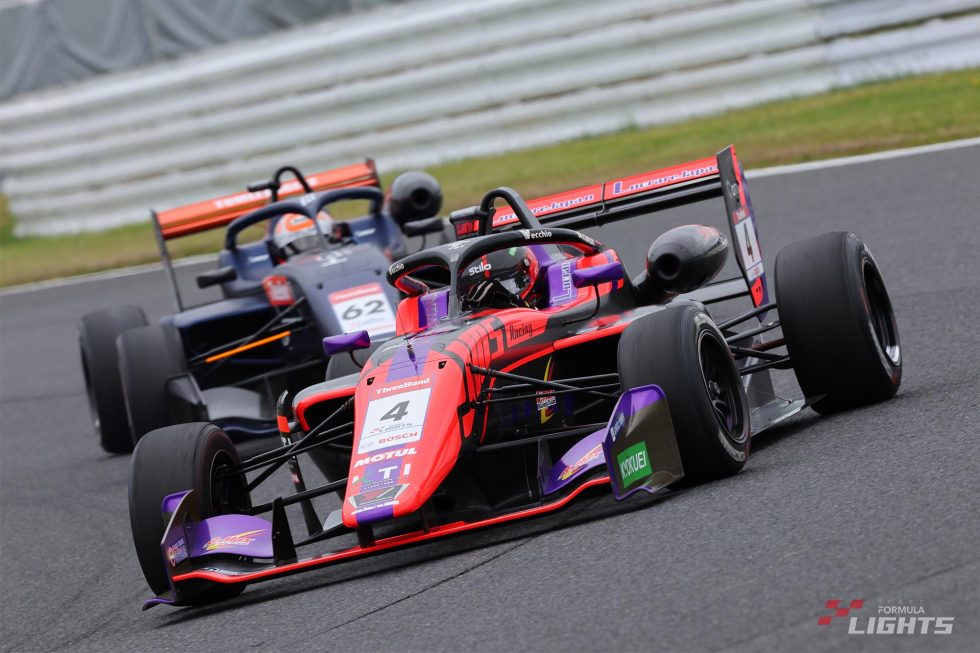 Nobuhiro Imada(JMS RACING with B-MAX)