Ren Sato takes his fifth win in wet, as the title contention comes to an expected outcome.
2021/10/19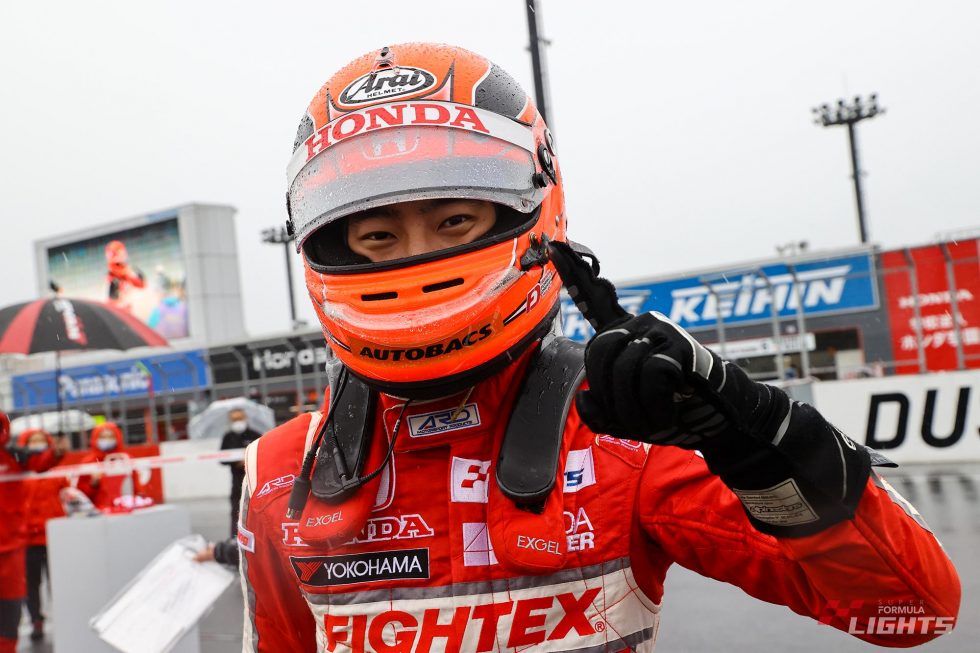 Ren Sato(TODA FIGHTEX)
On the final day of Buzz presents 2021 Japanese Super Formula Lights championship the formation lap of Rd 16 race started at 8:55 am.
In the Saturday's qualifying each driver began their second runs on second sets of fresh tyres with about 10 minutes remaining. Giuliano Alesi in Deloitte. TOM'S 320 significantly improved his times on his second run to take pole position for Rd 16 with his second-best time of 1m42.933.
The championship leader Teppei Natori (Byoubugaura B-Max Racing 320) sat second on the grid ahead of Ren Sato (Toda FIGHTEX), whose title hopes were dashed the day before. Fourth was Kazuto Kotaka (Kuo Corolla Chukyo TOM'S F320), and fifth was Atsushi Miyake (MAX RACING 320), who excels in wet conditions.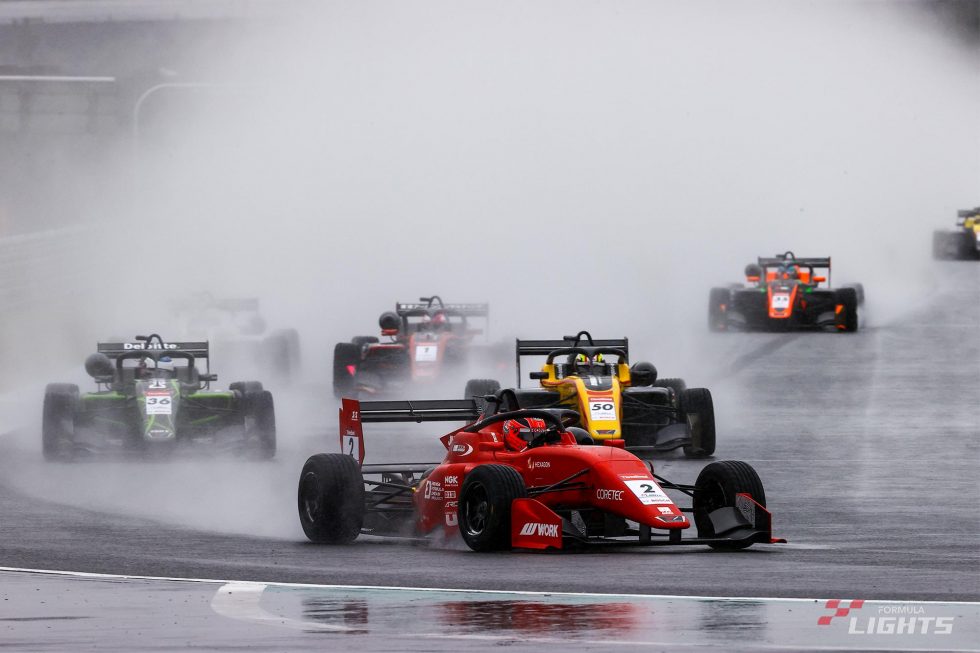 Start of Round.16
■Opening lap sees a drama between title contenders
Formation lap of the 14-lap race began at 8:55 am in completely wet conditions as the rain had been falling since the night before, and a slow starting Alesi allowed a superb starting Sato to pass him through the spray into the first corner at the front, and Natori as well to dive down his inside at Turn three.
The pair touched while going side-by-side, with Natori getting ahead at the exit of Turn four. Alesi, meanwhile, was dropped to the tail of the field and had to limp back to the pits because of his front left tyre puncture.
The drama continued. On lap six Natori now running second ahead of Kotaka was given a drive-thru penalty for the contact, and an orange disc ordering him to repair his damaged front wing appeared on lap eight after he carried out the penalty, forcing him to go back to the pits a lap later.
Having been significantly dropped down the order Alesi and Natori were both left battling for a point for setting the fastest lap of the race.
Up front, Sato pulled out a huge lead over Kotaka. Miyake in P3 struggling for pace was overtaken by Shunsuke Kohno (RS FINE K&N 320) at Turn five on lap three, and then hunted down from Hibiki Taira (Kuo Corolla Chukyo TOM'S F320) around the outside of the hairpin on lap six before allowing Jin Seiya (Byoubugaura B-MAX Racing 320) as well, who had been dropped after going off the track, to pass him on lap 12.
Sato held on to his lead in the heavy rain with a solid run to mark his fifth win of the season. Kohno scored his first podium result since Rd 7 at Autopolis by finishing Kotaka's tail in third position.
Miyake placed sixth behind Taira and Jin.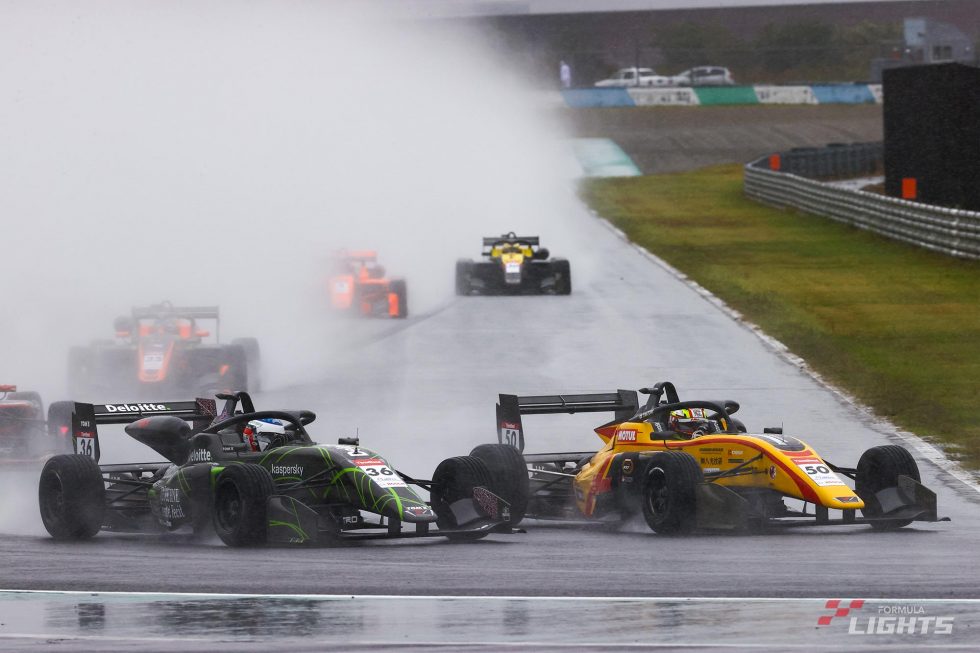 Battle between Natori and Alesi.
■Natori seals 2021 SFL title
The battle for fastest lap of the race was won by Alesi with a time of 1m57.164.
Natori's 10th and Alesi's 12th finishes crowned Natori 2021 SFL champion on a sour note after the contact between the two.
"I was running to win today, rather than to secure the title. I feel very sorry to Giuliano and everyone at TOM'S for the contact", said Natori.
"It was at the middle of the turn where Natori on the inside strongly hit. But more frustrating is that I got a late start. If only I hadn't been late there would have been no contact," regretted Alesi.
Natori visited the TOM'S pit and apologised to Alesi. The two shook hands.
Nobuhiro Imada (JMS RACING with B-MAX) was running at the front of the master class until lap 12 when he slightly ran wide at the hairpin, allowing a charging Masayuki Ueda (MAXRACIING RN320) to overtake for his third win of the season.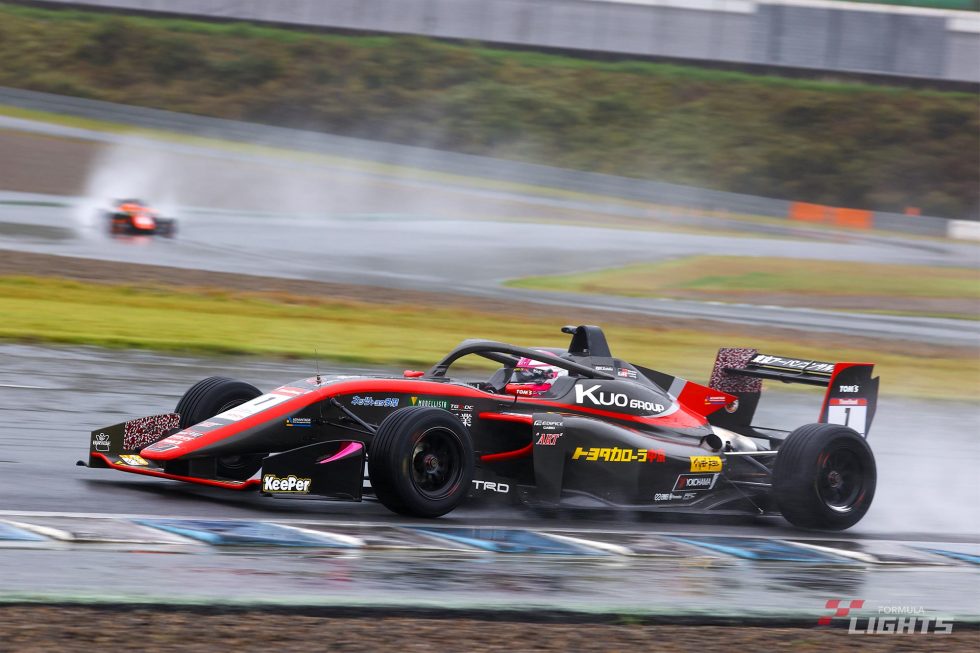 Kazuto Kotaka(Kuo Corolla Chukyo TOM'S 320)