Sena Sakaguchi claims his maiden SFL victory after close fight with Ritomo Miyata
2020/09/28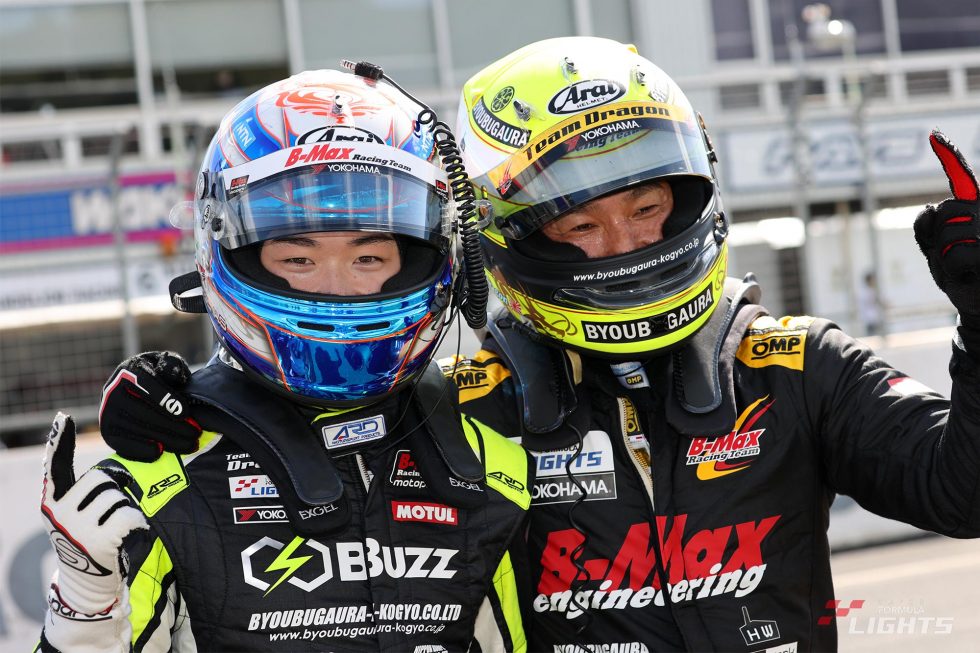 In the Saturday's qualifying Ritomo Miyata driving Corolla Chukyo Kuo TOM'S F320 took a pole position for Rd 5 by posting his second-best time of 1m21.430 during his second attack on second set of tyres.
Sena Sakaguchi (in Buzz Racing with B-MAX) secured the other front row position with 1m21.788 ahead of Yoshiaki Katayama (in B-MAX RACING with OIRC) – who had picked up a podium finish in Rd 4.
Teppei Natori (in TODA FIGHTEX) would start fourth on the grid. The third row was taken by Kazuto Kotaka (in Corolla Chukyo Kuo TOM'S F320) and Seiya Jin (in Albirex-RT).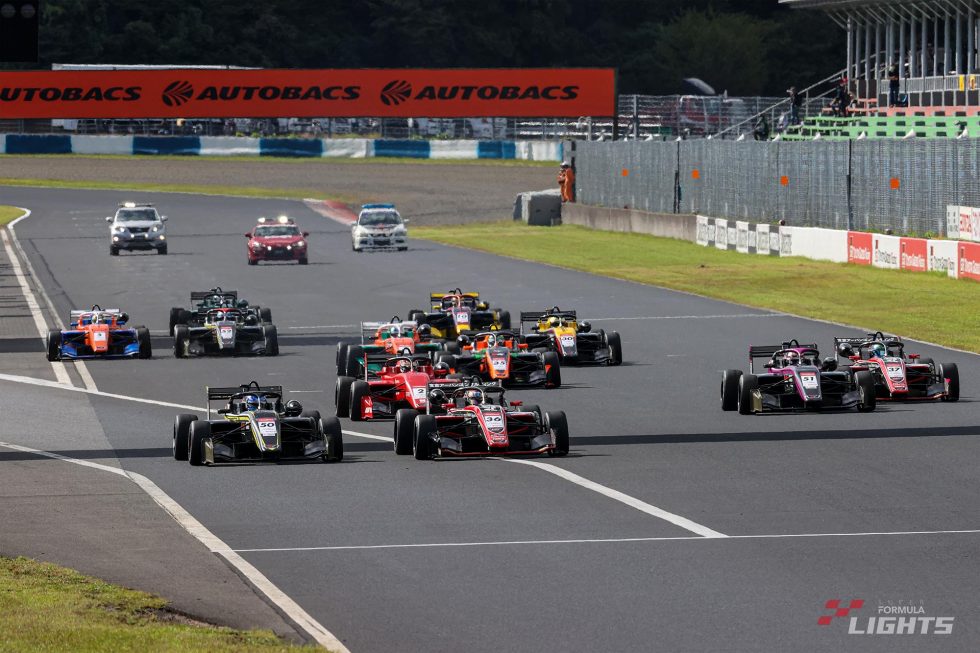 Start of Round.5
■ Sakaguchi gets a superb start
With the main focus on the same Rd 4 front row lineup Japanese Super Formula Lights' Rd 5 kicked off for 25 laps at 9 am on Sunday under a clear sky. Sakaguchi got a superb start from second, slipping smoothly down the inside line to take the holeshot from Miyata who had always leapt into Turn one at front.
A hard fight right behind them over third spot involved other cars and brought out safety car. When Katayama ran wide under braking for the hairpin Natori dived inside of Katayama and got ahead on the run towards Revolver, but a contact between the two caused himself to go off the track and Katayama to run across the grass verge at the exit of Revolver. The moment seventh-starting Shunsuke Kohno (in RS FINE K&N F320) slammed on the brakes in trying to avoid the chaos, he was rear-ended by Seiya Jin (in Albirex-RT) and sent spinning. As the result Katayama and Kohno locked up on the track, and a safety car was summoned.
Fortunately this did not lead to an accident with Natori and Kohno able to return to the track, and the safety car pulled in on lap four.
At the restart Sakaguchi managed to hold the lead from closely following Miyata, leaving Kotaka a lonely third place.
Now in fourth after staying out of the opening lap's incidents Masami Kageyama (in MASAMI PROJECT with B-MAX) went into a fierce battle with DRAGON (in TEAM DRAGON SFL), which would be joined by quickly recovering Natori as well as Tsubasa Iriyama (in Albirex-RT).
Natori passed DRAGON on lap 11 and Kageyama on lap 12. Unlike the previous race Iriyama played a clean fight with DRAGON this time to get ahead for sixth on lap 12 and then overtake Kageyama on lap 16.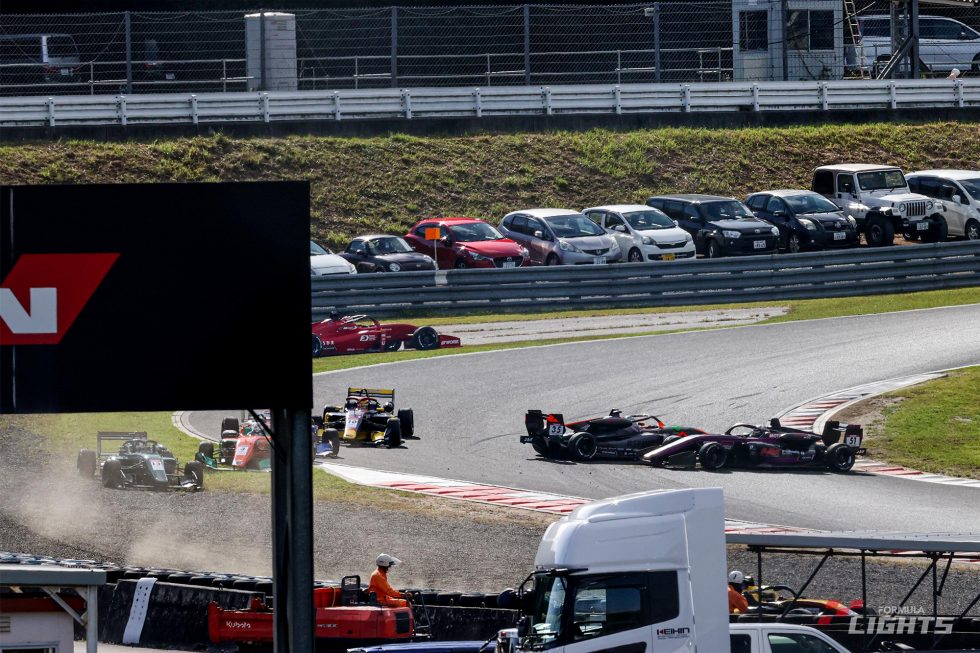 Accident in first lap.
■ Lead battle comes down to the very final lap
The lead battle between Sakaguchi and Miyata would continue to the very final lap. While the gap briefly expanded on lap 13 Miyata proceeded to launch catch-ups, while punching in some fastest laps. Once setting the fastest lap of the race (1m22.964) on lap 23 he went into the final lap to have a showdown with his rival.
However, Sakaguchi did not allow Miyata to close in to clinch his first ever victory since his Japanese F3 debut in 2016.
Kotaka was third 4.713 secs behind Miyata. Natori turned in a strong recovery to finish fourth. Iriyama scored his first SFL points in fifth.
In his first formula car driving in years Kageyama firmly defended his position from DRAGON to take the final point.
DRAGON placed seventh to win the master class.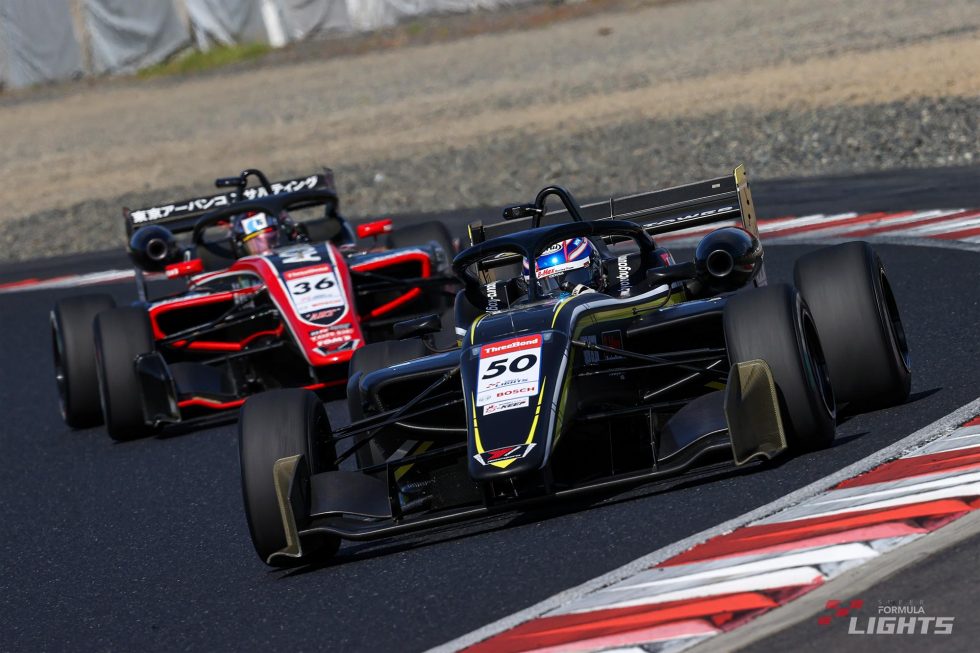 Sena Sakaguchi(Buzz Racing with B-MAX)