Ritomo Miyata notches up his 11th win with a lights-to-flag triumph
2020/12/20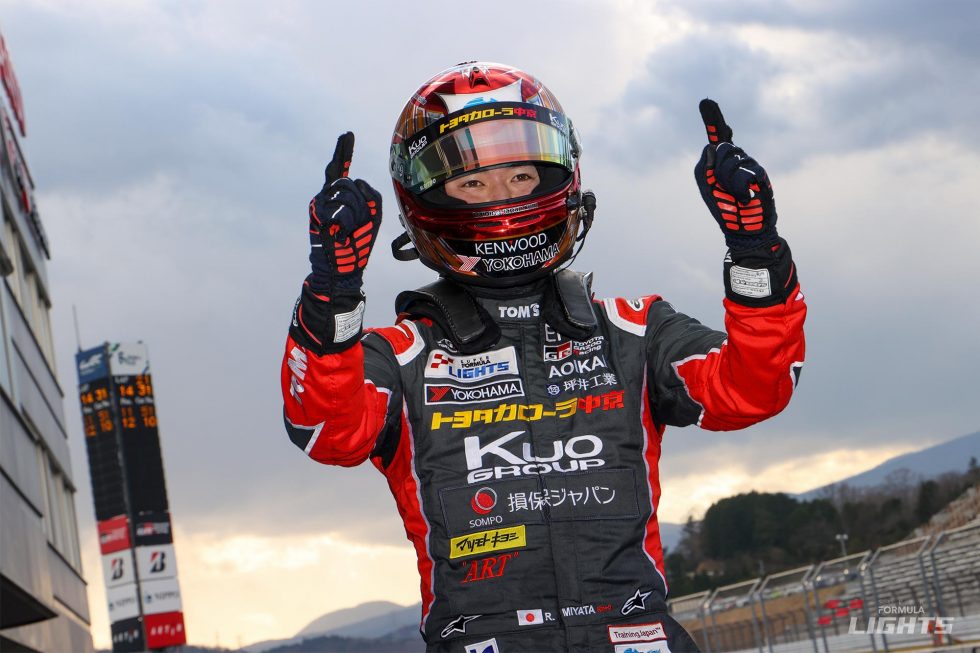 Ritomo Miyata(Corolla Chukyo Kuo TOM'S 320)
Following 2-day practice sessions qualifying and Rd 15 race of REBELLION Japanese Super Formula Lights championship event took place on Saturday at Fuji Speedway.
The qualifying for Rd 15 and Rd 16 that started 9:20 am under an overcast sky saw each car spend much of the times warming up the tyres in the cold conditions.
Ritomo Miyata in Corolla Chukyo Kuo TOM'S F320 topped the times in the attacks with first set of tyres by setting 1m31.912 on his eighth lap, followed by Sena Sakaguchi (in Buzz Racing with B-MAX) who posted 1m31.975.
A tense battle with Miyata and Sakaguchi swapping the lead several times on their second set of tyres ended with the TOM'S driver taking pole position for Rd 15 with 1m31.370.
Sakaguchi qualified second ahead of Kazuto Kotaka (in Corolla Chukyo Kuo TOM'S F320) and Shunsuke Kohno (in RS FINE K&N F320). Tsubasa Iriyama (in Albirex-RT) was fifth, his best qualifying result of the season.
Sakaguchi, however, was handed a five-grid penalty for an engine change during the practice sessions.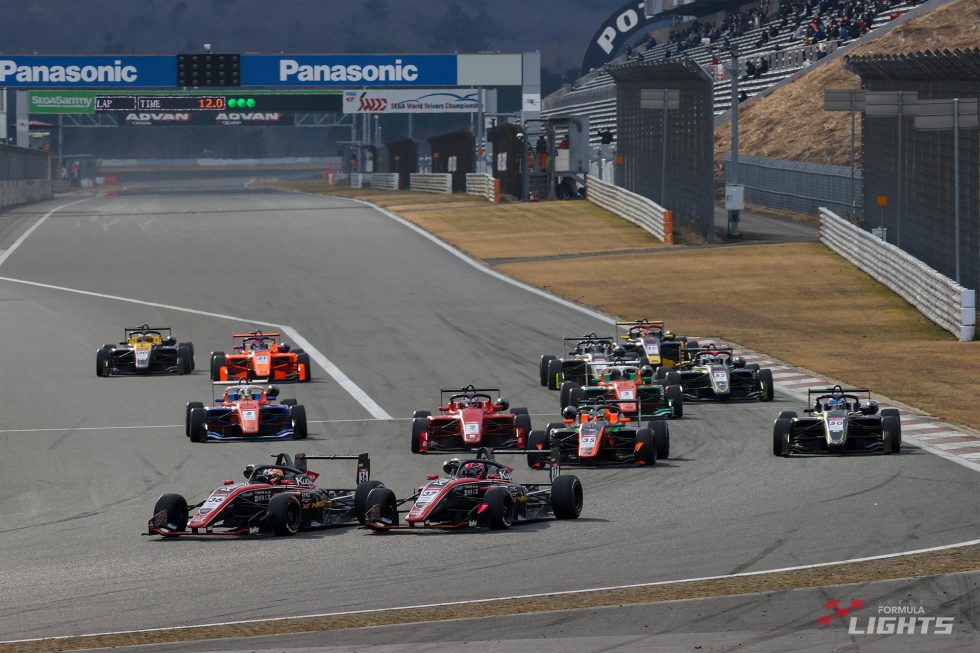 Start of Round 15
■Sakaguchi jumps up to 4th on the opening lap
After Super Formula's practice session with light snow the field got off the grid at 1:50 pm for two formation laps, and although Kotaka made a strong start from second it was Miyata who took the holeshot into TGR.
Having started seventh on the grid Sakaguchi jumped up to fourth by the end of the opening lap, and continued with the momentum to ease past Kohno at TGR on lap two before closing right on to the tail of Kotaka on the following lap.
However, his stunning recovery drive was not enough to challenge the race leader Miyata – who had already started opening up his lead when Sakaguchi overtook Kotaka on lap three.
Posting a fastest lap of 1m32.893 on lap seven Miyata proceeded to edge away from Sakaguchi struggling to keep up with him.
Behind Kotaka a battle over fourth spot between Kohno and Teppei Natori (in TODA FIGHTEX) intensified. Natori got ahead of Kohno at TGR on lap four and closed in on Kotaka.
Elsewhere, Lucca Allen played a fierce inter-team battle with Tsubasa Iriyama (both in Albirex-RT) over sixth spot as the field headed into the halfway stage.
Despite going side-by-side with his team-mate several times through TGR under braking Iriyama struggled to improve his seventh position, and the midfield duel soon appeared to expand to a four-way contention when he was closed in by Sakon Yamamoto and Satoshi Motoyama (both in REBELLION Buzz 320).
On lap 16 the Albirex duo went side-by-side once again through Dunlop, only for Iriyama to be hit by Yamamoto and sent into a spin as the B-MAX driver reduced a gap with a late braking move.
Kazuto Kotaka(Corolla Chukyo Kuo TOM'S 320)
■Master class sees a close lead battle
Miyata led every lap of the race to notch up his 11th win with a 6.604 secs advantage over Sakaguchi. The 2020 SFL champion also set the fastest lap of 1m32.399 on the final lap.
Kotaka struggled for pace, but managed to keep his place from Natori to pick up a podium finish in third. Allen held on to grab the final point for sixth place behind Kohno.
Yamamoto took the chequered flag in seventh, but was hit with a post-race 30-sec time penalty for the contact with Iriyama, conceding the position to Motoyama.
In the master class, a close lead battle that broke out between Nobuhiro Imada (in JMS RACING with B-MAX) and DRAGON (in TEAM DRAGON SFL) on the opening lap lasted, even after a brush of contact at Panasonic on lap one and a DRAGON's overtake on lap three, till the end of the race, with the B-MAX man maintaining the lead for his 11th consecutive win and 13th of the season.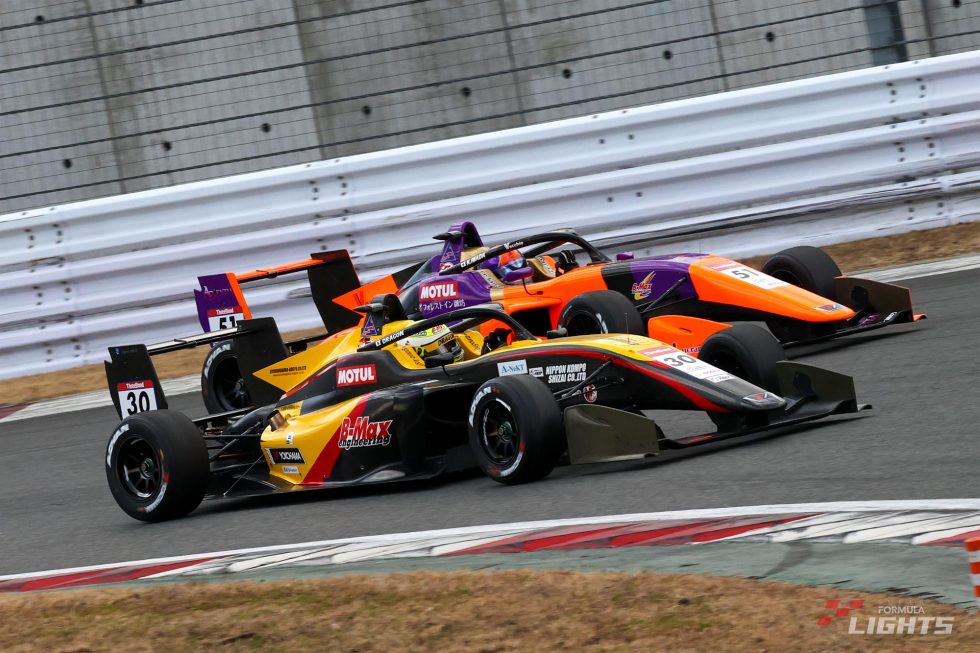 Battle of DRAGON and Nobuhiro Imada