Kazuto Kotaka clinches his fourth win in a chaotic race with three SC periods
2022/06/19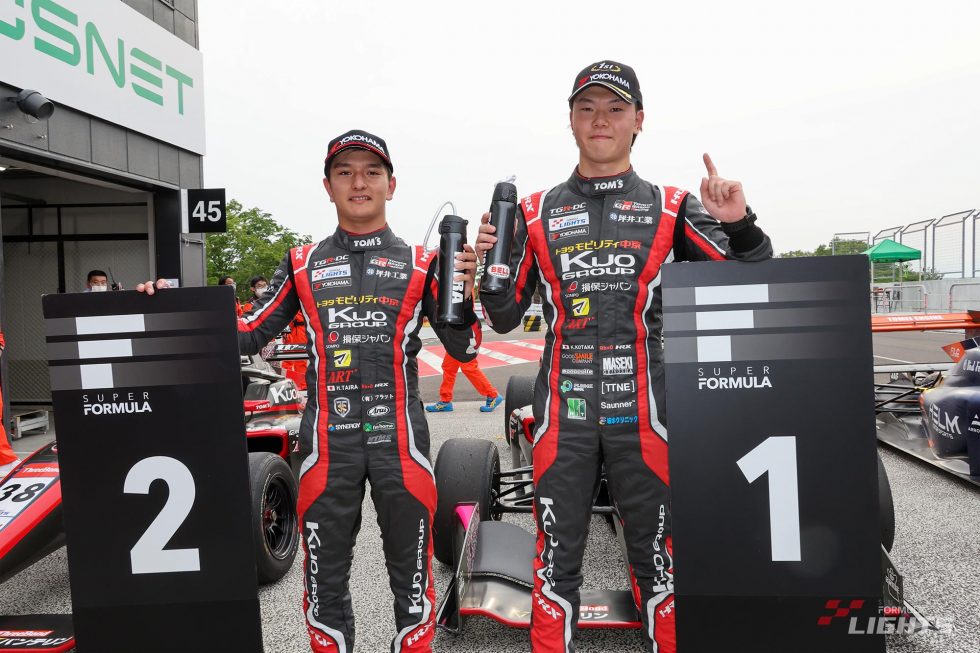 Kazuto Kotaka and Hibiki Taira
The qualifying for Rd 10 and Rd 11 of 2022 Super Formula Lights championship started 10 minutes late at 11:10am on Saturday at Sportsland Sugo under bright blue skies after a Super Formula's free practice interrupted by a red flag.
As is often the case with the short Sugo track where the traffic gets to pile up easily, of first seven cars to come out Kakunoshin Ohta in HFDP WITH TODA RACING and the TOM'S quartet were soon forced to stay in the pits for a while.
First to come out on top was Iori Kimura (HFDP WITH B-MAX RACING), who had topped the times in the practice sessions, but his time of 1m14.136 was subsequently broken by Kazuto Kotaka (Kuo MOBILITY CHUKYO TOM'S 320) and Ohta.
With less than seven minutes to go each car set out on attacks with its second set of fresh tyres.
Ohta improved his times to 1m13.399 to claim pole position for Rd 10, followed by Kotaka and Seita Nonaka (PONOS Racing TOM'S 320). Fourth and fifth positions were taken by (Kuo MOBILITY CHUKYO TOM'S 320) and Yuga Furutani (Deloitte. HTP TOM'S 320)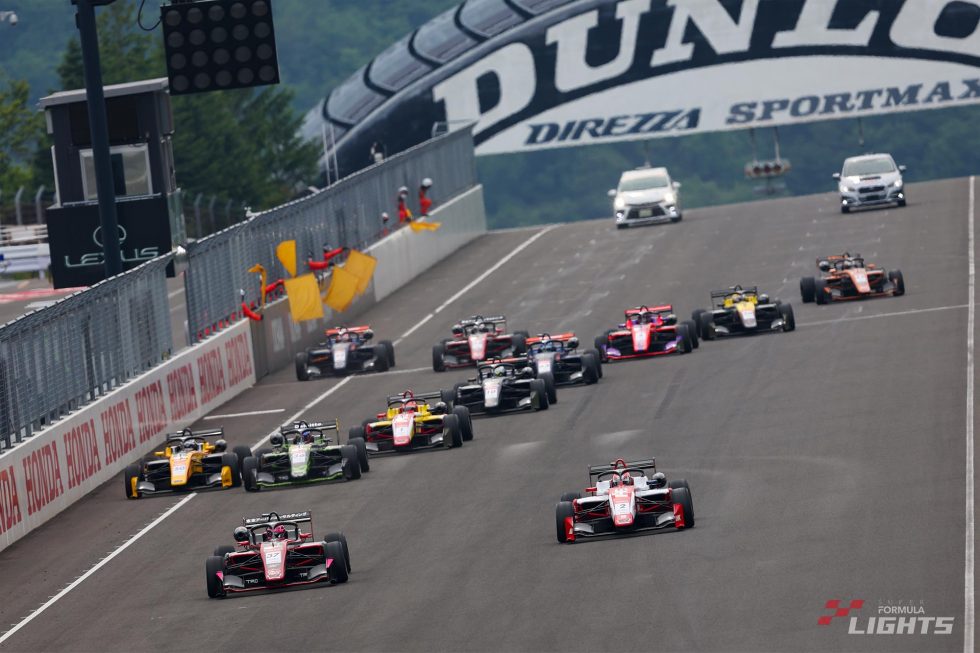 Start of Round.10
■A flurry of dramas unfold right after the start
As the lights went out at 3:35pm under cloudy skies both Nonaka or Taira bogged down from the second row, giving Furutani and Togo Suganami (Byoubugaura B-MAX Racing 320) to give a chance to attack down the inside of the two.
However, the third row starting pair collided at Turn one, with Suganami going over Furutani's right rear wheel, damaging Suganami's upright and bringing out the safety car.
Although Furutani managed to continue the race, Suganami limped back to the pits into retirement.
Kotaka made a stunning start to take the lead from Ohta into Turn one. Kimura moved up to third after easing past around the outside of the crash between Furutani and Suganami
Further dramas struck the race at the restart on lap four when Kimura hit the rear of Ohta on the straight trying to dive down the inside of his rival, clipping the wall and coming to a halt on the inside of Turn one.
The incident badly damaged Ohta's gearbox, and the race was red-flagged to clear oil strewn throughout the circuit from his rear. During the stoppage Ohta's machine was taken back to the pits, and Kimura and Nonaka each were given a penalty for a jump start.
After a lengthy red-flag suspension the race resumed at 4:25pm behind the safety car, and Kotaka comfortably pulled away as it got underway properly on lap eight, leaving Reiji Hiraki (HELM MOTORSPORTS 320) and Kohta Kawaai (in Rn-sports 320) closely battling for second spot.
However, Kawaai suddenly dropped off the pace at a SP corner on lap 13 due to an electrical issue and came to a stop at the exit. This dashed his hopes of maiden podium finish and forced the safety car to make its third appearance to remove his car.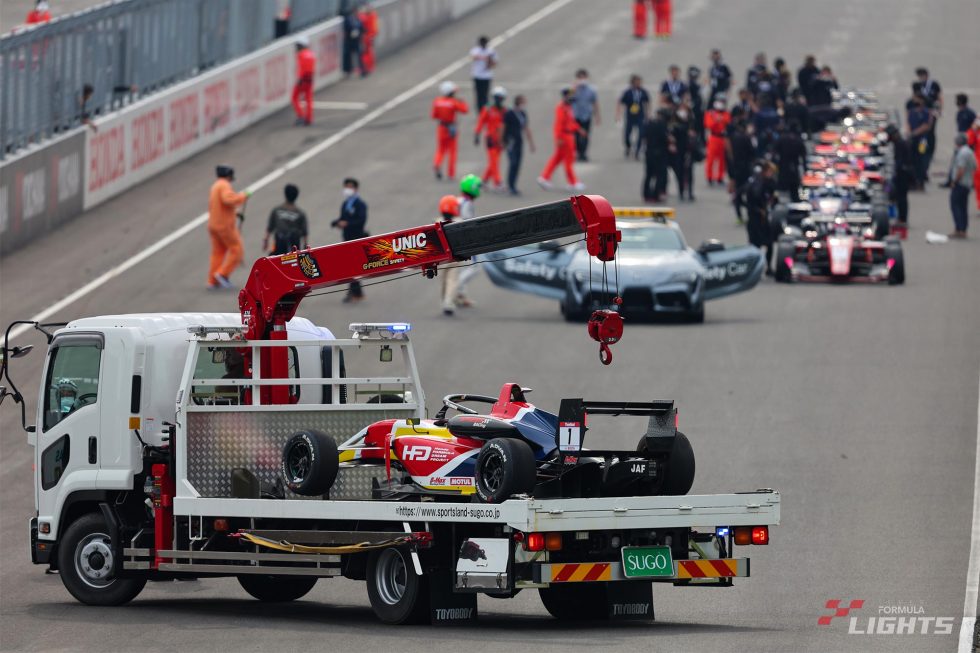 Red-Fragged in Round.10
■Fight for last podium position comes down to the very final lap
In the meanwhile, the restart saw Taira and Furutani quickly proceed to fight their way back from the early setbacks, overtaking Nobuhiro Imada (JMS RACING with B-MAX) in fourth one after another before moving up to third and fourth respectively after the Kawaai's trouble.
At the restart on lap 19 Taira jumped Reiji Hiraki at Turn one for second place and then closed in on Kotaka.
Furutani went almost wheel-to-wheel with Reiji Hiraki around the outside of Turn one on lap 22, only to lose his balance and run off the track. While Reiji Hiraki now looked set to finish third, the HELM driver actually had to battle with Nonaka who had clawed his way back after serving the drive-through penalty.
Trading fastest laps with Taira in the closing stages Kotaka took the chequered flag that came out on lap 25, 40 minutes after the race start, claiming his fourth win of the season and heading up a one-two finish for TOM'S.
The fight for third place that came down to the very final lap was won by Reiji Hiraki, who fended off Nonaka by 0.136 and brough a maiden podium result to HELM MOTORSPORTS.
Imada won in master class after claiming his second points finish in sixth behind Furutani.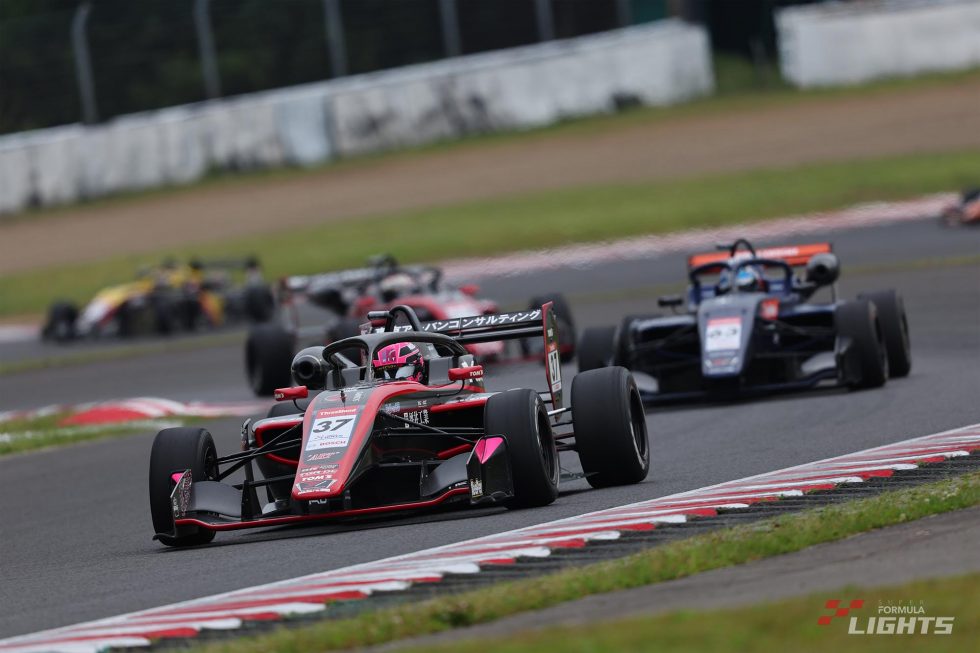 Kazuto Kotaka(Kuo MOBILITY CHUKYO TOM'S 320)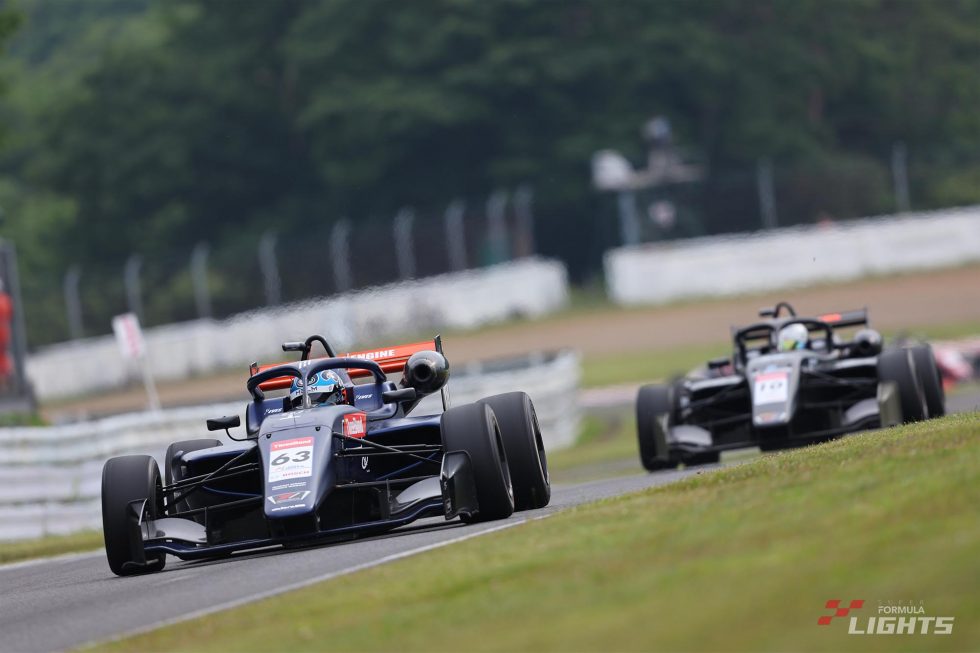 Reiji Hiraki(HELM MOTORSPORTS 320)