Giuliano Alesi charges from pole to his third win of the season
2021/10/19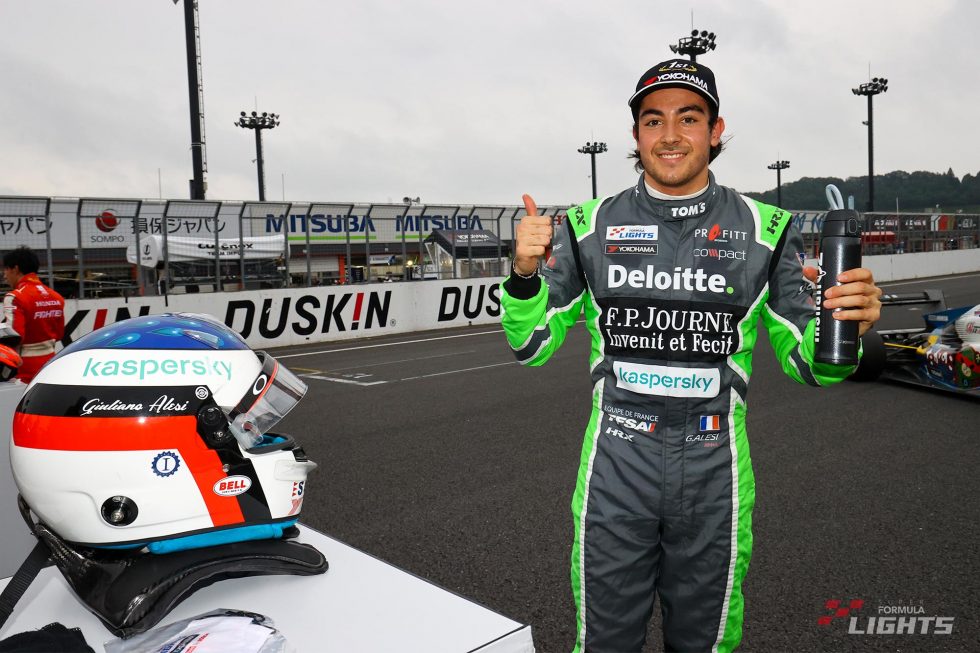 Giuliano Alesi(Deloitte. TOM'S 320)
It was a cloudy early morning at Twin Ring Motegi on Saturday. The qualifying of Buzz presents Japanese Super Formula Lights championship started at 10:15 am with fine rain occasionally falling.
All the cars opted for slicks in the rain that gradually intensified since the closing stages of a Super Formula's practice session, and struggled to warm up the tyres in the slippery conditions.
After Shunsuke Kohno driving RS FINE K&N 320 proved slicks could work well by taking a lead on his eighth lap with 1m44.995 each car returned to the pits.
As the track conditions improved many of the cars came out again with less than 10 minutes remaining, and Teppei Natori in Byoubugaura B-Max Racing 320 eventually topped the times with 1m42.884. Giuliano Alesi (Deloitte. TOM'S 320) was second and Ren Sato (Toda FIGHTEX) was third.
However, it was Alesi who actually started from pole for Rd 15 because Natori was given a five-place grid penalty due to an engine change in a practice session.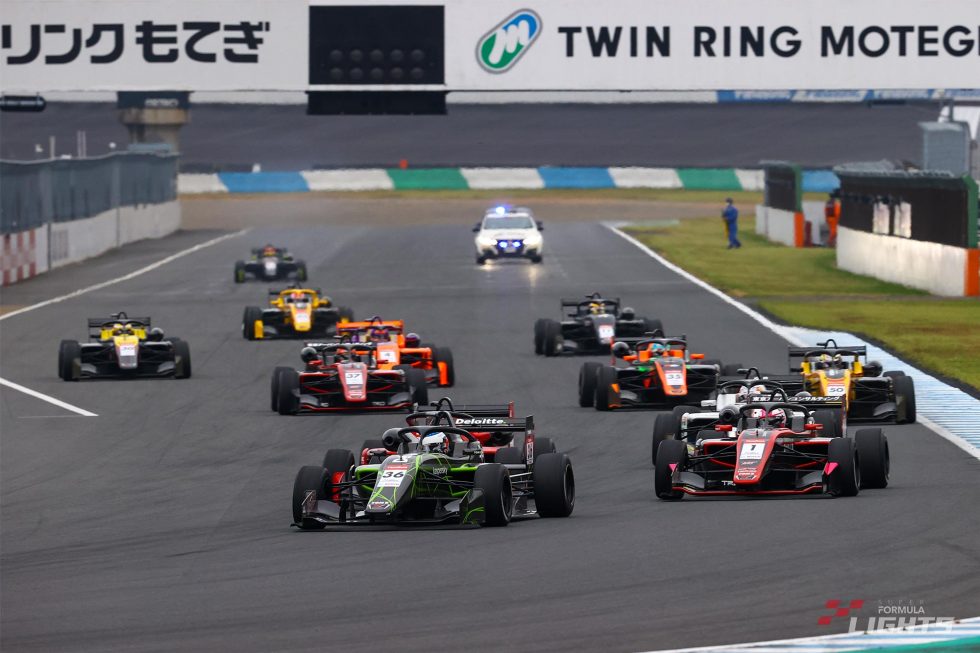 Start of Round.15
■ Alesi picks up the holeshot
While wet tyres were used at one stage in the Super Formula's qualifying all the SFL cars got off the grid for the formation lap on slicks at 3:30 pm as the track conditions had improved.
Alesi picked up the holeshot. Having started from third Kazuto Kotaka (Kuo Corolla Chukyo TOM'S F320) lined up with a slow starting Sato, only to lose positions on the run towards Turn four.
Moving up to third was Atsushi Miyake (MAX RACING 320) who got a good start from fifth. A slow start for Seiya Jin (Byoubugaura B-MAX Racing 320) from fourth dropped him down the order, promoting the sixth starting Natori behind Miyake, with Kotaka in fifth and Hibiki Taira (Kuo Corolla Chukyo TOM'S F320) in sixth.
Alesi set a fastest lap of 1m43.873 on lap four to set about opening up a lead over Sato.
In a fierce battle with the cars ahead and behind the title favourite Natori slightly went off the track at the exit of the S-shape turn on lap five, but barely held on to the fourth spot.
These three would be joined by Taira and Jin to form a five-way scrap on 10 when Jin passed Kohno for seventh.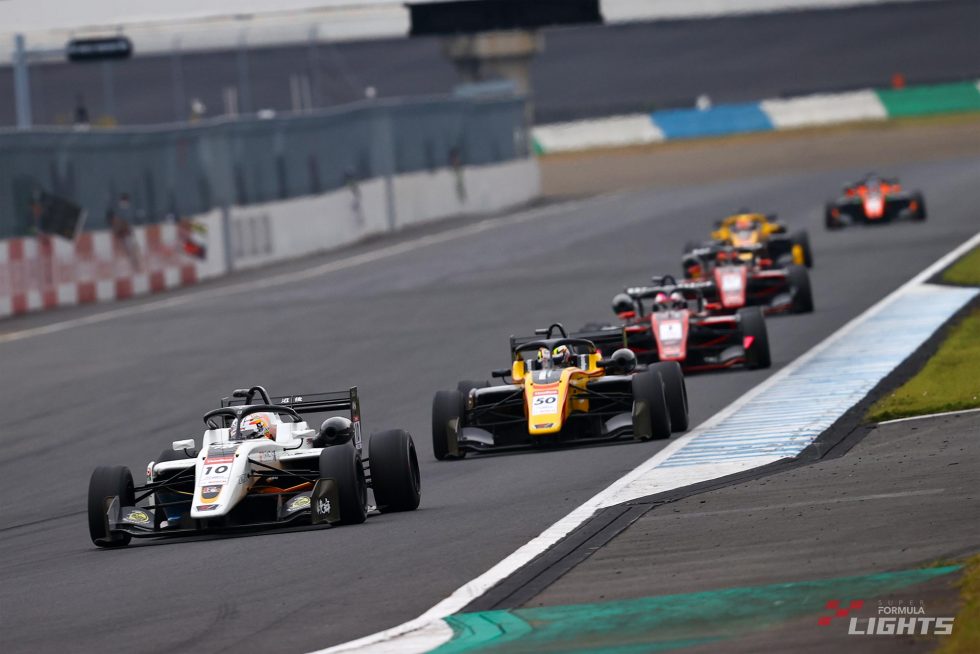 Atsushi Miyake(MAX RACING 320)
■Miyake wins a close battle for third
Staying out of the fracas behind Alesi set the fastest lap of the race on lap 13 with a time of 1m43.851 to comfortably complete the 14 laps for his third win of the season. Sato was 2.794 seconds behind.
The close battle over third within a second of each other came down to the very final lap, with Miyake holding on for the final podium position. Natori was not able to seal the title as he finished fourth. Fifth and sixth places went to Kotaka and Taira respectively.
Nobuhiro Imada (JMS RACING with B-MAX) beat DRAGON (TEAM DRAGON B-MAX 320) for master class win with Masayuki Ueda (MAXRACIING RN320) in third and SYUJI (B-MAX ENGINEERING 320) in fourth, and placed nineth overall.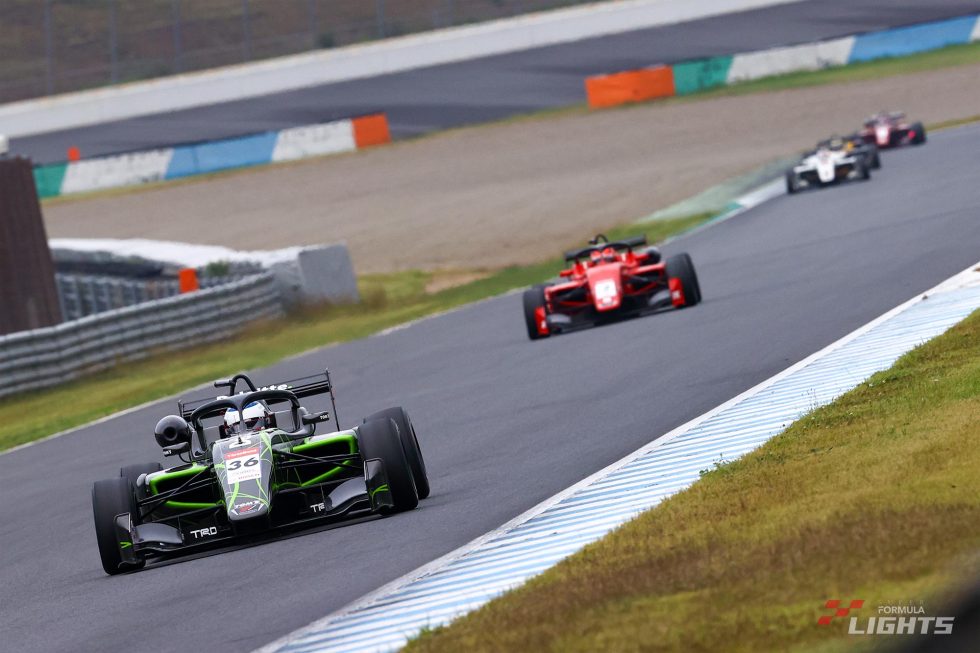 Giuliano Alesi(Deloitte. TOM'S 320)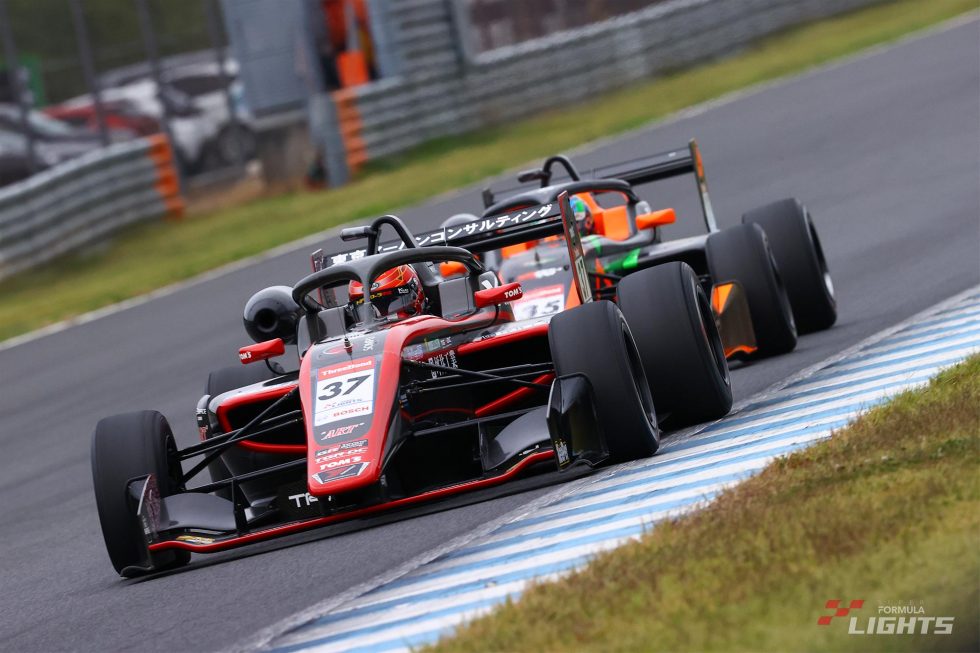 Hibiki Taira(Kuo Corolla Chukyo TOM'S 320)