Ritomo Miyata takes lights-to-flag win in a row
2020/09/01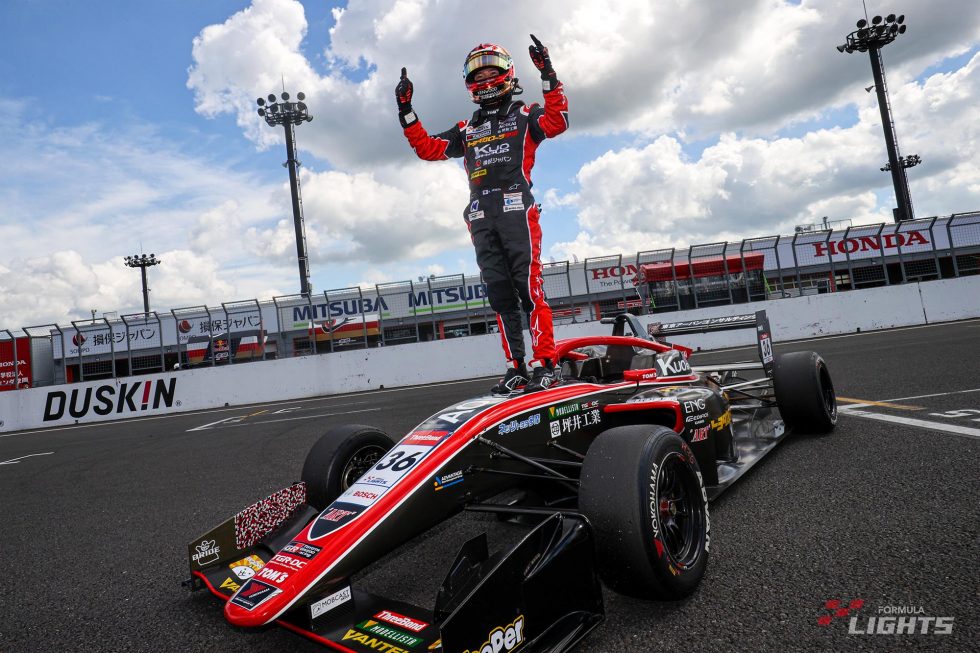 Ritomo Miyata(COROLLA CHUKYO Kuo TOM'S 320)
Ritomo Miyata driving Corolla Chukyo Kuo TOM'S F320 took lights-to-flag win in a row in Rd 2 of the GOLDEX mobile Japanese championship Super Formula Lights at Twin Ring Motegi in Tochigi Prefecture on Sunday, with Kazuto Kotaka (in Corolla Chukyo Kuo TOM'S F320) in second and Sena Sakaguchi (in Buzz Racing with B-MAX) in third.
In the Saturday's qualifying Miyata took a pole position again for Rd 2 with his second set of fresh tyres by posting 1m44.826 as his second-best time, and secured back-to-back front rows for TEAM TOMS as Kotaka placed second ahead of Mitsunori Takaboshi (in B-MAX RACING TEAM) and Sakaguchi.
The race two of the weekend took place under a slightly overcast sky on Sunday with temperatures exceeding 30C in the early morning. The sighting lap was started at 8:40 am to get off to a start of 14-lap race at 9:05 am, which saw a clean getaway with no engine starts on the grid unlike the race one.
Miyata got a holeshot to keep his lead over Kotaka. With a faster acceleration at the start Sakaguchi moved to the inside of Takaboshi into Turn one to take the third spot.
Shunsuke Kohno (in RS FINE K&N F320) and Teppei Natori (in TODA FIGHTEX) followed them in fifth and sixth respectively, but the latter would soon be passed by Kiyoto Fujinami (in B-MAX RACING TEAM) at the 130R on the opening lap.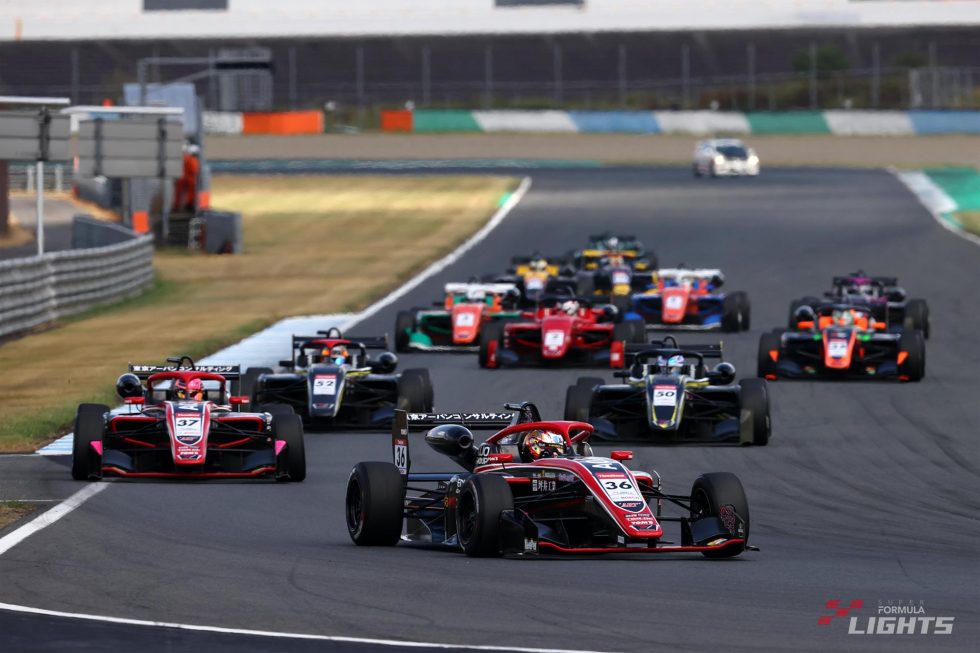 Start of Super Formula Lights Round.2
■Master class sees incidents in early stages
Miyata was setting fastest laps in succession in the early stages as gaps between the race leaders gradually extending. Takaboshi set a fastest lap with a time of 1m45.716 on lap six, only to see it shortened a lap later when Miyata posted 1m45.623.
Behind Sakaguchi and Takaboshi a battle over fifth spot was fought by Kohno and Fujinami, and a battle over seventh was fought by Natori and Seiya Jin (in Albirex-RT).
However, the order of the race leaders remained the same throughout the race, with Miyata holding on for back-to-back wins ahead of Kotaka, Sakaguchi, Takaboshi, Kohno and Fujinami in this order.
In the meantime in the Master class, DRAGON (in TEAM DRAGON SFL) and Masayuki Ueda (in Rnsports320) went into side-by-side on the opening lap, only for the latter to suffer a spin at the exit of Turn three on lap two.
DRAGON, however, was forced to stop at the exit of Turn two on lap four when his engine-related warning turned on, promoting Motoyoshi Yoshida (in B-MAX ENGINEERING) to the top position, which he would maintain to the end of the race to claim his first victory.
Although managing to return to the track Ueda suffered a throttle failure at the exit of the V-shape bend on lap three, where he also retired.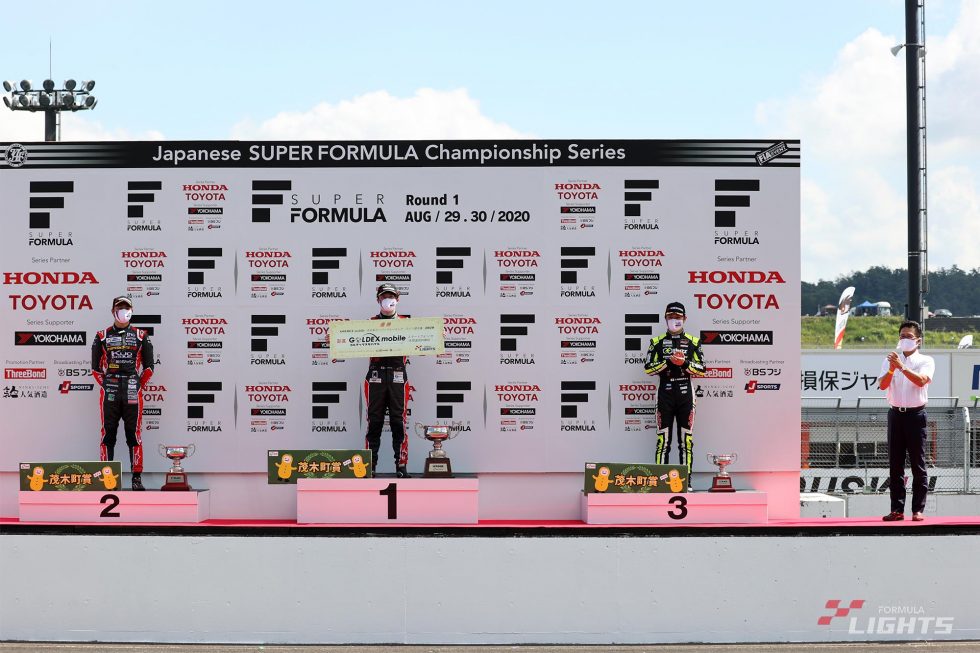 Podium of Super Formula Lights Round.2