Kazuto Kotaka grabs the lead at the start before charging to his maiden SFL victory
2020/12/21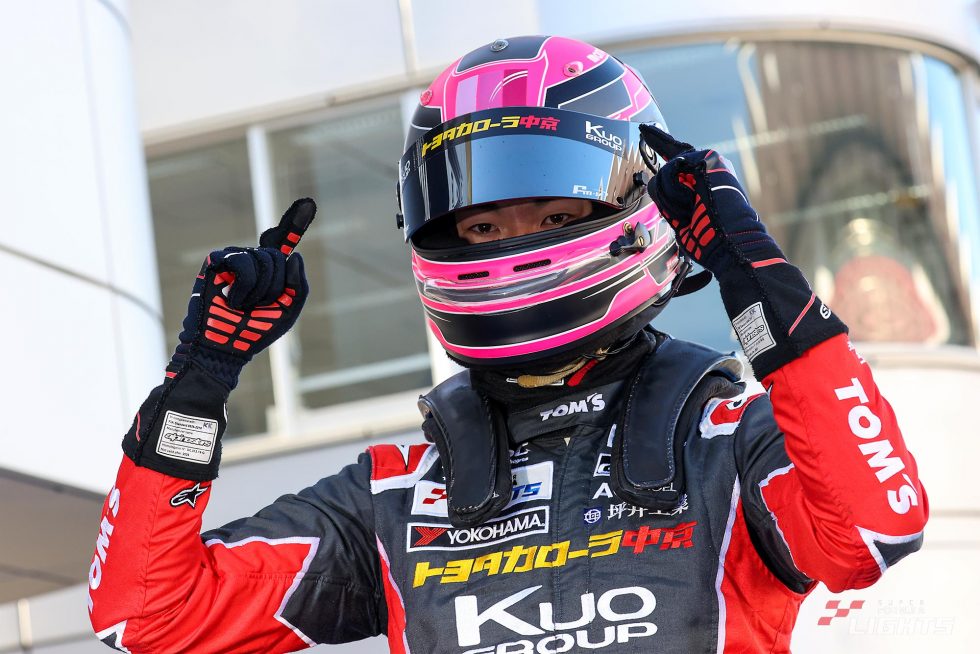 Kazuto Kotaka(Corolla Chukyo Kuo TOM'S 320)
Ritomo Miyata in Corolla Chukyo Kuo TOM'S F320 turned in a fastest time of 1m31.912 on first set of fresh tyres in the Saturday's qualifying, and Sena Sakaguchi (in Buzz Racing with B-MAX) followed with 1m31.975.
Hampered by traffic, though, Miyata struggled to improve his times on second set of tyres after securing pole position for Rd 15 with 1m31.370, allowing Sakaguchi to snatch pole position for Rd 16 with second-best time of 1m31.543.
Kazuto Kotaka (in Corolla Chukyo Kuo TOM'S F320) qualified third for Rd 16 with Shunsuke Kohno (in RS FINE K&N F320) as a fellow second-row starter.
With the sun shining upon Mr. Fuji from the direction of Hakone area the Japanese Super Formula Lights' Rd 16 race made a start at 7:45 am on Sunday to the sighting lap.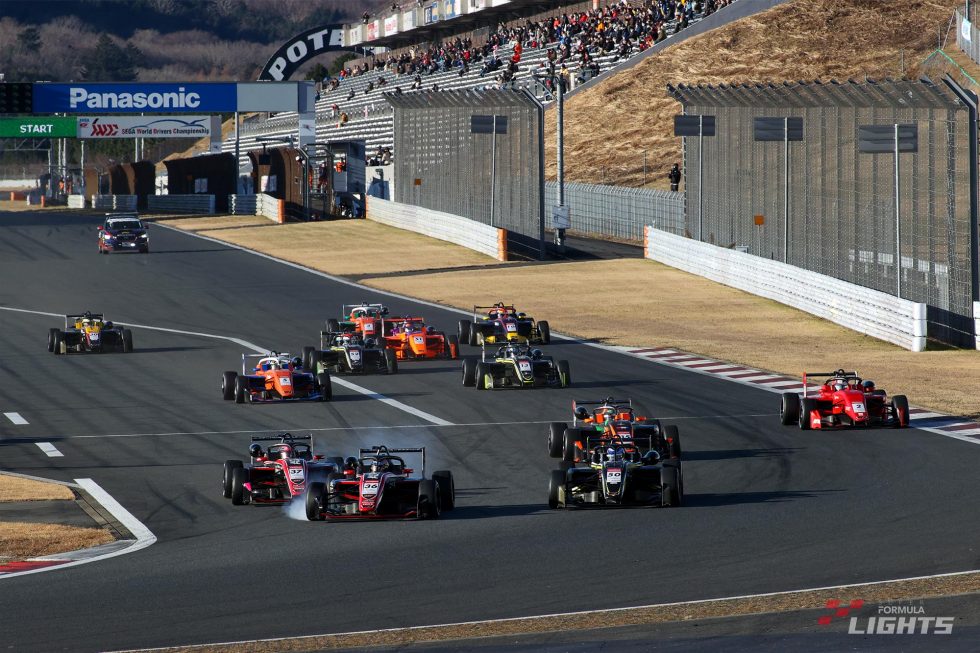 Start of Round 16
■Kotaka snatches the lead from Miyata and Sakaguchi at the start
During the two formation laps as a protective measure against the cold temperature at 2C that started at 8:10am Lucca Allen (in Albirex-RT) – starting from sixth – spun, and a fluff on his way back to the grid led to another two formation laps and the race distance being reduced from 15 laps to 13 laps. Allen started from the tail of the field.
Miyata made a good getaway from second, getting alongside Sakaguchi, but locked up his front tyre under braking for TGR, slightly running wide towards the outside, allowing Kotaka right behind to squeeze past him before forcing Sakaguchi outward.
Now in front, Kotaka instantly began to open up his lead, leaving Sakaguchi and Miyata behind. A little back, came Kohno and Teppei Natori (in TODA FIGHTEX).
The opening lap also saw Satoshi Motoyama (in REBELLION Buzz 320) rear-ended by Sakon Yamamoto (in REBELLION Buzz 320) and dropped out of contention after suffering damage to his rear.
Yamamoto himself spun around at the exit of Dunlop on lap two.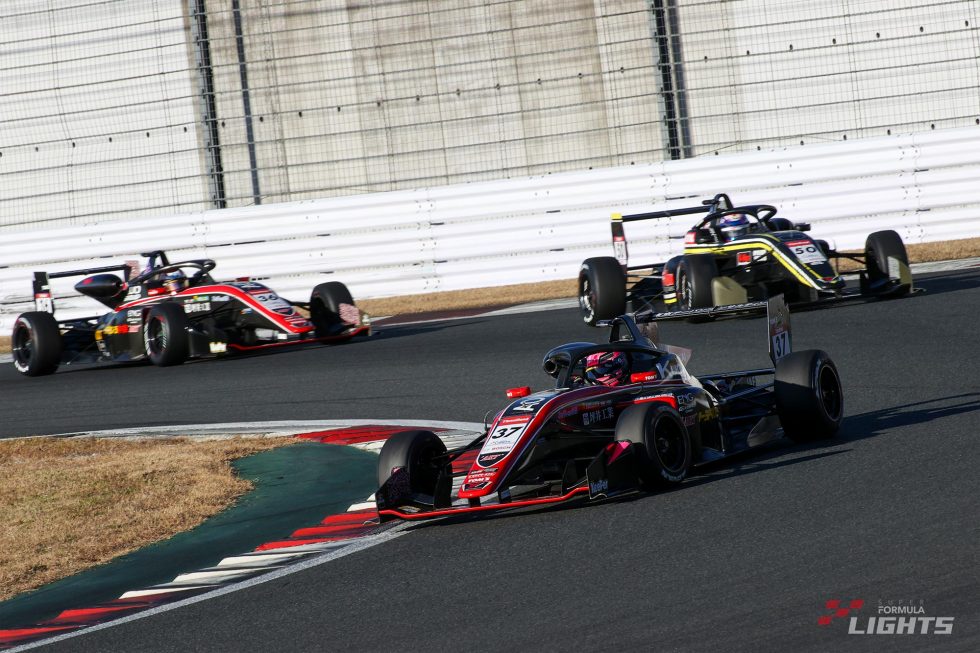 Kazuto Kotaka(Corolla Chukyo Kuo TOM'S 320)
■3-way lead battle comes down to the very final lap
In a race with practically a turn fewer for overtaking after an early oil leakage at Dunlop Kotaka comfortably maintained about two-second lead over Sakaguchi and Miyata.
Behind them a fierce battle over fourth was fought again between Kohno and Natori like in Rd 15. Natori overtook Kohno at Advan on lap seven, and Kohno tried to snatch back the position a lap later, only to be rebuffed.
The 3-way lead battle came down to the very final lap, and although Kotaka saw his advantage a bit cut down in the closing laps, he eventually took the chequered flag with a 1.7 secs lead over Sakaguchi. The TOM'S racer showed his tears at parc ferme for his maiden victory in the F3 /SFL carrier that he started in 2019.
Third went to Miyata. Tsubasa Iriyama (in Albirex-RT) placed sixth behind Natori and Kohno.
Nobuhiro Imada (in JMS RACING with B-MAX) also celebrated his first master class win as DRAGON (in TEAM DRAGON SFL) suffered a spin on lap two. Imada's victory ended Dragon's winning streak at 11.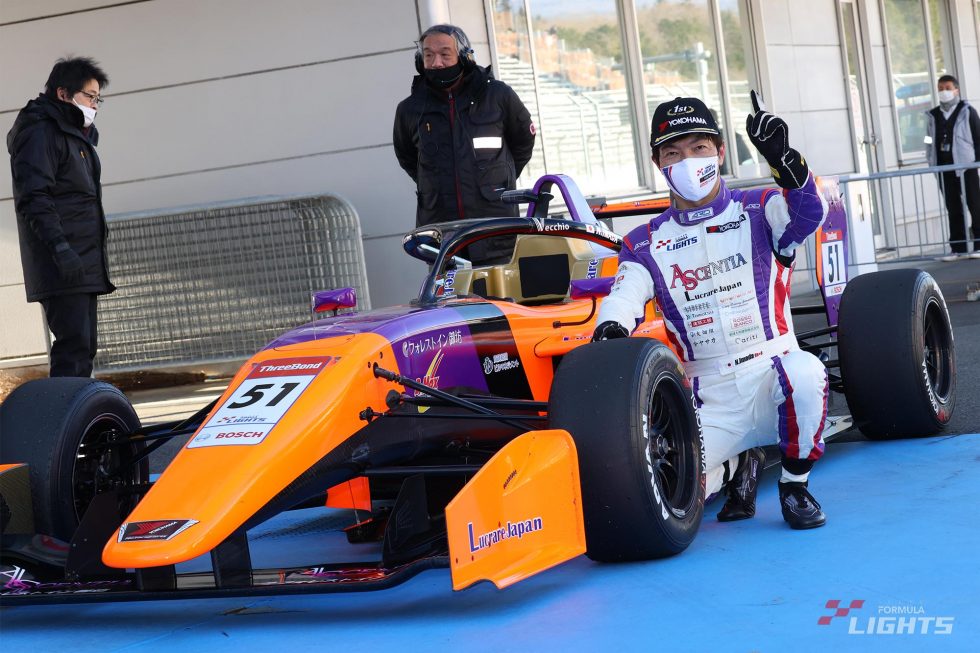 Nobuhiro Imada(JMS RACING with B-MAX)