Sena Sakaguchi keeps his lead at the start to claim his 2nd victory
2020/10/18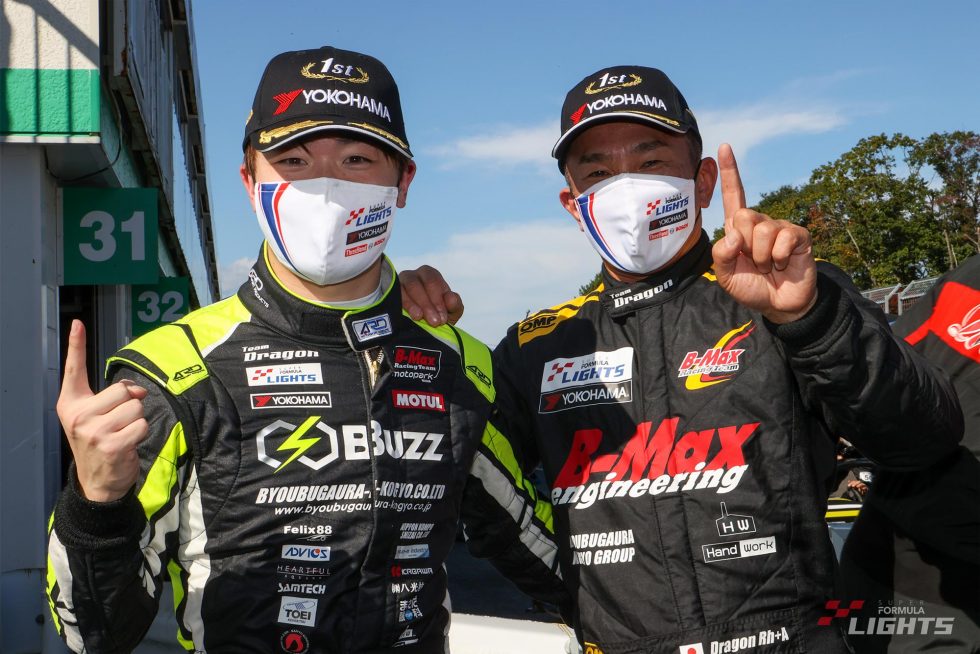 Sena Sakaguchi and DRAGON
The Rd 7 race began in dry conditions under a clear autumn sky, the perfect weather for racing when each car went out for 19 laps at 8:35 am on Sunday.
After a flurry of quick laps Sena Sakaguchi driving Buzz Racing with B-MAX secured pole position for Rd 7 as well as for Rd 6 in his last laps with his second-best time of 1m26.966.
Ritomo Miyata (in Corolla Chukyo Kuo TOM'S F320) qualified 2nd ahead of Kazuto Kotaka (in Corolla Chukyo Kuo TOM'S F320) and Teppei Natori (in TODA FIGHTEX).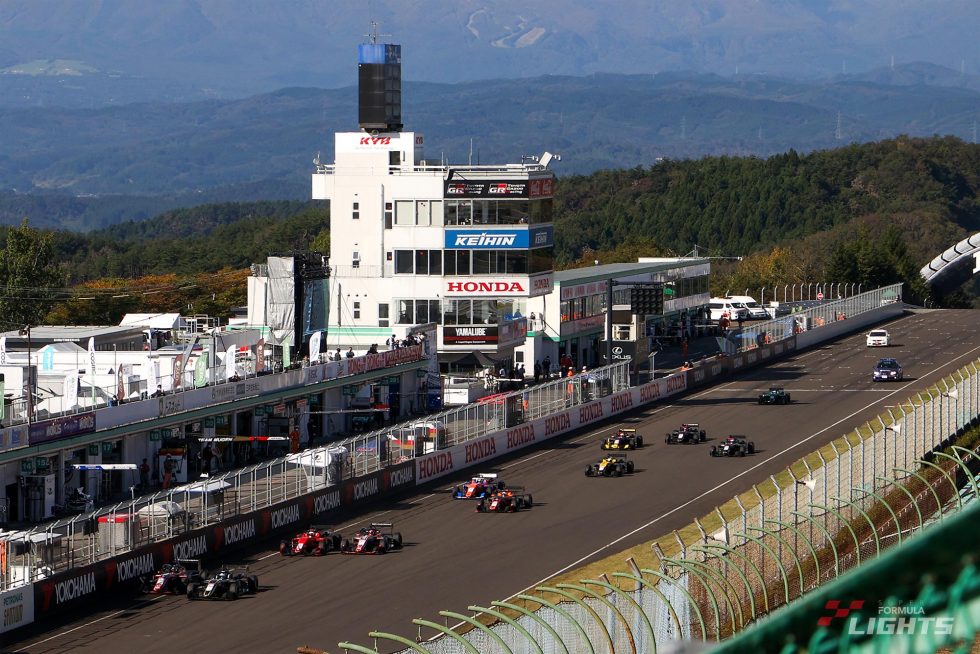 Start of Round.7
■Sakaguchi firmly defends the top position into the first corner
The start of the race at 9:00 am saw a close lead battle similarly to that of Rd 6 fought with the outer side of the starting grid still a bit wet where the second starting Miyata took the holeshot from Sakaguchi.
The front row starters both got a good start, but the pole-sitter Sakaguchi cut across in front of Miyata into the first corner to keep his lead.
The second row also saw a fierce battle. Kotaka slightly ran wide, allowing Natori to dive down the inside of Kotaka to snatch the third spot.
Sakaguchi tried to pull away on the opening lap, but Miyata kept up with the race leader within a second.
A little behind them a battle among Natori, Kotaka and Shunsuke Kohno (in RS FINE K&N F320) intensified.
While Kotaka briefly got ahead of Natori on lap two he was forced to play a fierce battle with Natori all the way through several turns from the S-shape bend, only to yield to not only Natori but also Kohno when he slightly ran wide at Umanose.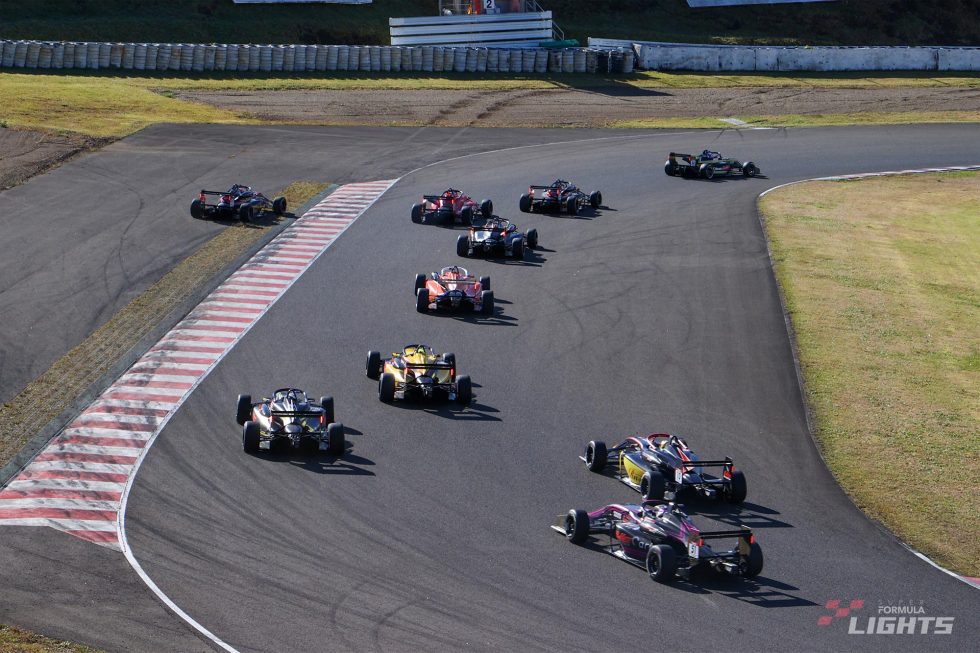 Start of Round.7
■Close lead battle continues in the closing laps
Sakaguchi appeared to escape away as he set the fastest lap of 1m12.583 on lap of the race, but Miyata kept up by constantly running every lap at under 1m 13 secs except lap eight, the gap being reduced again to less than two seconds.
However, Sakaguchi held on with his safety margin for his second victory and picked up full marks for the first time.
Extending his advantage in the closing laps Natori finished third behind Miyata, his first podium finish since the opening race.
The battle between Kohno and Kotaka over fourth place also came down to the closing stages, ending up with the RS FINE man to hold on and place fourth for the second race in a row.
Tsubasa Iriyama (in Albirex-RT) beat DRAGON (in TEAM DRAGON SFL) after a long close fight to pick up his second consecutive sixth place.
In the master class DRAGON won by finishing seventh ahead of Masayuki Ueda (in Rnsports320) and Nobuhiro Imada (in JMS RACING with B-MAX).
The Rd 8 race will start at 0:35 pm.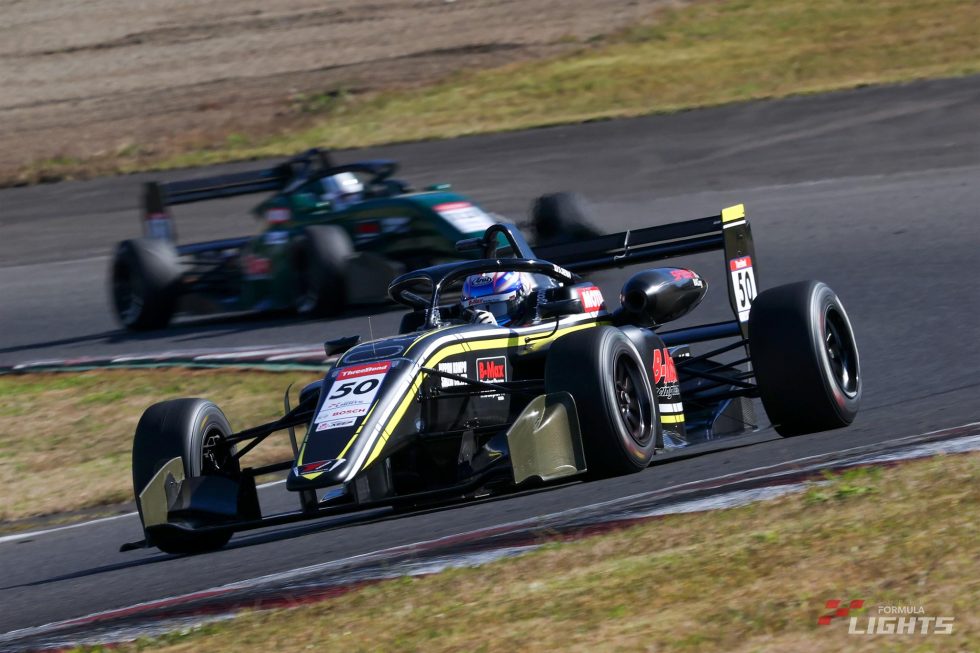 Sena Sakaguchi(Buzz Racing with B-MAX)