Kazuto Kotaka takes his first ever back-to-back wins with lights-to-flag victory
2022/06/20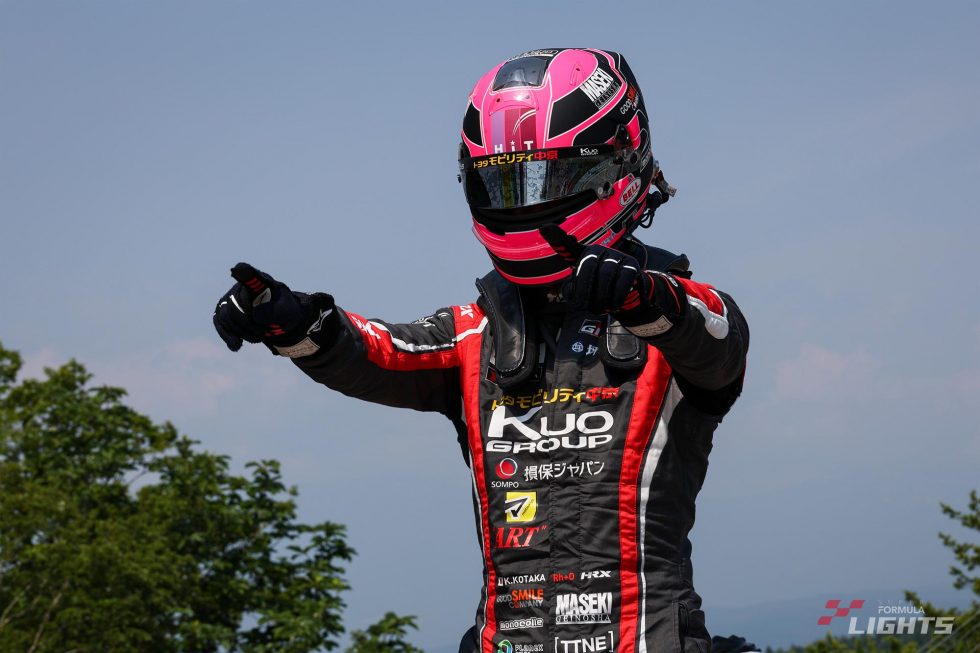 Kazuto Kotaka(Kuo MOBILITY CHUKYO TOM'S 320)
Rd 11 of Japanese Super Formula Lights championship was held from 9:05am on Sunday in the aftermath of the Rd 10 that featured a lengthy red flag stoppage and a number of incidents.
The front row of the grid had the same line-up as in Rd 10, but in the reverse order, with Kazuto Kotaka in Kuo MOBILITY CHUKYO TOM'S 320 on pole position - who had posted 1m13.643 in the qualifying with each car improving their times on second set of fresh tyres - and Kakunoshin Ohta (HFDP WITH TODA RACING) as fellow front-row starter.
Yuga Furutani (Deloitte. HTP TOM'S 320) had secured third, his best qualifying result, ahead of Hibiki Taira (Kuo MOBILITY CHUKYO TOM'S 320), Seita Nonaka (PONOS Racing TOM'S 320) and Iori Kimura (HFDP WITH B-MAX RACING).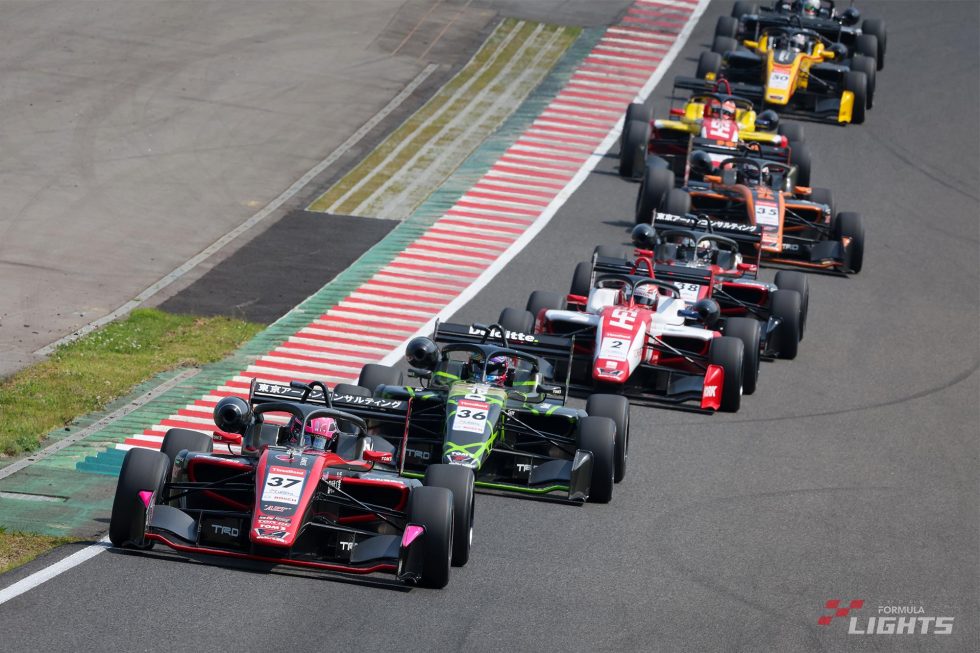 Start of Round.11
■Furutani snatches second spot at the start
In the heat of 28C all the cars got a clean start this time, with Kotaka at the front.
With the best start of the pack Furutani swept around the outside of Ohta to seize second spot. Taira, Nonaka and Kimura followed the three in this order.
Apart from Kimura's overtaking pass on Nonaka at Turn one on lap three the race leaders lapped within a second in the early stages, forming a procession with Togo Suganami (Byoubugaura B-MAX Racing 320) in seventh and Kohta Kawaai (in Rn-sports 320) included.
A little back, a tussle was fought among four cars with Nobuhiro Imada (JMS RACING with B-MAX) – who had made one position to ninth at the start – Reiji Hiraki (HELM MOTORSPORTS 320) DRAGON (TEAM DRAGON B-MAX 320) and Yuya Hiraki (HELM MOTORSPORTS 320). Reiji Hiraki came in at the end of lap five for a new set of tyres.
In a relatively uneventful race Kotaka proceeded to open up his lead, and although the gap between Furutani in second and Ohta in third was once reduced when the latter set the fastest lap of the race of 1m14.529 on lap seven the leading pack would gradually spread out.
Behind the three Taira and Kimura fought a close fight. On lap 12 Kimura suffered a slight off at Turn one, only to quickly return to resume his chase.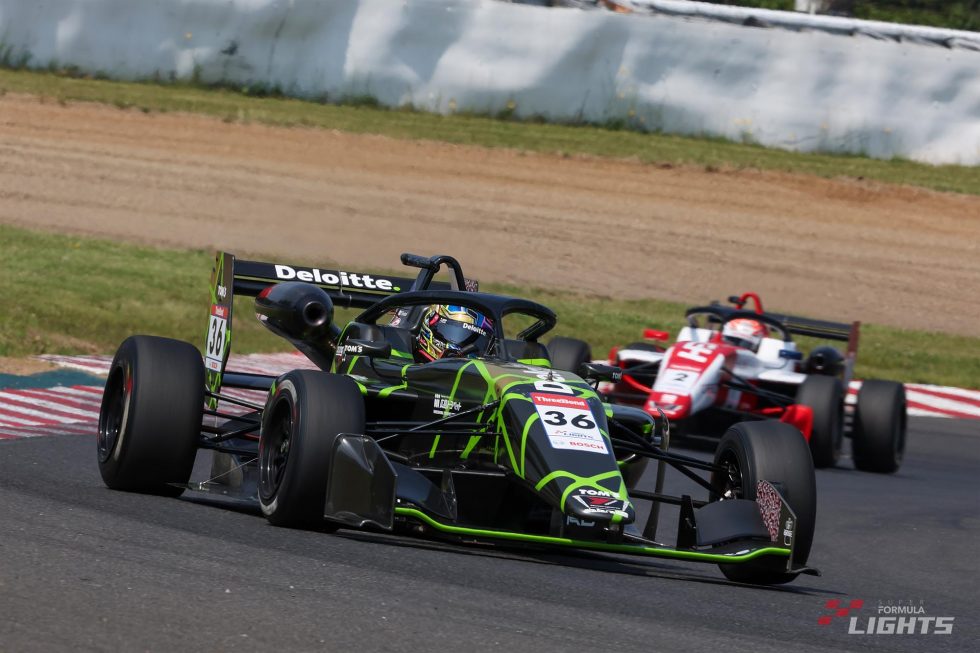 Yuga Furutani(Deloitte. HTP TOM'S 320)

■Imada claims his second consecutive master class win
Keeping setting less than 1m15.500 Kotaka took back-to-back wins for the first time in his SFL career with a comfortable 5.125 secs buffer, his fifth victory of the season.
Furutani placed second ahead of Ohta, tying his personal best result in the third event of 2022.
Taira fended off Kimura by 0.355secs. to finish fourth. Nonaka rounded out the points in sixth.
In an early battle between master class cars Imada and DRAGON made a contact at Turn one on lap nine, sending the latter off the track.
Despite another battle fought with Yuya Hiraki Imada held on for his second master class consecutive win by finishing ninth overall.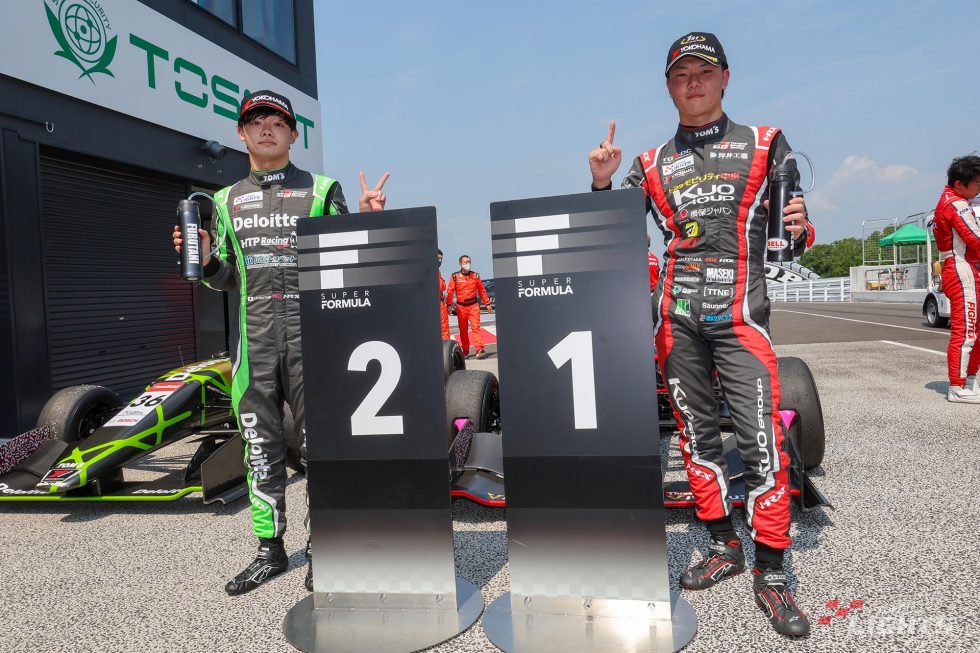 Kazuto Kotaka and Yuga Furutani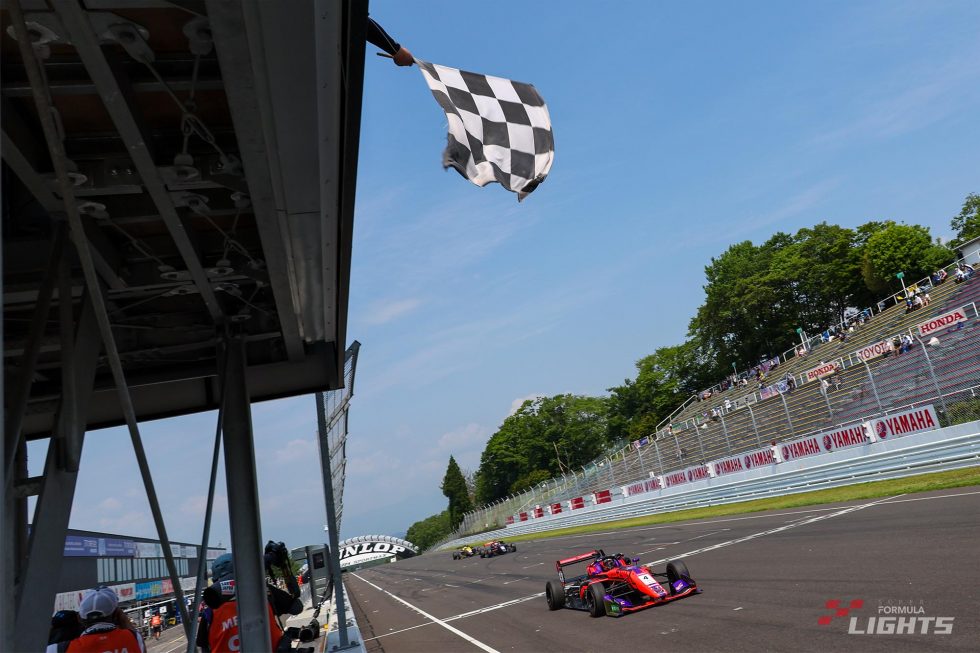 Nobuhiro Imada(JMS RACING with B-MAX)