Kakunoshin Ohta marks second victory of the season after winning chaotic Rd 8
2022/05/23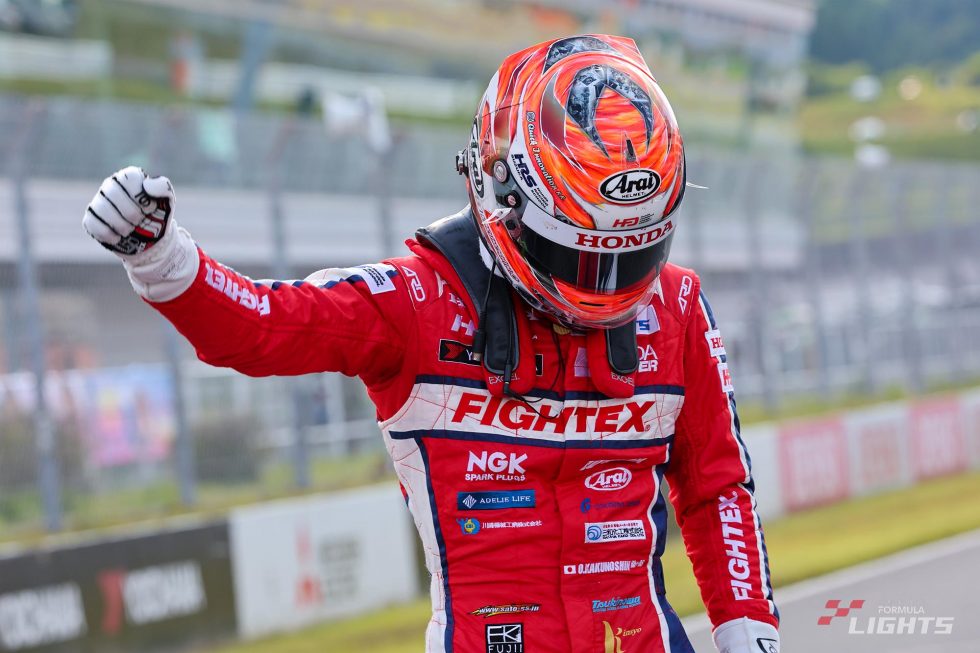 Kakunoshin Ohta(HFDP WITH TODA RACING)
The Rd 7 of Japanese Super Formula Lights championship finished at 0:29pm, and with qualifying for the Super Formula's Rd 4 in between Rd 8 kicked off with the formation lap.
Kakunoshin Ohta in HFDP WITH TODA RACING had secured pole position for the second race in a row with his second-best time of 1m36.932 posted on his first set of tyres.
Togo Suganami (Byoubugaura B-MAX Racing 320) had claimed another front-row position for the first time ever ahead of the Rd 7 winner Iori Kimura (HFDP WITH B-MAX RACING) and Taira (Kuo MOBILITY CHUKYO TOM'S 320).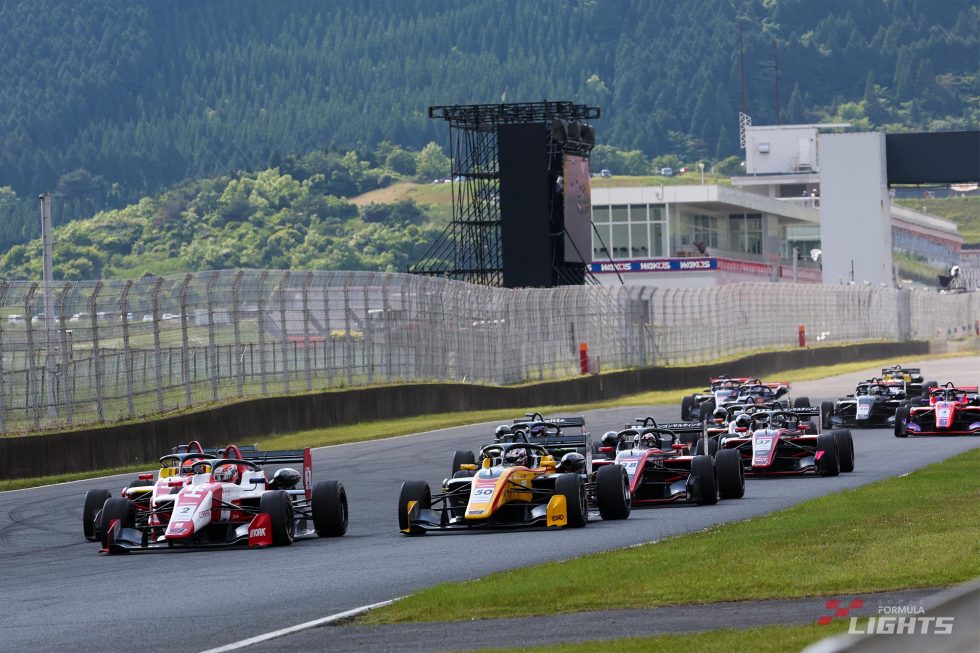 Start of Round.8
■Incident-packed opening lap
The weather began to improve during the Super Formula's qualifying, and Rd 8 was launched at 4:15pm under warm sunshine.
Ohta got a good start from pole to retain his lead over Suganami, while Taira in fourth went around the outside with confidence in his start to mount an attack on Kimura, only to slightly run off to the dirt.
Just after Taira returned to the track Suganami hit the rear of Ohta at the exit of Turn two, sustaining damage to his own front wing. 'I used some traction early on at the first corner trying to slip as long as I could to challenge Kakunoshin once again. I thought I could overtake him, as I was better in acceleration, but…,' said the B-Max driver. 'I made a mistake at the most critical moment. I'm just disappointed.'
Behind them Kimura battling with Taira on the outside suffer a slight off when exiting Turn three, and as he returned to the track Taira crashed out at Turn four having made contact with him, and hit the barriers.
A little further back, Kazuto Kotaka (Kuo MOBILITY CHUKYO TOM'S 320) spun out to the dirt while battling with Yuga Furutani (Deloitte. HTP TOM'S 320) for fifth spot.
The Taira's crash brought out a safety car, and B-Max immediately brought Suganami into the pits for a new front wing. Kotaka returned to the track in the meantime.
During the SC period Ohta was in the lead, followed by Kimura, Furutani, Seita Nonaka (PONOS Racing TOM'S 320) – who had started seventh – and Kohta Kawaai (in Rn-sports 320).
When the safety car pulled in on lap three Suganami pitted again. Having played an excellent catch-up from the back of the grid Kawaai suffered an engine failure at the restart and was forced to pit, promoting Reiji Hiraki (HELM MOTORSPORTS 320) and Yuya Hiraki (HELM MOTORSPORTS 320) up into fifth and sixth respectively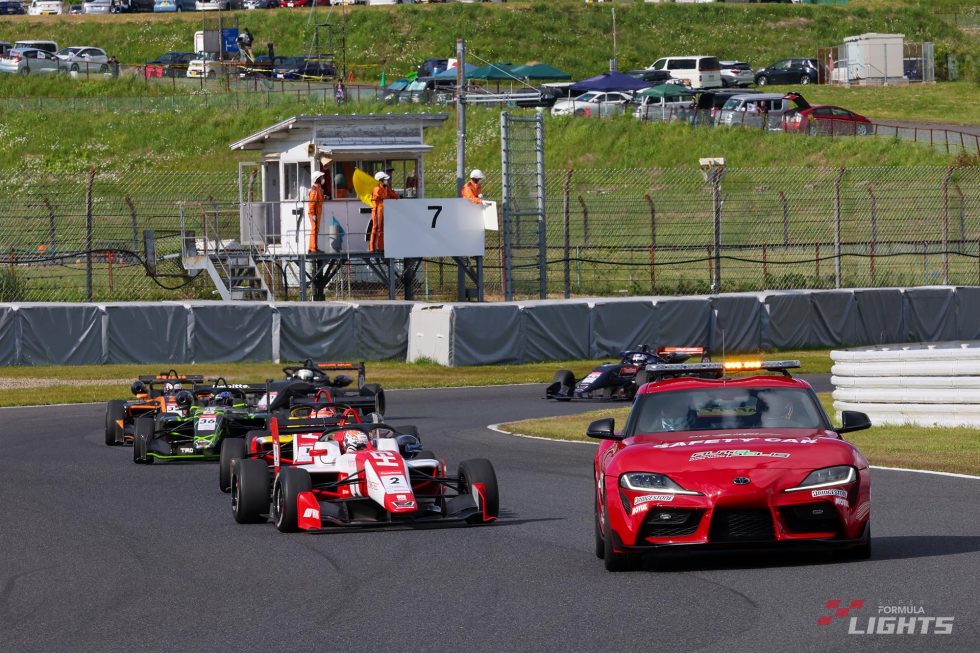 Safetycar procedure
■Race affected by a series of penalties
With Ohta gradually building up a gap over Kimura and Furutani the timing monitor showed a series of penalties.
30-second time penalties were given to Taira and Kimura both for jumping start. Nobuhiro Imada (JMS RACING with B-MAX) was hit with two penalties for crossing the white line at pit exit and jumping start.
Untroubled by the chaos Ohta marked his second victory of the season, extending his lead in the championship standings. Second and third went to Furutani and Nonaka respectively.
Kimura was handed a 30-second post-race time penalty for the collision with Taira.
Reiji Hiraki finished fourth, his best-ever SFL result.
Yuya Hiraki recorded his first points finish in fifth.
Kotaka took the final point in sixth after recovering from the spin out.
DRAGON (TEAM DRAGON B-MAX 320) won in the master class.