Kazuto Kotaka wraps up Sugo event with a commanding third straight win, as TOM'S dominates top four
2022/06/21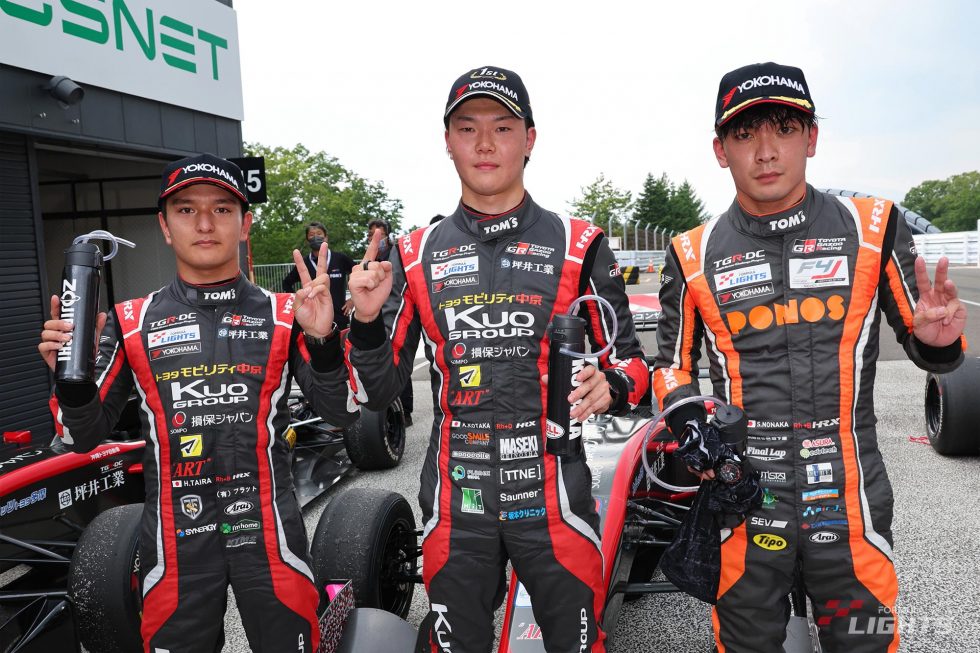 Kazuto Kotaka,Hibiki Taira,Seita Nonaka
About three hours after the previous race ended at 9:31am the Japanese Super Formula Lights championship finally went into the last Rd 12 race of the Sugo weekend under cloudy skies.
The Rd 10 winner Kazuto Kotaka in Kuo MOBILITY CHUKYO TOM'S 320 had claimed pole position for the second race in a row.
Another front row sitter was his team-mate Taira Hibiki (Kuo MOBILITY CHUKYO TOM'S 320).
The second row had been secured by Reiji Hiraki (HELM MOTORSPORTS 320) and Seita Nonaka (PONOS Racing TOM'S 320).
Championship leader Kakunoshin Ohta (HFDP WITH TODA RACING) would start down in 10th while B-MAX pair of Iori Kimura (HFDP WITH B-MAX RACING) and Togo Suganami (Byoubugaura B-MAX Racing 320) would start 11th and 12th respectively after their retirements in Rd 10.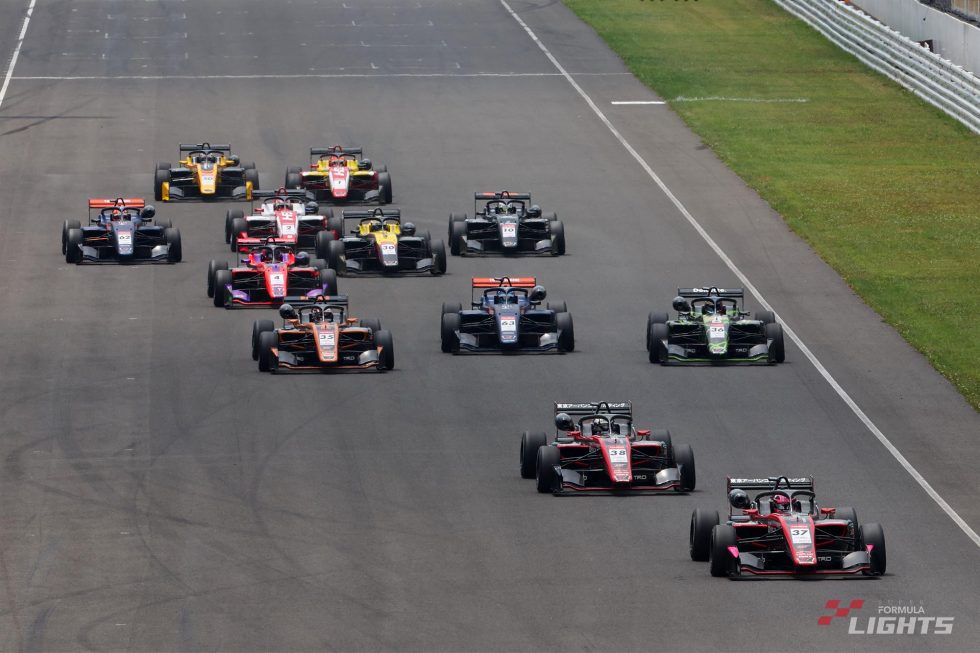 Start of Round.12
■Another drama right after the start
Kotaka and Taira leapt into Turn one in the grid order, while a sluggish start from Reiji Hiraki allowed Nonaka to dive down his inside and Furutani to go around his outside to pass the HELM driver into Turn one.
Behind them a drama occurred as Kohta Kawaai (in Rn-sports 320) – who had started ninth – and Ohta made a contact on the run to Turn one, with Kawaai sustaining damage to his right rear suspension and spinning before colliding eighth start Yuya Hiraki (HELM MOTORSPORTS 320). Ohta moved to the outside to try to avoid the two, forcing Kimura coming from behind to run off into the gravel as he was avoiding a possible collision, and causing damage to Kimura's front wing.
Kawaai was forced out of the race with his car stranded, and the safety car was summoned.
Yuya Hiraki and Kimura immediately pitted, with the latter changing his front wing as well as front nose, and both managed to rejoin the track on the same lap.
The restart on lap five saw TOM'S dominate the lead four as Taira in second and Nonaka in third put their cars right behind Kotaka's rear, with Furutani a little behind them.
A little back, meanwhile, Ohta made positions at the restart to move up to fifth after passing Reiji Hiraki.
In the middle of the race Taira and Nonaka relentlessly chased Kotaka while posting fastest laps, but Kotaka never relinquished his lead to claim his first ever three consecutive wins.
'Even though the pace was not really good I was determined to open up my lead to take the chequered flag,' revealed Kotaka.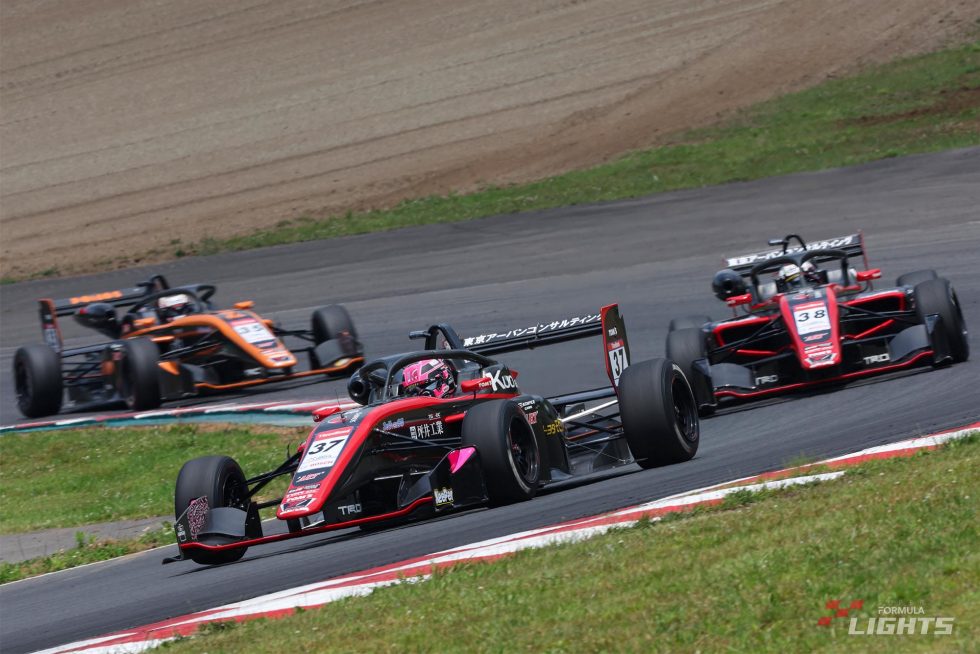 Kazuto Kotaka(Kuo MOBILITY CHUKYO TOM'S 320)
■ TOM'S sweeps podium for the first time in 13 years
TOM'S concluded this Sugo race weekend with a crushing victory, as Nonaka placed third behind Taira, his first podium finish in the Sugo weekend, and Furutani held off Ohta by a second. Indeed, it was the first podium sweeping victory for the team in 13 years.
Kimura rounded out the points in sixth with a late charge including an overtaking pass on Reiji Hiraki.
Nobuhiro Imada (JMS RACING with B-MAX) also completed this event with three consecutive master class wins for the first time since 2021's fifth event after battling it out with DRAGON (TEAM DRAGON B-MAX 320).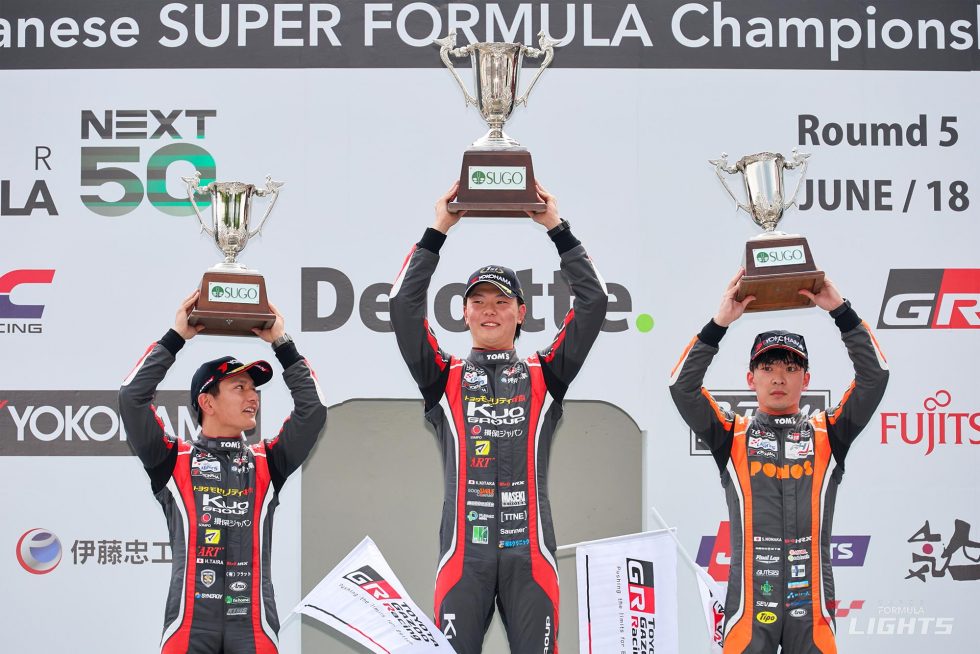 Podium of Round.12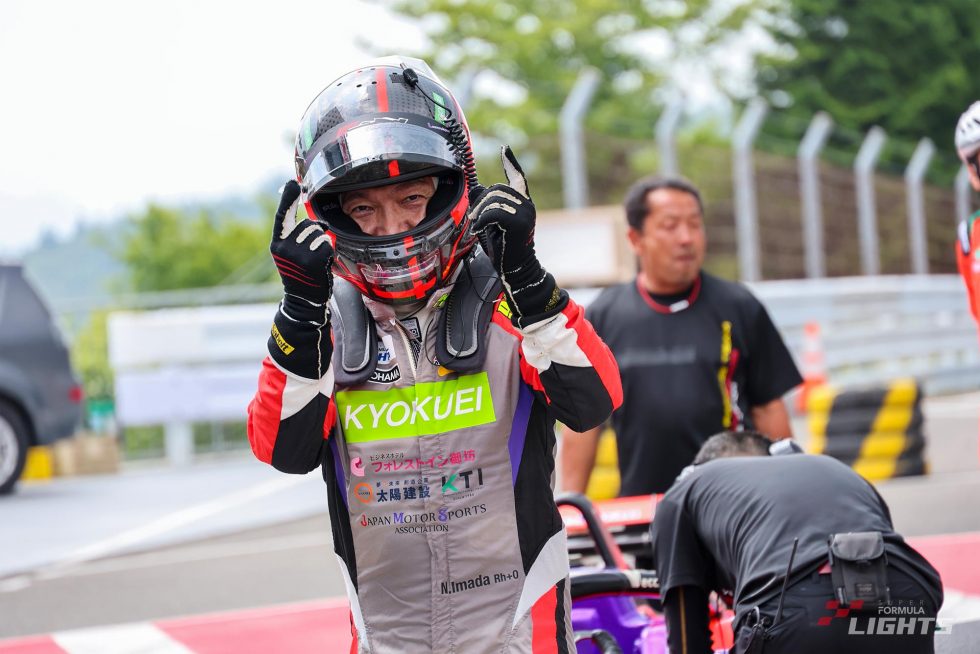 Nobuhiro Imada(JMS RACING with B-MAX)