Seita Nonaka claims his maiden SFL win after dodging a drama just after the start
2022/04/11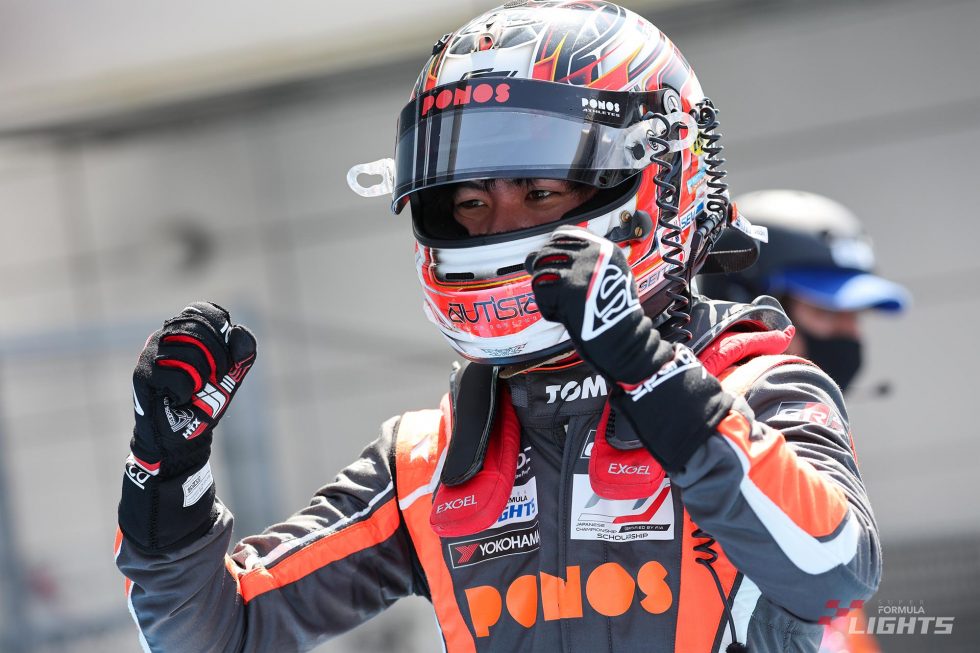 Seita Nonaka(PONOS Racing TOM'S 320)
Following two-day practice sessions qualifying for Rd 1 and Rd 2 of 2022 Super Formula Lights championship started at 8:50 on Saturday with Mt. Fuji shining under clear skies, but the strong wind from Friday suggested another difficult day for the drivers.
Apart from Masayuki Ueda in Rn-sports 320, who returned to the pits after just scrubbing his tyres all the cars started to improve their times on lap five, and Kohta Kawaai (in Rn-sports 320) reduced his times to 1m33.858 on his lap six, and Kakunoshin Ohta (HFDP WITH TODA RACING) followed him.
With each car setting about its second run with 10 minutes to go Kawaai posted 1m33.248 to take pole position on his SFL debut.
Kazuto Kotaka (Kuo MOBILITY CHUKYO TOM'S 320) qualified second on his second set of tyres, but would start Rd 1 race from seventh following a five-place grid penalty for an engine change, promoting Ohta to second place and Seita Nonaka (PONOS Racing TOM'S 320) and Iori Kimura (HFDP WITH B-MAX RACING) to the second row.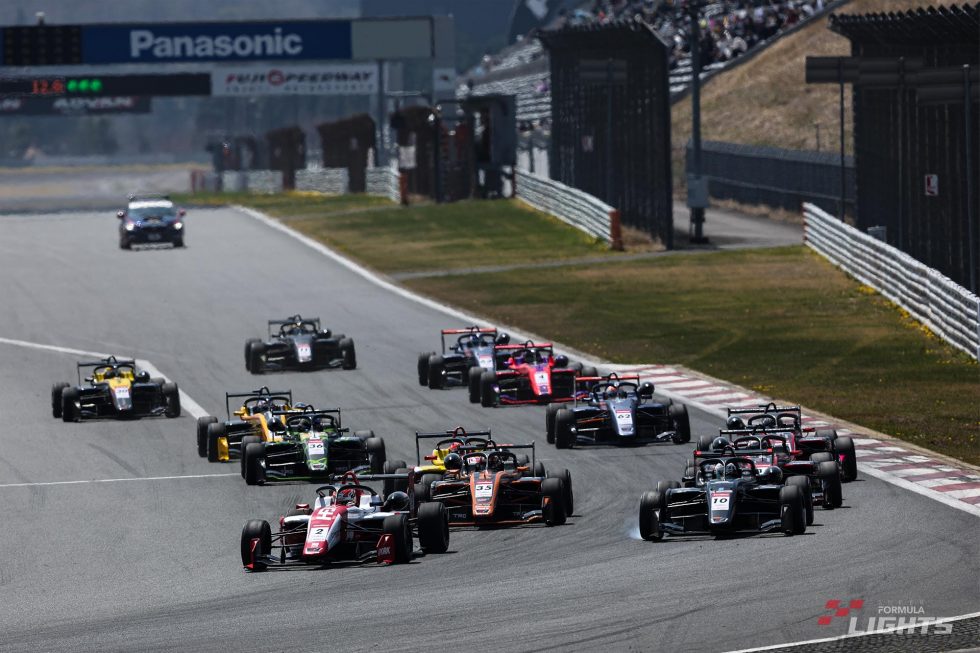 Start of Round1
■Opening lap sees a contact at TGR
After the Super Formula's qualifying, N-ONE Owners Cup's qualifying and the pits viewing the season opener got underway at 0:30 for 21 laps still in strong winds. Kawaai got a good start from pole, but Ohta got off to a better start as one of the seven rookies, lining up with Kawaai on the main straight.
'I got my feet caught by the track surface,' said Kawaai. 'I practiced starts a lot, but never did on the straight with a lot of rubber'.
Having got up to speed from third Nonaka also dived down the inside of Kawaai at TGR. The two went side-by-side into Turn two, with Kawaai cutting across the track at the exit in trying to jump Ohta, only to rear-end the Ohta's machine, forcing him to park up because of a damaged gearbox.
This saw Kimura as well as Hibiki Taira (Kuo MOBILITY CHUKYO TOM'S 320) who had started fifth, and Kotaka shoot past Kawaai, and brought Nonaka, Kimura and Taira up to the lead, second and third respectively.
Yuga Furutani (Deloitte. HTP TOM'S 320) slightly lost balance at TGR on lap two when he was running six behind Kawaai, conceding the spot to Togo Suganami (Byoubugaura B-MAX Racing 320).
The leading pack would gradually spread out.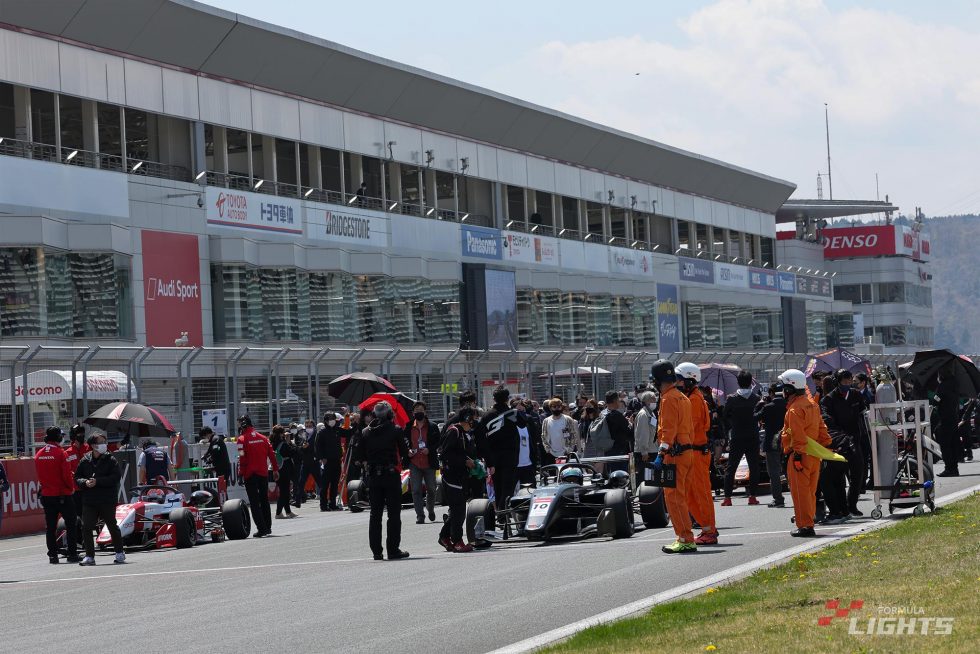 Starting Grid of Round1
■Nonaka wins a close battle of leading four
On lap seven plumes of smoke came out of Kawaai's machine as he braked for TGR while fending off a charging Suganami in sixth before getting off the track and limping back to the pits with vibration. His front wing appeared to have been badly damaged through the collision with Ohta.
This way, both front-row starters disappeared.
Staying well out of the chaos behind Nonaka maintained about a second lead over Kimura. Taira and Kotaka closely followed the lead two, with Suganami at a good pace behind.
A little back, Furutani overtook Yuya Hiraki (HELM MOTORSPORTS 320) for seventh as soon as he returned to the track and then closed in on Reiji Hiraki (HELM MOTORSPORTS 320) in sixth.
Nonaka successfully saved his tyres for most of the long distance for a late dash, holding off Kimura to claim his first victory from Kimura in his first year as a regular driver.
Taira placed third with a narrow margin over Kotaka. Reiji Hiraki held off a late charging Furutani to finish behind Suganami, bringing the first point to HELM MOTORSPORTS.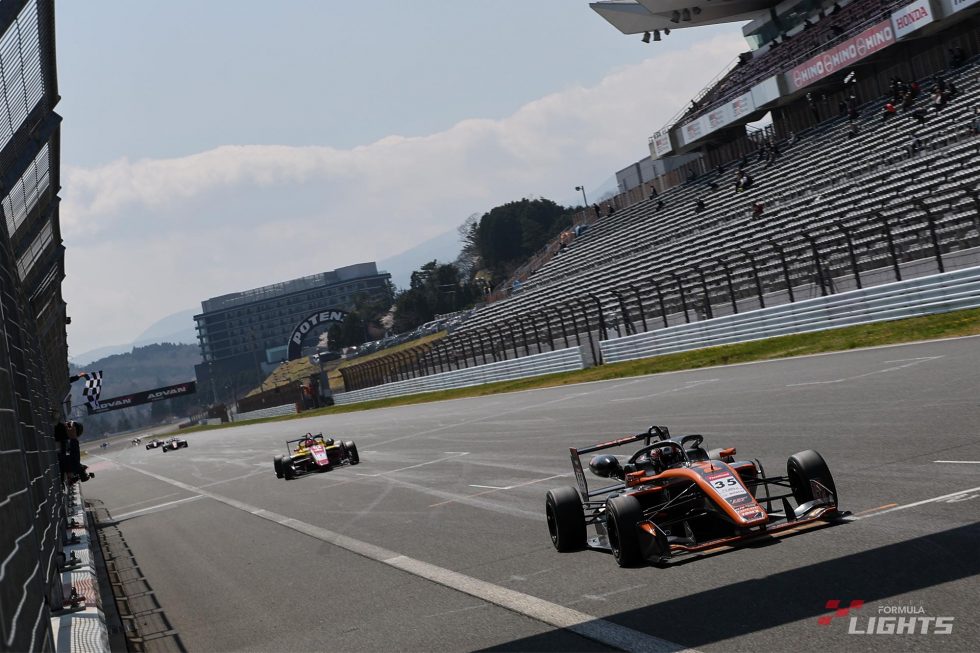 Seita Nonaka(PONOS Racing TOM'S 320)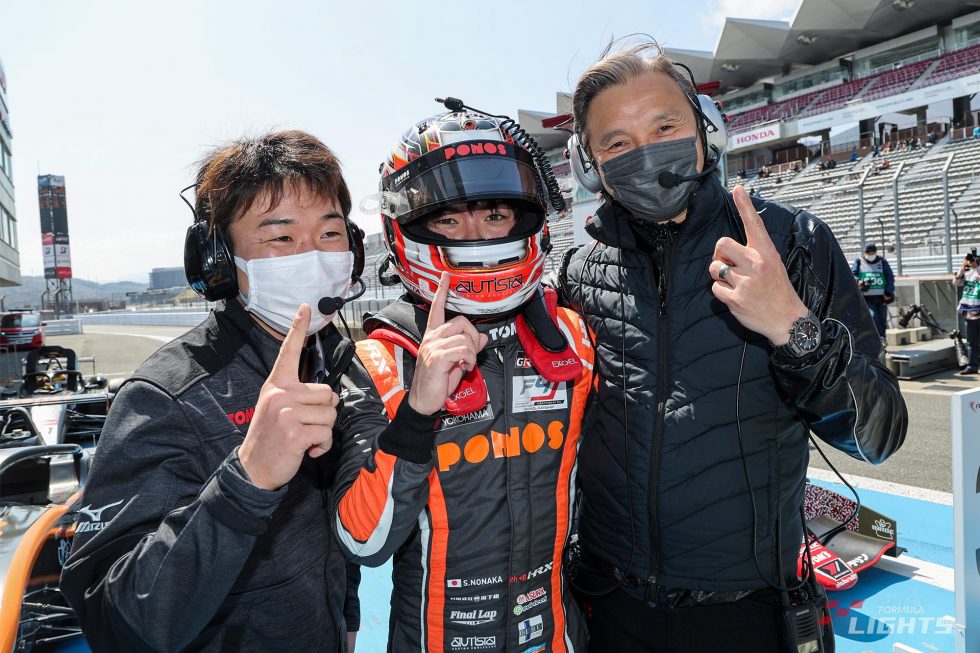 野中誠太と山田淳監督、河野駿佑データエンジニア
■A contact between Master class drivers
In the Master class a fierce battle between Nobuhiro Imada (JMS RACING with B-MAX) and DRAGON (TEAM DRAGON B-MAX 320) unfolded as early as the opening lap. They swapped positions at times, as Imada passed DRAGON at TGR on lap four and then DRAGON fought back on a lap later.
It ended on lap nine when DRAGON hit Imada as the latter tried a move around the outside at TGR, sending Imada into spinning and damaging DRAGON's front wing before forcing both to come in.
This moved Ueda up to the class top, who would retain the position to the end.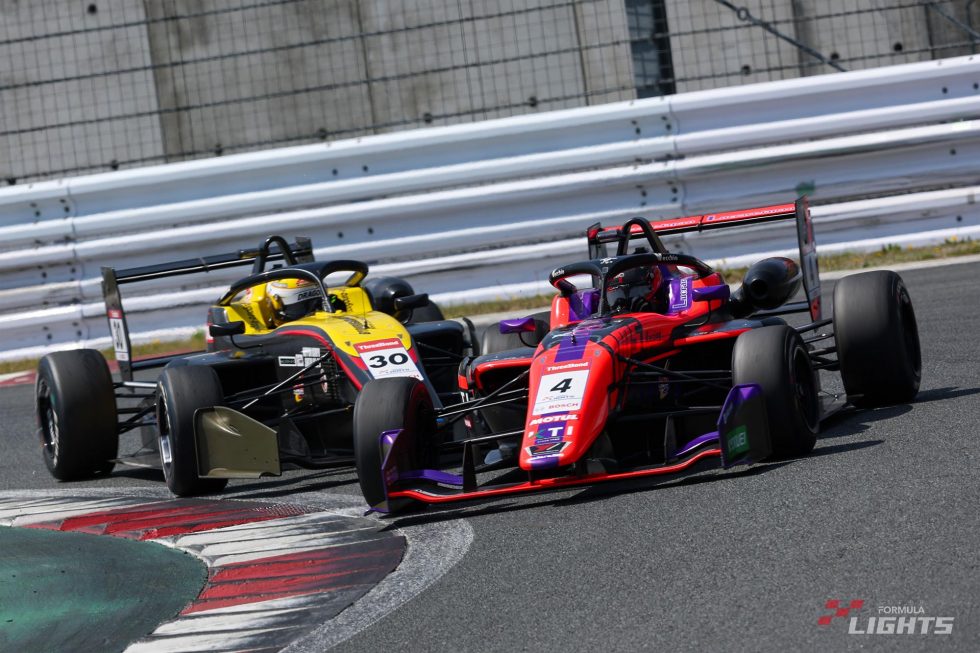 Nobuhiro Imada and DRAGON