Teppei Natori wins close battle with Ren Sato
2021/04/26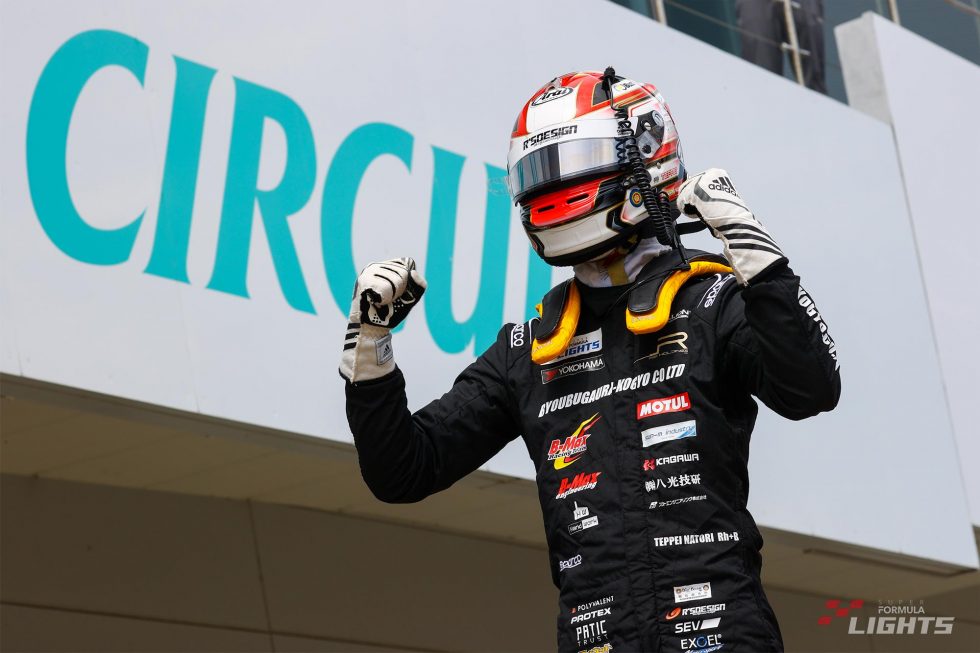 Teppei Natori(Byoubugaura B-MAX Racing 320)
Amid the afterglow of the Saturday's fierce battles still lingering Rd 5 of the Buzz presents Japanese Super Formula Lights championship kicked off for 12 laps at 9:55 am on Sunday at Suzuka Circuit packed with a lot of fans.
With each driver improving their times towards the end of the 30-minute qualifying Teppei Natori in Byoubugaura B-Max Racing 320 posted two fast laps in a row on a fresh set of tyres to take pole position for Rd 5 from Ren Sato (in Toda FIGHTEX) with his second-best time of 1m51.677.
Giuliano Alesi (Deloitte. TOM'S 320) secured third position on the grid.
DRAGON (TEAM DRAGON B-MAX 320) who had qualified 10th lined up late on the grid after coming to a halt over the gravel at the spoon curve on the sighting lap that started at 9:30 am.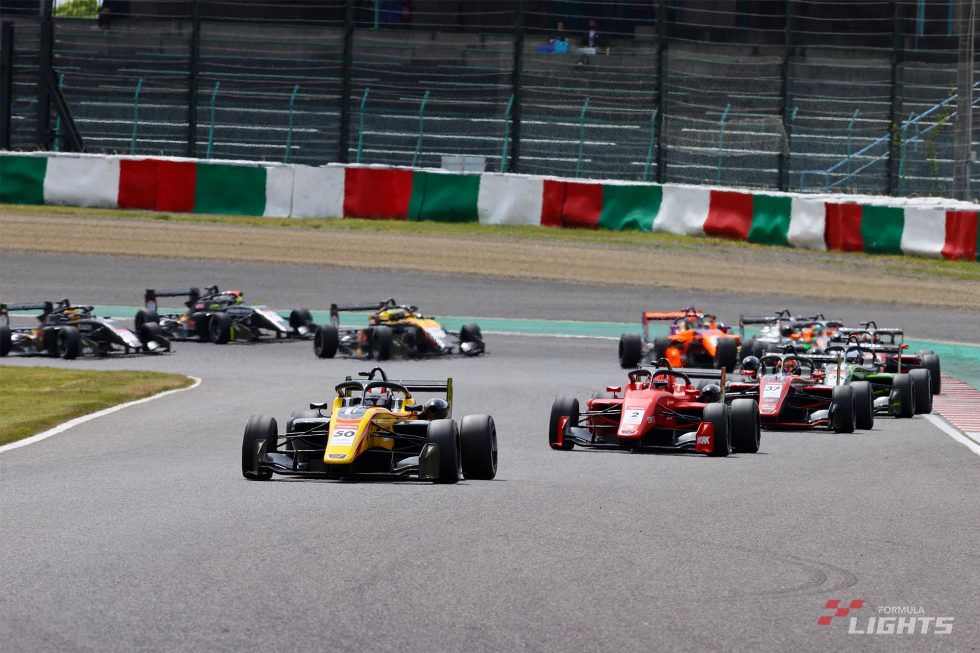 Start of Round.5
■Tense scraps fought by race leaders
Natori made a quick getaway as he had done in Rd 4 while a poor start from third dropped Alesi to fourth behind Hibiki Taira (Kuo Corolla Chukyo TOM'S F320).
Running behind the TOM'S trio of Taira, Alesi and Seita Nonaka (Kuo Corolla Chukyo TOM'S F320) was Shunsuke Kohno (RS FINE K&N 320), and a slow starting Atsushi Miyake (MAX RACING 320) was seventh.
The early stages of the race saw nose-to-tail scrap fought by Natori and Sato (both on used set of tyres) over lead, and Taira and Alesi over third spot, leaving Nonaka and Kohno being closed in by charging Miyake.
The Rounye-Sports driver got past Kohno at Turn two on lap three and then quickly proceeded to give rapid chase to Nonaka in fifth.
Natori's lead, that had begun with about a second gap, gradually opened up to 1m450 secs by the end of lap seven, and even though it was reduced in the final laps the B-Max driver ultimately crossed the line 0.535 secs clear of Sato for his second straight win.
Close battle over third was concluded on lap 10 when Alesi got into Taira's slipstream on the straights to snatch the third spot out of Turn two, which he would hold to the end to take his second consecutive podium finish from Taira, Nonaka and Miyake.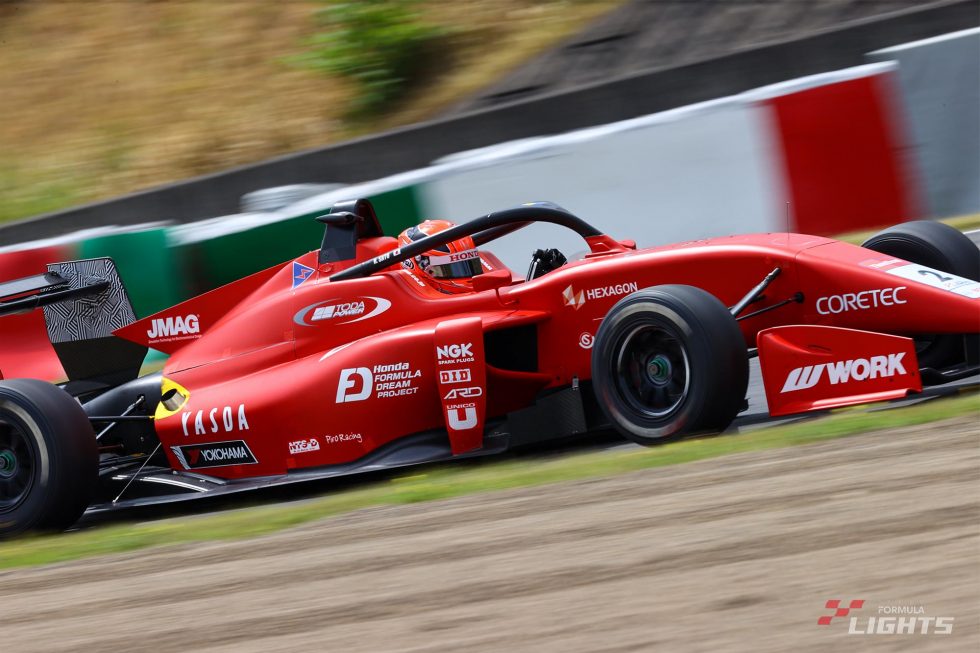 Ren Sato(TODA FIGHTEX)
■ A drama on the final lap for master class
The master class was led by Nobuhiro Imada (JMS RACING with B-MAX) from the start, who had beaten some of the championship class drivers with strong pace in Rd 4, and Masayuki Ueda (MAXRACIING RN320) closely followed the class leader early on.
As Ueda began to lag behind on lap nine Imada appeared set for a comfortable class victory, but his rear ran over Tsubasa Iriyama (Albirex-RT)'s right front tyre at Hitachi Astemo chicane on the final lap when the Albirex driver tried a move, sending Imada's car flipping around.
Luckily, Imada was able to extricate himself unhurt, but allowed to Ueda to take his second class win of the season.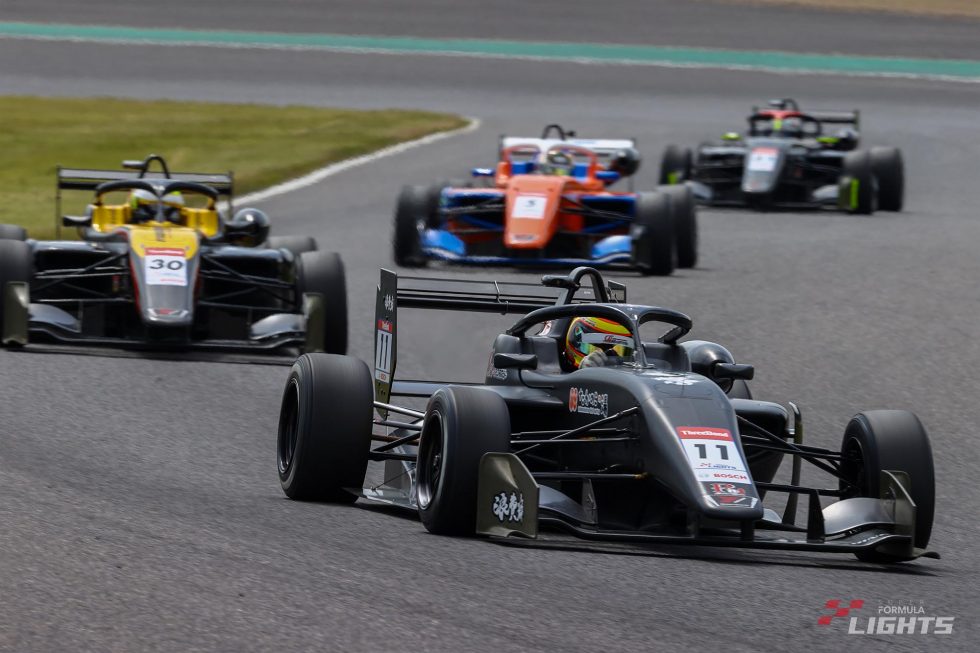 Masayuki Ueda(MAXRACING RN320)