Atsushi Miyake charges from 6th to win wet Rd 3 as Masayuki Ueda wins in master class
2021/04/04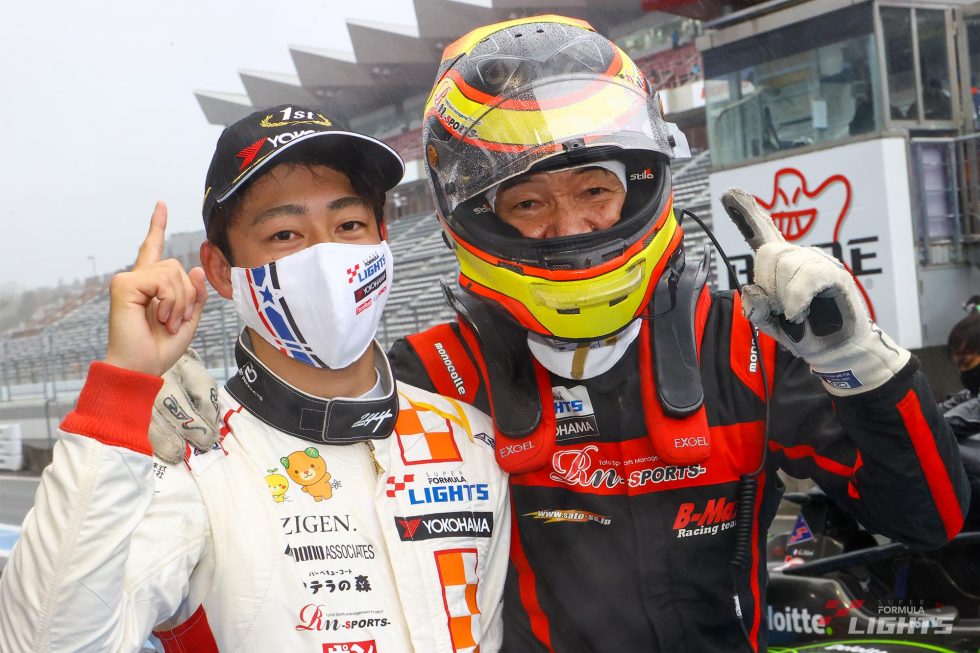 Atsushi Miyake and Masayuki Ueda
Teppei Natori placed his Byoubugaura B-Max Racing 320 at the front of the grid for the last race of this 2021 Super Formula Lights Fuji weekend, which was decided by the finishing order of Rd 1, ahead of Ren Sato (in TODA FIGHTEX) and Giuliano Alesi (TOM'S 320).
Hibiki Taira (Kuo Corolla Chukyo TOM'S F320) was able to join the race from fourth after a DNS in Rd 2 due to a machine failure.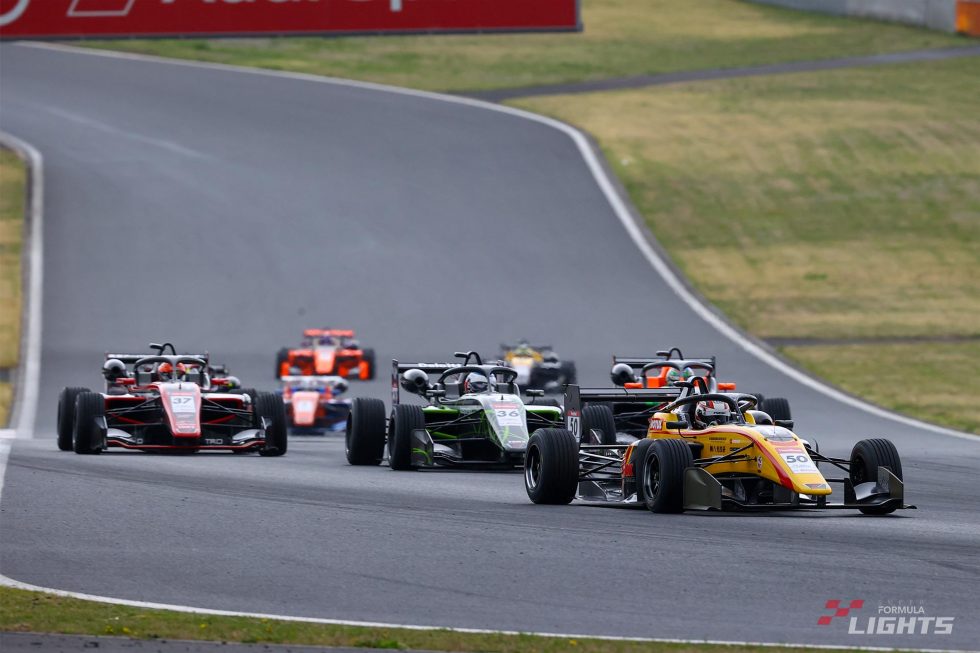 Start of Round.3
■The track turns to wet conditions
With the rain that started in the Super Formula opening race intensifying in the lead up to lights out and turning the track completely wet conditions all the cars had switched to wet tyres before the formation lap started at 4:20 pm.
Although the track's water level still remained low it was the first time for many of the drivers to drive the Dallara 320 on wets, including Sato, who stalled his car at the start.
Masayuki Ueda (MAXRACING RN320) also got a slow start.
The pole-sitter Natori, meanwhile, leapt into TGR at front, followed by Alesi and Taira.
Shunsuke Kohno (RS FINE K&N 320) ran wide on to the kerbs on the outside of Advan and spun while running in fourth, losing several places.
Sato came in for slick tyres at the end of the opening lap and began to put in a couple of quick laps in three laps that were four to five seconds faster than those on wets as the track gradually drew. He earned one point from setting the fastest lap of the race on lap five.
Sato's catch-ups, however, would be hampered midway through the race when the rain got heavier again.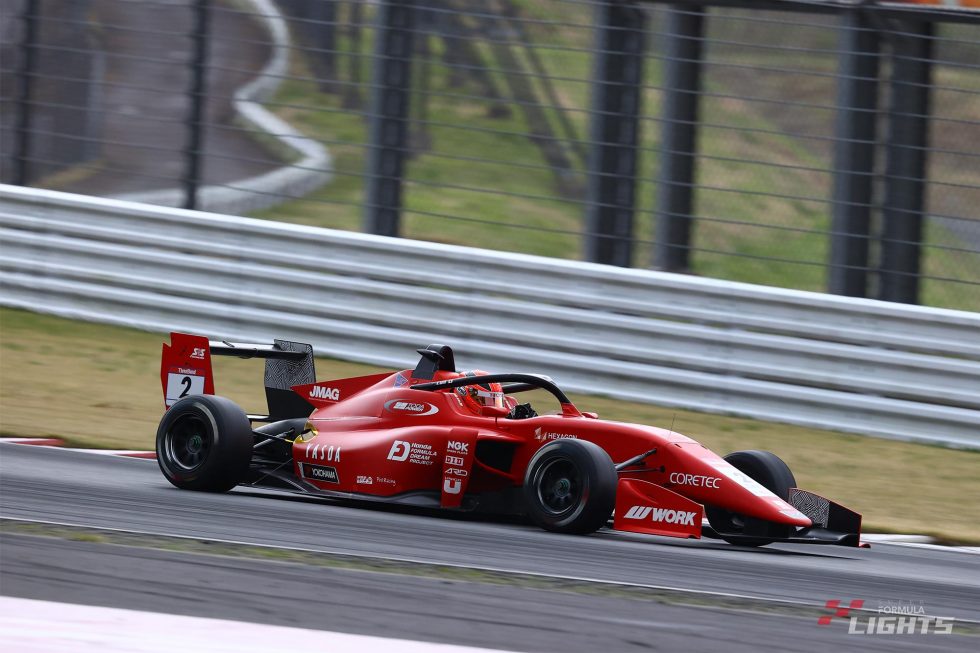 Ren Sato(TODA FIGHTEX)
■Closing stages see a furious charge from Miyake
The leading pack had spent a relatively quiet time with each one's gap gradually opening up until it saw a change occurring from behind in the middle of the race.
On lap seven Taira in third found himself rapidly being closed in by a pair both running on a different vehicle setup for wet conditions from the others, Atsushi Miyake (MAX RACING 320) and Seiya Jin (Albirex-TR) – who had started from the last row on the grid.
Miyake eased past Taira on the straights on lap eight, and Jin followed suit. Miyake also overtook Alesi at Dunlop on the same lap.
Getting on to the tail of Alesi next was Jin, who would complete an overtaking pass at Coca-Cola a lap later, but slip and spin soon after.
As the rain got a bit heavier Miyake set about closing the gap on Natori on lap 10, diving up the inside of Natori in to Advan on lap 12 to finally snatch the lead.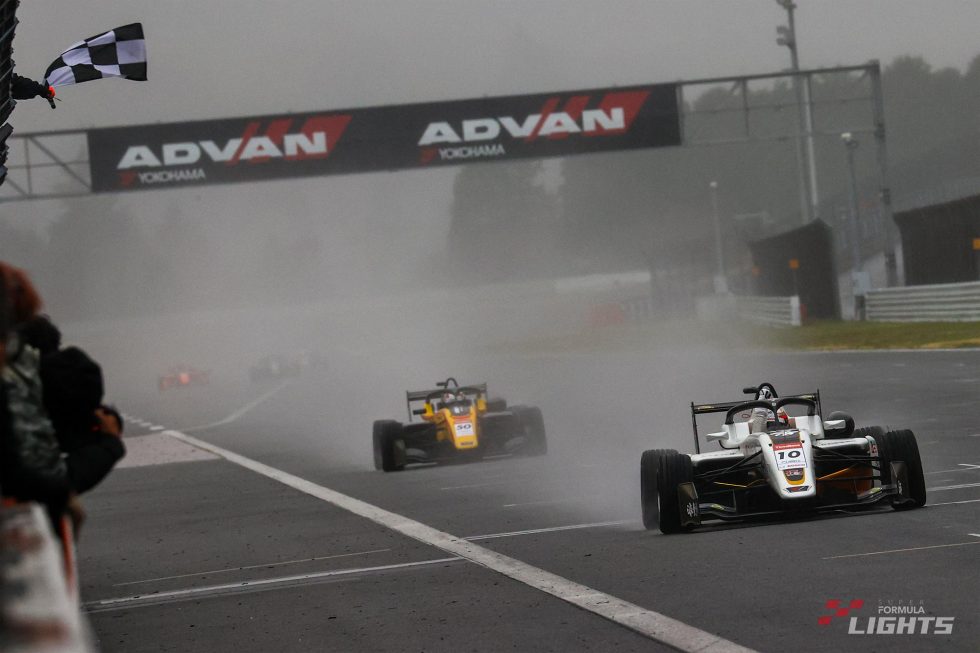 Atsushi Miyake(MAX RACING 320)
■Two victories for Rounye-Sports
As the rain got even heavier on the final lap it was Natori's turn to make a move now that he began to feel comfortable with his wet setup, but Miyake kept his cool to take his maiden Super Formula Lights win. Natori placed second for the second race in a row.
Alesi ended up winning a scrap for the final podium position fought among Taira and Jin by just 0.006 secs margin over Taira.
Nobuhiro Imada (JMS RACING with B-MAX)'s hope to extend his master class winning streak to three ended when he spun in a close battle with DRAGON (TEAM DRAGON B-MAX 320). He was then rear-ended by Kohno at the exit of TGR on lap six who hit his front-wing on Imada's rear tyre in trying to avoid a collision. That forced Imada to come in and promoted Masayuki Ueda (MAXRACIING RN320) to the top spot of the class, which he would retain to the chequered flag to claim second victory for Rounye-Sports in one race.