Hibiki Taira makes a stunning start for his maiden SFL win
2022/04/12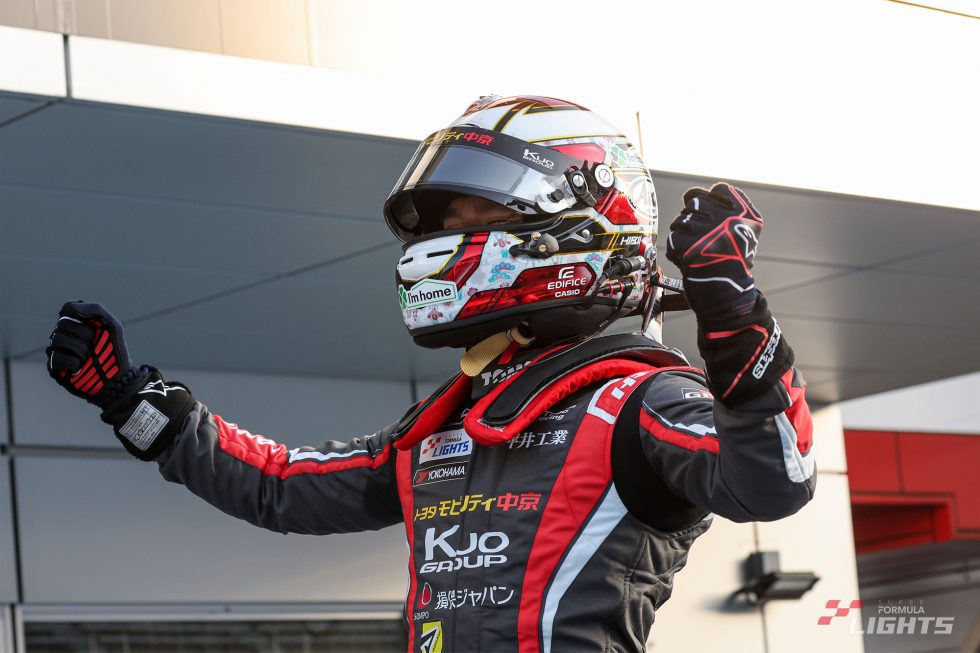 Hibiki Taira(Kuo MOBILITY CHUKYO TOM'S 320)
With the Super Formula's Rd 2 race in between, the formation lap of the Japanese Super Formula Lights Rd 3 kicked off at 4:35 pm on Sunday six and a half hours after the Rd 2 as the sun began to set.
The grid for third race of each SFL event is determined by the finishing order of first race as in the previous years, so Seita Nonaka in PONOS Racing TOM'S 320 took pole position with Iori Kimura (HFDP WITH B-MAX RACING) as a fellow front-row starter ahead of Hibiki Taira (Kuo MOBILITY CHUKYO TOM'S 320) in third and Kazuto Kotaka (Kuo MOBILITY CHUKYO TOM'S 320) in fourth.
Kakunoshin Ohta (HFDP WITH TODA RACING) and Kohta Kawaai (in Rn-sports 320) started 12th and 13th respectively after their contact in Rd 1.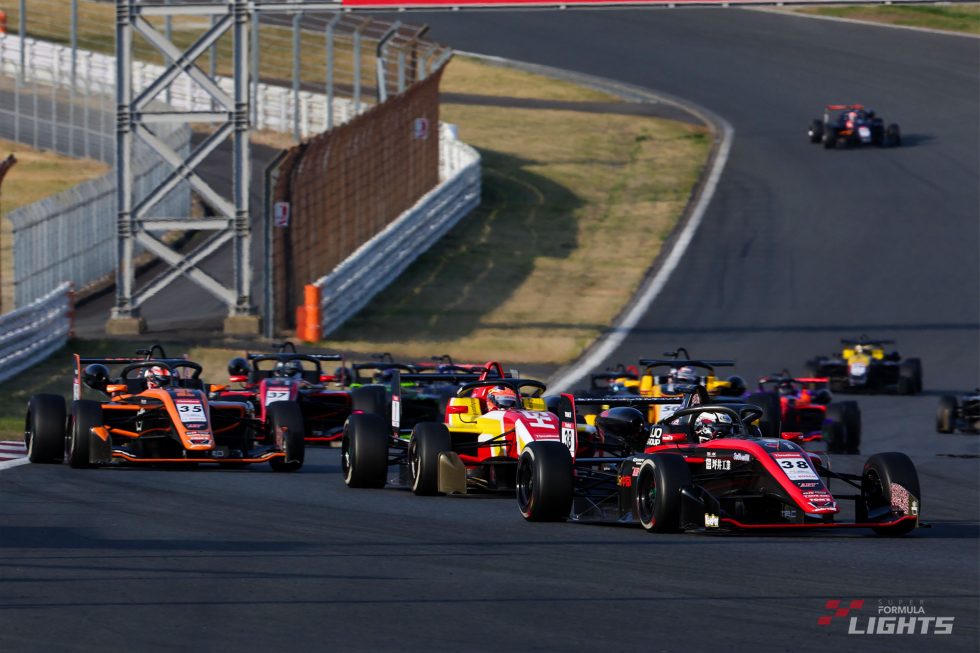 Start of Round3
■Fierce scraps fought with Kotaka at the front
'I'd like to overtake the two cars ahead and win the next race,' commented Taira in the press conference after Rd 2, and true to his ambition he made a stunning start as he did in Rd 1 and 2 to quickly pass a slow-starting Nonaka before snatching the lead from Kimura into TGR.
A stall at the start dropped Yuya Hiraki (HELM MOTORSPORTS 320) to the back of the field, while Ohta and Kawaai rocketed to eighth and ninth respectively before they even completed the opening lap.
Struggling to get up to speed Kotaka in fourth allowed Togo Suganami (Byoubugaura B-MAX Racing 320) to breeze past him on lap four, and then found himself under pressure from Ohta – who had passed Yuga Furutani (Deloitte. HTP TOM'S 320) on lap two and Reiji Hiraki (HELM MOTORSPORTS 320) on lap three – and Hiraki, and Ohta and Hiraki also found themselves rapidly being approached by Kawaai – who had passed Furutani – and Furutani, the pack going on to engage in fierce five-way scrap with Kotaka at the front.
Once passing Hiraki on lap 10 to move up to seventh Kawaai mounted a strong challenge on Kotaka – who had dropped to sixth after being passed by Ohta on lap seven – for the final point.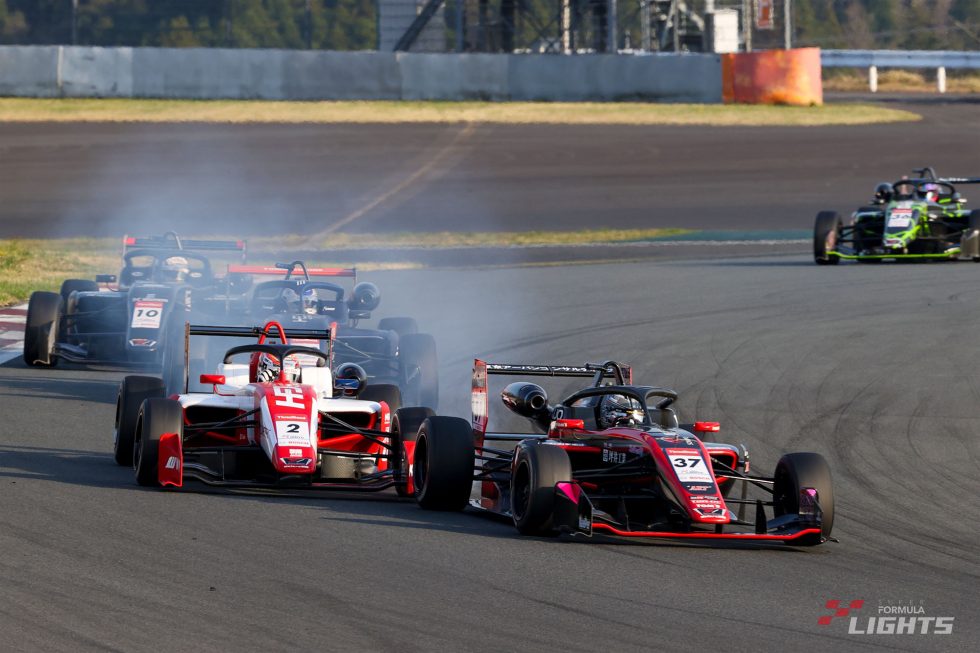 Kazuto Kotaka and Kakunoshin Ohta
■Taira retains his lead to the end
In the meanwhile, Taira retained his lead to take his maiden win in his second year in the series with a 2.964 secs margin over Kimura. It was the moment when all the collaboration with the team engineers for ideal car set-up paid off.
Kimura placed second for the second time after Rd 1. The pole-sitter Nonaka looked unhappy as he settled for third. Suganami finished fourth on the road, but was demoted to fifth after being hit with 5-second time penalty for running off the track multiple times, promoting Ohta to fourth.
Kawai picked up the final point after beating Kotaka at TGR on lap 14.
Similarly to the previous two rounds the master class had another duel fought by Nobuhiro Imada (JMS RACING with B-MAX) and DRAGON (TEAM DRAGON B-MAX 320).
Imada took the lead from Masayuki Ueda (Rn-Sports 320) on lap three, but lost it to DRAGON two laps later, and despite relentless charge from the B-MAX driver DRAGON retained the top spot to make it back-to-back class in.