Ritomo Miyata wins inaugural Super Formula Lights race at scorching Motegi with a lights-to-flag victory
2020/08/30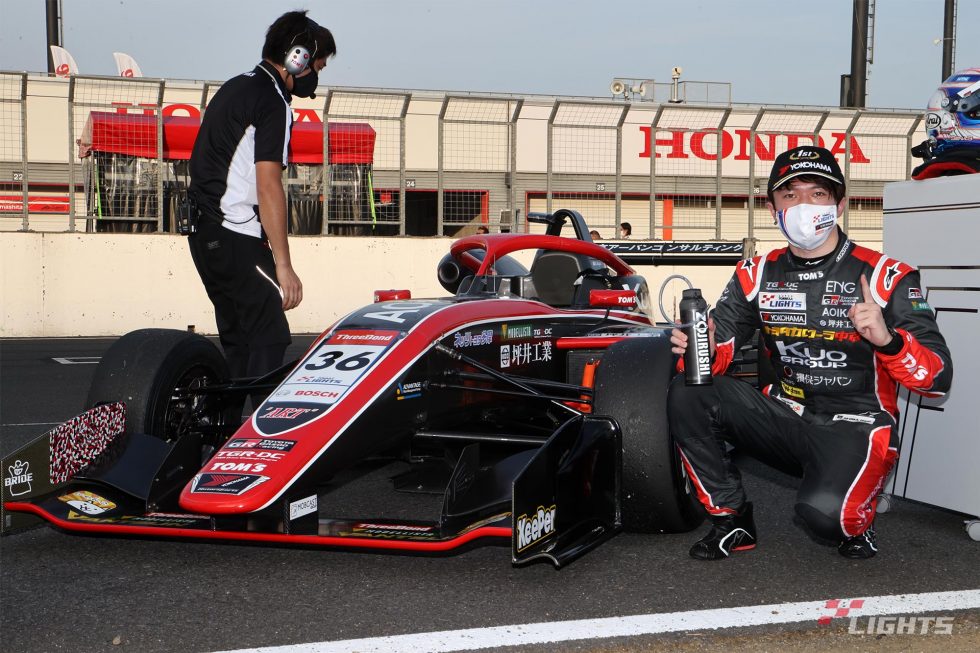 Ritomo Miyata(COROLLA CHUKYO Kuo TOM'S 320)
Ritomo Miyata driving Corolla Chukyo Kuo TOM'S F320 claimed victory in Race 1 on Saturday during the GOLDEX mobile Japanese championship Super Formula Lights weekend at Twin Ring Motegi in Tochigi Prefecture. Sena Sakaguchi (in Buzz Racing with B-MAX) placed second and Teppei Natori (in TODA FIGHTEX) placed third.
Miyata secures a pole position
Following two-days practice sessions each car embarked on a 30-min qualifying at 10:05 am with fresh rubbers on the 29th August amid hot temperatures approaching 35C. Improving his times to 1m44.826 in his final attacks Miyata secured a commemorable first pole position of Super Formula Lights series.
Kazuto Kotaka (Corolla Chukyo Kuo TOM'S F320) got out of a Friday's slump to take second, bringing Team TOM'S a dominant front row on the grid. Mitsunori Takaboshi (in B-MAX RACING TEAM) placed third with 1m45.307 ahead of Shunsuke Kohno (in RS FINE K&N F320).
The commemorable Super Formula Lights' first race started at 4:15 pm when the sun began to go down. Miyata and Kotaka made a solid start from the front row, while the second row starter Takaboshi and Kohno both got a sluggish start, losing several positions. Further back down the field 11th-starting Masayuki Ueda (in Rnsports320) also got a late start.
The opening lap would see a melee unfolding behind Miyata who quickly built a comfortable lead before reaching Turn three.
Sakaguchi made a quick start to move up the order from fifth on the grid, and dived down the inside of Kotaka at Turn three, whose inside line as well as Sakaguchi's one would be attacked again at Turn five by sixth-starting Natori.
The three cars went three-wide into the 130R. Sakaguchi prevailed in the tussle which continued to the S-shape bend to move up to second with Natori in third and Kotaka in fourth.
Behind them was Seiya Jin (in Albirex-RT), who had passed Takaboshi having started from eighth. Further back, a battle between Tsubasa Iriyama (in Albirex-RT) and Kohno was fought.
Once Takaboshi snatched back the fifth spot from Jin at the S-shape bend on lap six, he found a clear air and set about closing a gap to Natori and Kotaka fighting over third spot, with the three gradually bunching up in the closing stages.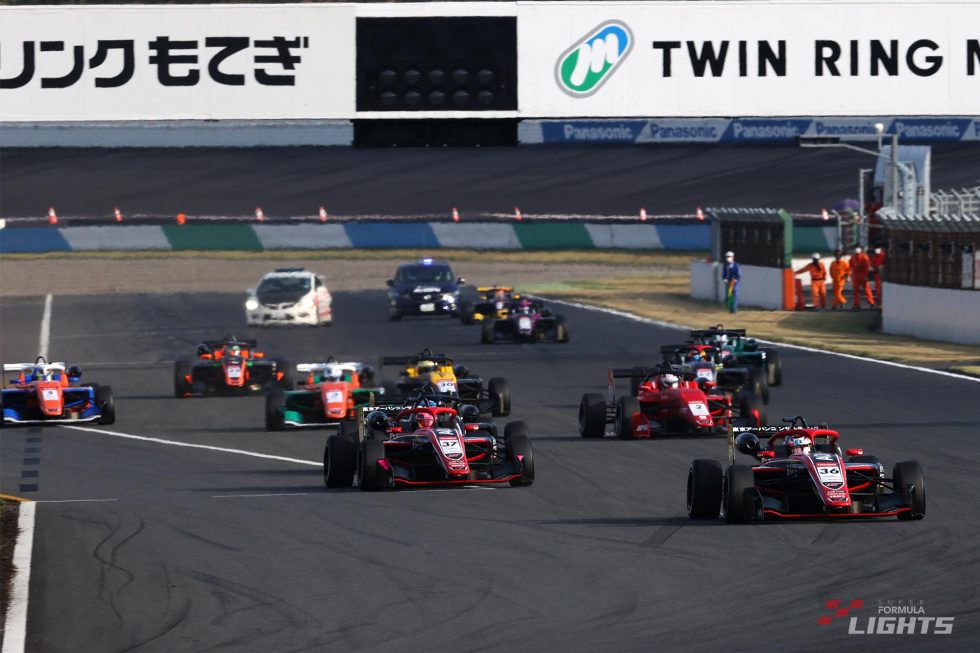 Start of Round.1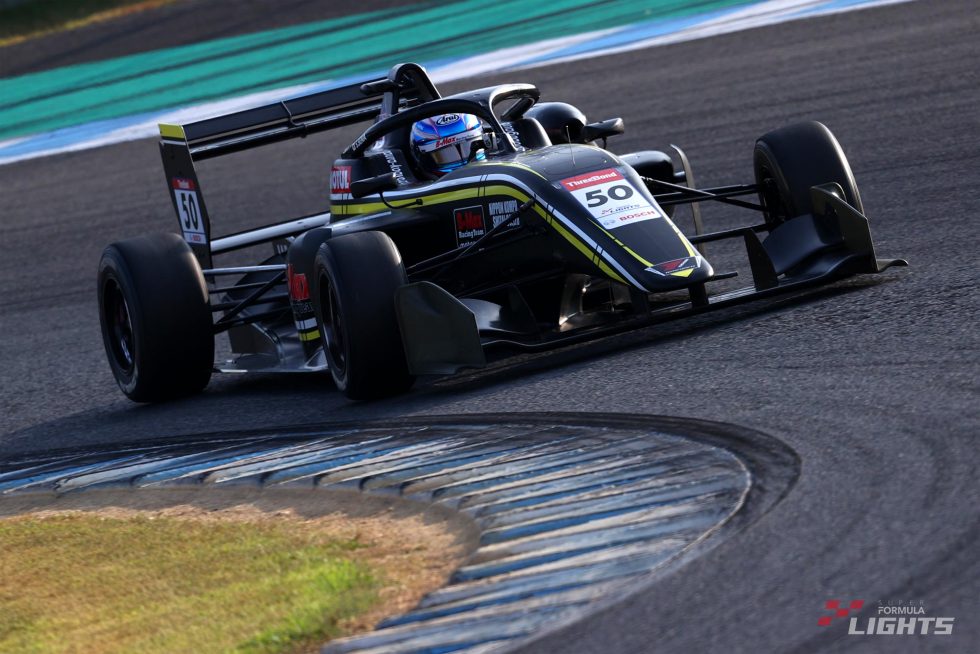 Sena Sakaguchi(Buzz Racing with B-MAX)
Natori clinches a podium finish in third after three-way battle
Miyata kept a healthy lead over Sakaguchi that already reached over 3.8 secs on the opening with a controlled pace throughout the 30-lap race to be honoured as a first winner of the Super Formula Lights and score full-marks including one from setting the fastest lap.
Sakaguchi came home second 12.497 secs behind Miyata.
The three-way battle over third place among Natori, Kotaka and Takaboshi came down to the final lap with the Toda driver fending off the other two to take a podium finish in third. Kotaka was fourth and Takaboshi was fifth.
Jin picked up the final point for sixth ahead of Kohno.
DRAGON (in TEAM DRAGON SFL) remained stable through the entire race to win the master class ahead of Ueda and Motoyoshi Yoshida (in B-MAX ENGINEERING).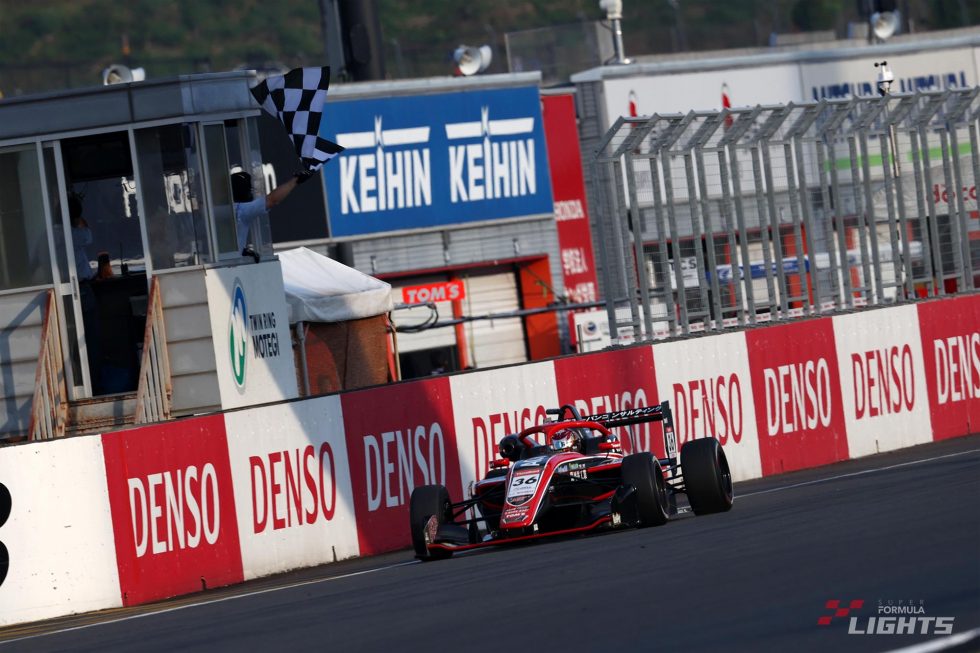 Ritomo Miyata(COROLLA CHUKYO Kuo TOM'S 320)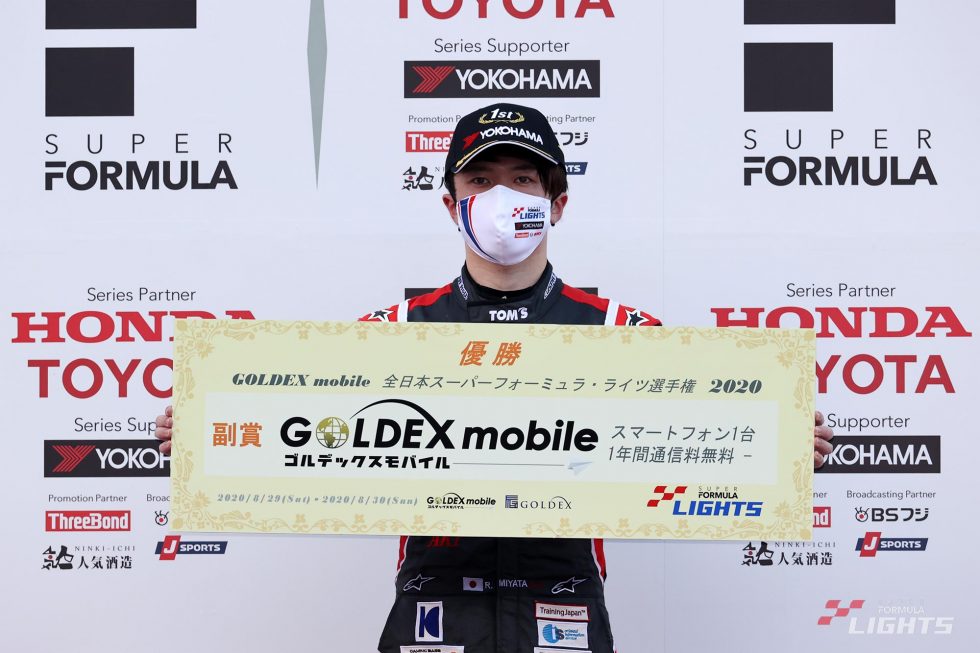 Ritomo Miyata(COROLLA CHUKYO Kuo TOM'S 320)