Pole-sitter Miyata wraps up Motegi weekend with perfect three consecutive wins
2020/09/02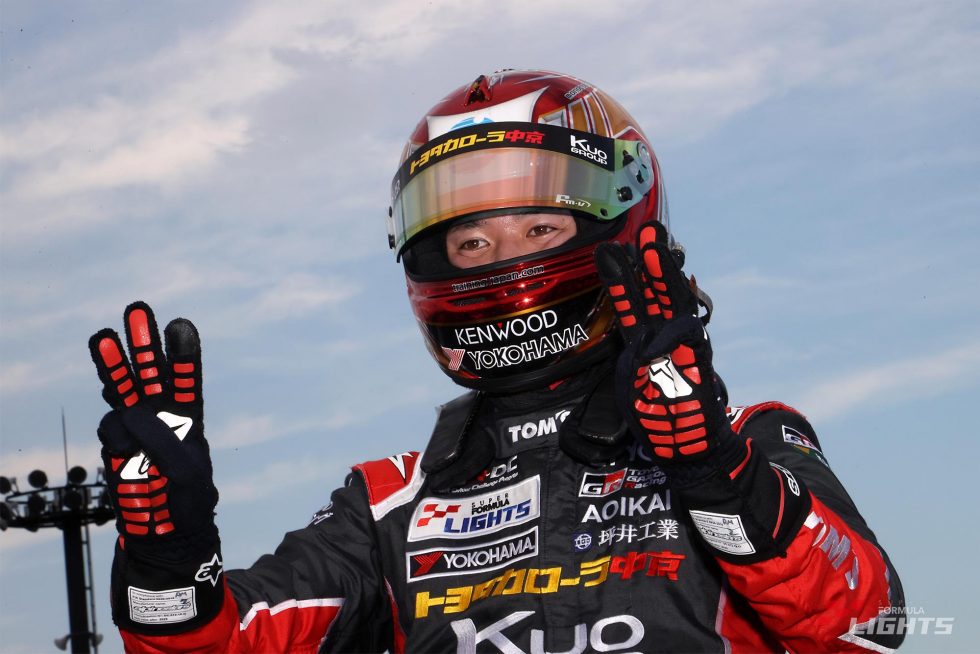 Ritomo Miyata driving Corolla Chukyo Kuo TOM'S F320 took third consecutive win in Rd 3 of the GOLDEX mobile Japanese championship Super Formula Lights weekend at Twin Ring Motegi in Tochigi Prefecture.
Sena Sakaguchi (in Buzz Racing with B-MAX) was second and Kazuto Kotaka (in Corolla Chukyo Kuo TOM'S F320) was third.
The race started at 4:20pm on Sunday after Super Formula's qualifying and race and TCR Japan's race. The grid order was decided in the order of Rd 1's race results, and accordingly the race winner Miyata took pole position with Sakaguchi as another front row starter, Teppei Natori (in TODA FIGHTEX) in third and Kotaka in forth.
The Rd 1 master class winner DRAGON (in TEAM DRAGON SFL) started 12th due to a grid penalty for an engine change following an engine trouble in Rd 2 race.
The late afternoon start saw Miyata take a holeshot from Sakaguchi, and Kotaka pass Natori for third. A little behind them were fierce battles fought among Kiyoto Fujinami (in B-MAX RACING TEAM), Shunsuke Kohno (in RS FINE K&N F320) and Seiya Jin (in Albirex-RT). At the end of the opening lap came Miyata, Sakaguchi, Kotaka, Natori, Mitsunori Takaboshi (in B-MAX RACING TEAM) and Fujinami in this order.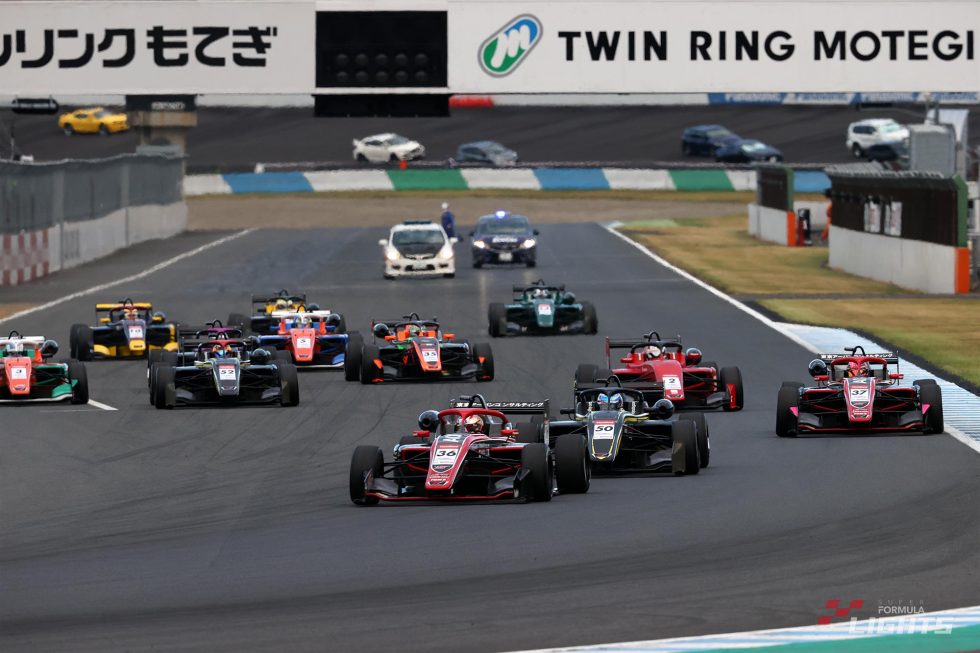 Start of Round.3
A battle over fourth spot began to intensify on lap two. Takaboshi overtook Natori for fourth a lap later, and then went on a charge to cut the gap to Kotaka.
In a bid to pick up a fastest lap of the race this time again Miyata proceeded to extend his lead over Sakaguchi on lap three while setting fastest laps.
Sakaguchi also extended his margin over Kotaka, who would come under pressure from Takaboshi as the race just passed the halfway point.
Further back, a four-way fracas was fought by Natori at the front of the pack, Fujinami, Kohno and Jin.
Miyata set the fastest lap of 1m45.461 on lap nine after constantly setting 1m45s level before taking the chequered flag with a huge 8.139 secs advantage over Sakaguchi. He scored maximum possible 35 points in the opening event.
Sakaguchi's second place brought him three consecutive podium results.
Despite being closed in by Takaboshi on final laps Kotaka maintained the third place. Natori held on for fifth with Fujinami in sixth.
DRAGON quickly recovered from the penalty to pass Motoyoshi Yoshida (in B-MAX ENGINEERING) on the first lap, but it took a dozen laps for him to mount a challenge on Masayuki Ueda (in Rnsports320) putting in a strong display.
Putting his car right behind Ueda at the exit of the V-shape turn on lap 12 DRAGON made a move through the hairpin and finally got a pass completed at the 90 deg turn to finish 10th and clinch his second Master class win of the season.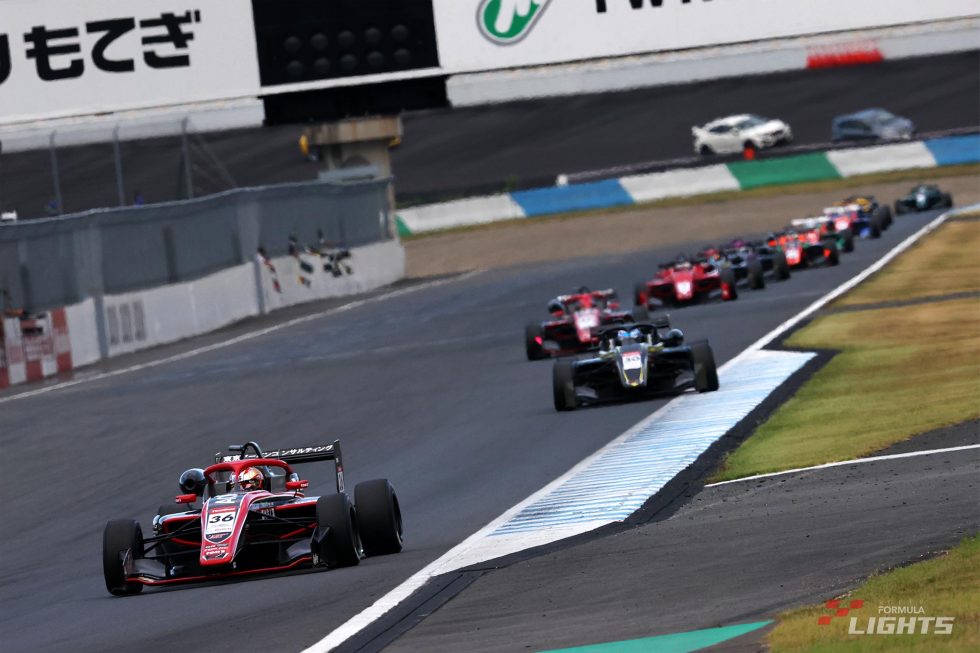 Ritomo Miyata(COROLLA CHUKYO Kuo TOM'S 320)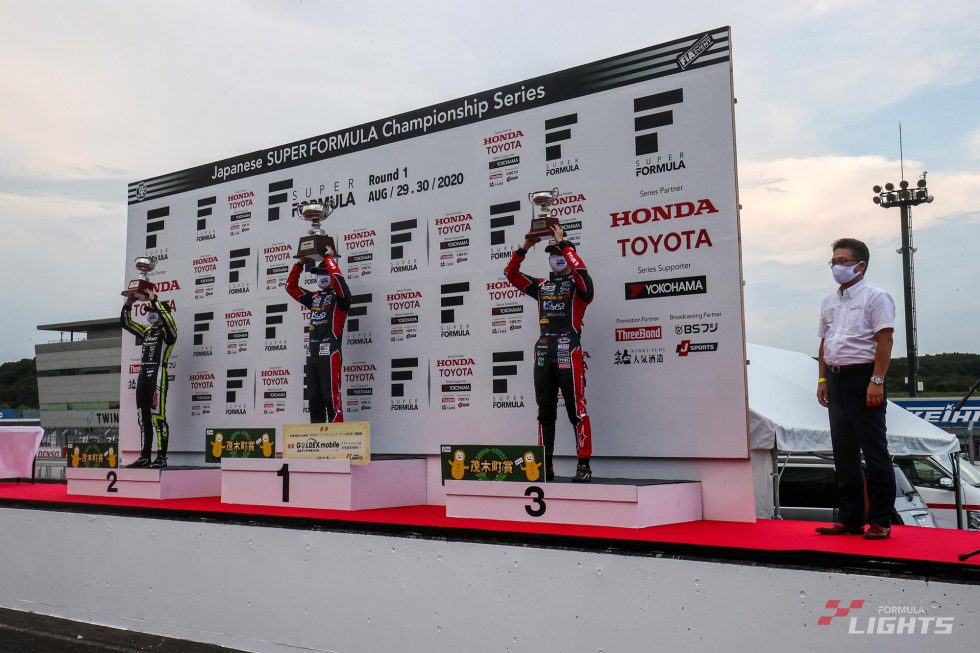 Podium of Round.3