Kakunoshin Ohta takes his maiden SFL win with a dominant lights-to-flag victory
2022/04/24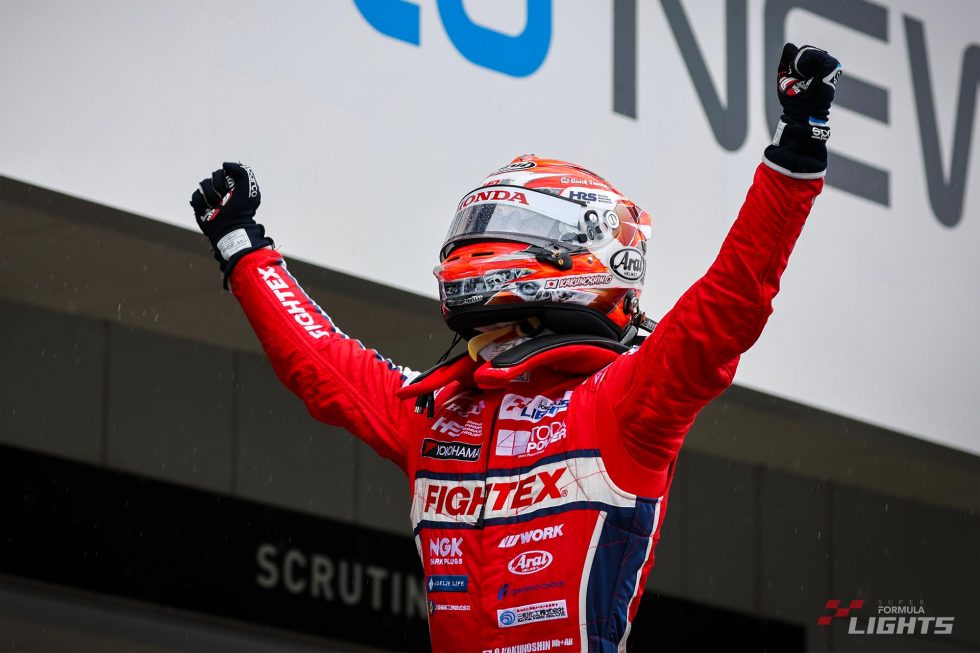 Kakunoshin Ohta(HFDP WITH TODA RACING)
In the aftermath of the Saturday's excited lead battle the Japanese Super Formula Lights' drivers set off for the next 12-lap Rd 5 race at 10:50am on Sunday at Suzuka in completely wet conditions for the first time of this season.
In the qualifying for Rd 4 and Rd 5 Kakunoshin Ohta in HFDP WITH TODA RACING claimed pole position for Rd 5 with his second-best time 1m52.045 that he set on his first set of tyres.
Kazuto Kotaka (Kuo MOBILITY CHUKYO TOM'S 320), the pole-sitter for Rd 4, placed third behind Seita Nonaka (PONOS Racing TOM'S 320). Togo Suganami (Byoubugaura B-MAX Racing 320) was fourth.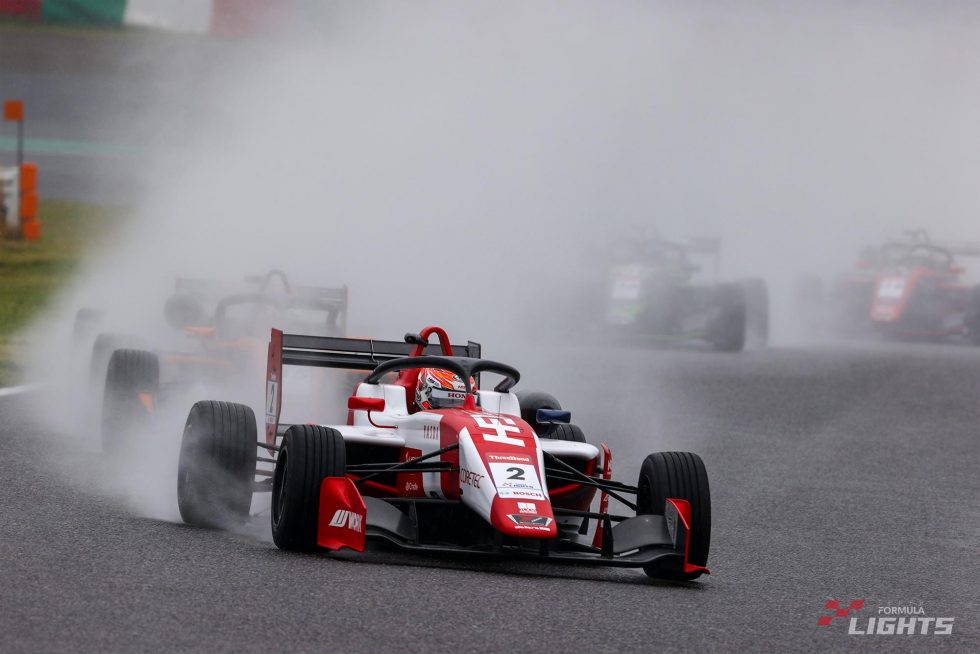 Start of Round.5
■Nonaka dives down the inside of Ohta at the start
Nonaka got a good getaway from the front row and dived down the inside of Ohta into the first corner, but Ohta managed to defend the lead into Turn two. Nonaka looked set to follow Ohta, but Kotaka in third took the opportunity of Nonaka's move to shoot past him on the run down to Dunlop for runner-up.
Moving up to fourth behind Nonaka was Yuga Furutani (Deloitte. HTP TOM'S 320), who had scored his first SFL points in Rd 4.
Having started from fifth Iori Kimura (HFDP WITH B-MAX RACING) got a sluggish start, allowing Hibiki Taira (Kuo MOBILITY CHUKYO TOM'S 320) to cut in between himself and Suganami, who also got a slow start from fourth.
With each car struggling to find an opportunity to get ahead in the heavy spray only Ohta took the advantage of clear air to open up his lead over Kotaka to 1.545 secs on lap three.
The deadlock was broken on lap six when Seiya Motojima (Rn-sports 320) running eighth spun off at Degner into the gravel, bringing out the Safety Car to clear his car.
This wiped away the Ohta's margin, but he nailed the restart to set about building it back again. With no order changes in the leaders at the restart the field came into four laps from the end.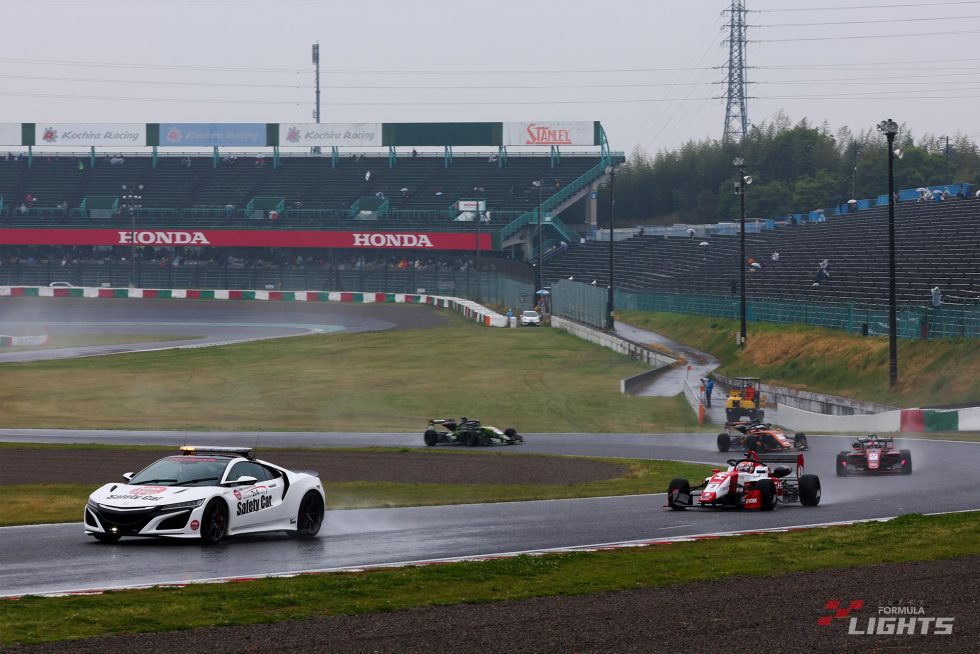 Safety Car deploy
■Ohta celebrates his first victory with full-marks
Benefitting from clear visibility Ohta posted the fastest lap of the race with 2m09.996 on lap nine and further multiplied his lead over Kotaka.
Lap nine also saw position changes in the battle for the final podium position as Nonaka lost balance while running into the S-shape turn, and went off to the gravel, dropping down the order to seventh behind Suganami, and promoting Furutani, Taira and Kimura to third, fourth and fifth respectively.
Ohta ended up 1.129 secs ahead of Kotaka to take his maiden SFL with. Furutani also claimed his first SFL podium result in third.
Taira, Kimura and Suganami rounded out the points-paying positions.
Nobuhiro Imada (JMS RACING with B-MAX) made it back-to-back master class win after holding off Yuya Hiraki (HELM MOTORSPORTS 320) to place nineth overall, while DRAGON (TEAM DRAGON B-MAX 320) finished second in the master class as his rival Masayuki Ueda (Rn-sports 320) suffered a spin at Turn two on lap nine.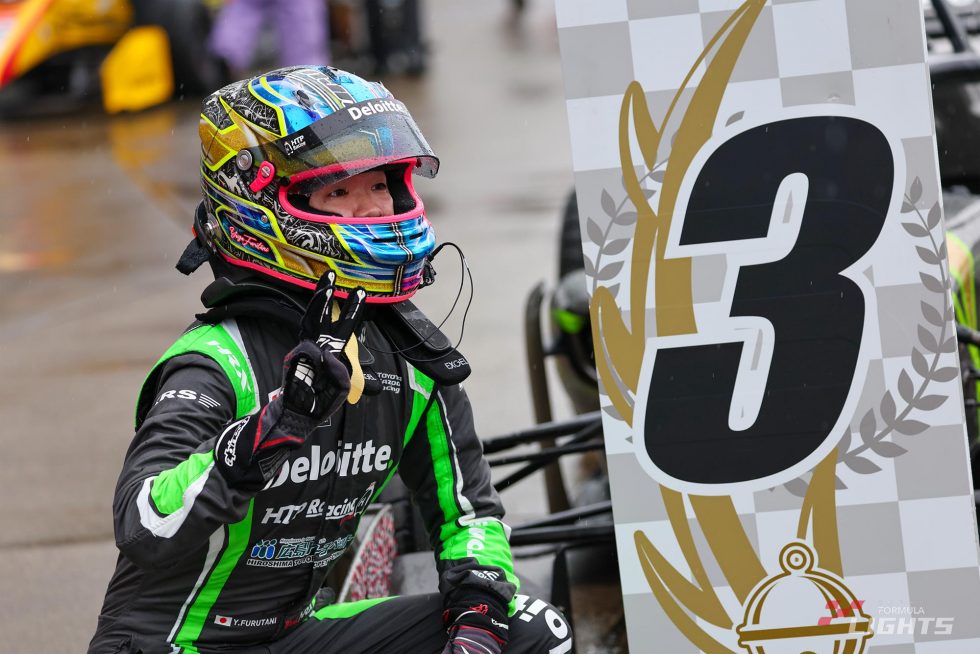 Yuga Furutani(Deloitte. HTP TOM'S 320)