Kazuto Kotaka clinches 2022 SFL title with his eighth victory
2022/09/26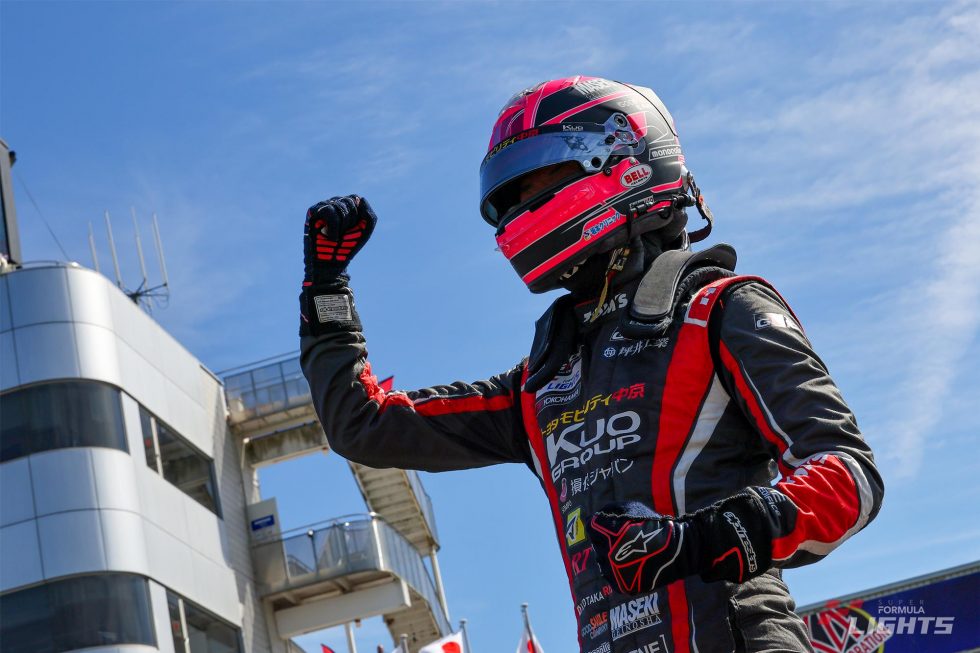 2022 Japanese Super Formula Lights championship has finally entered its final day on Sunday to wrap up the six events and conclude 2022 championship title.
In the Saturday's qualifying each car improved times on its second set of tyres to set its best time just before the chequered flag and then went on to set second-best time.
It was Iori Kimura in HFDP WITH B-MAX RACING who took pole position for Rd 17 with 1m.21.229, and Kazuto Kotaka (Kuo MOBILITY CHUKYO TOM'S 320) secured another front row spot.
Kakunoshin Ohta (HFDP WITH TODA RACING) would start from third on the grid to further cut the championship gap to Kotaka.
Togo Suganami (Byoubugaura B-MAX Racing 320) qualified fourth ahead of Yuga Furutani (Deloitte. HTP TOM'S 320) and Seita Nonaka (PONOS Racing TOM'S 320).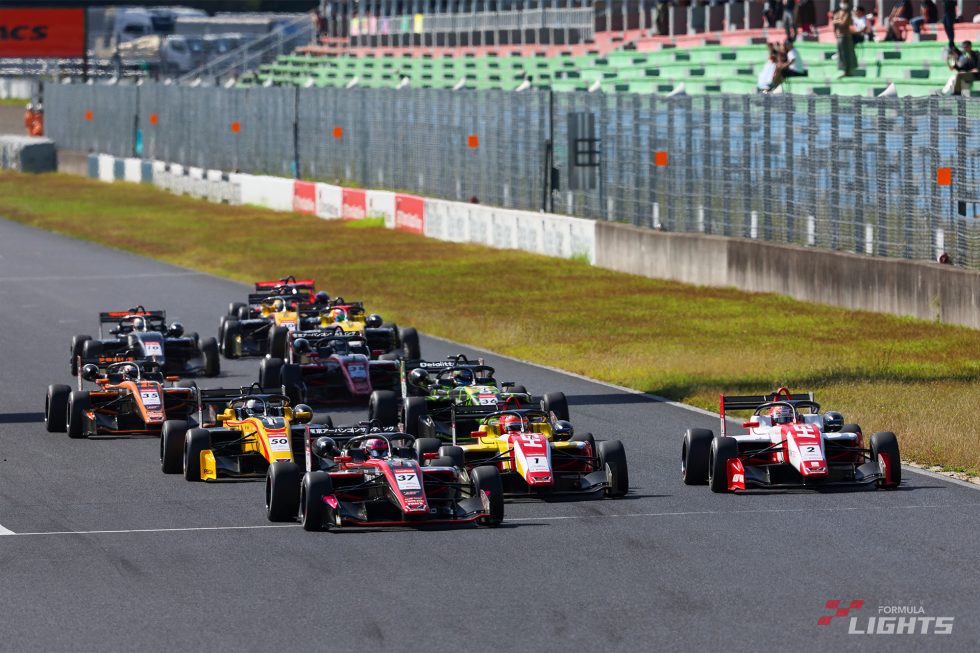 Start of Round.17
■Kotaka grabs lead at the start
It was a crisp sunny morning at Okayama International Circuit with a temperature of 22C. As the lights went out at 9:20am Kimura got a bit sluggish start from pole, allowing Kotaka to grab the lead into the first corner, and allowing Ohta to go around the outside, with the two going side-by-side from Moss "S" through the Atwood Curve to the hairpin.
Kimura and Ohta did not give each other an inch until Revolver where Kimura escaped away.
A little behind them a battle between master class drivers led to a contact. DRAGON (TEAM DRAGON B-MAX 320) and Nobuhiro Imada (JMS RACING with B-MAX) collided when they ran side-by-side into the hairpin. DRAGON sustained damage to his left front, while Imada was sent into the gravel and came to a halt, bringing out the safety car.
As the race restarted properly on lap five Kotaka pulled away, setting fastest lap on the lap and lap six in a bid to earn as many points as possible.
However, Kimura running second bettered Kotaka's times by posting 1m22.586 on lap seven, getting to within a second of the leader.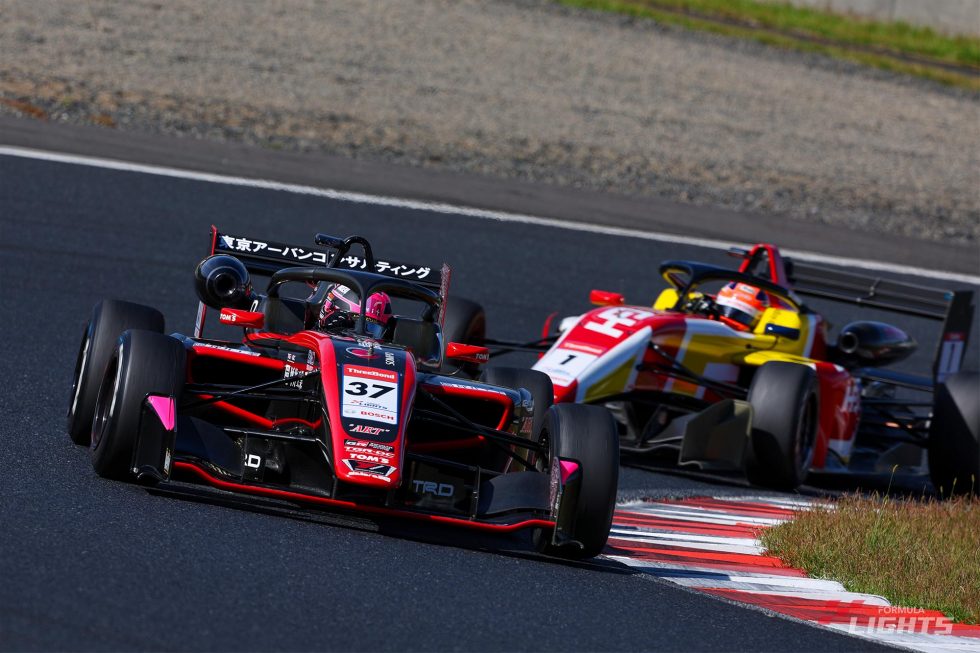 Kazuto Kotaka(Kuo MOBILITY CHUKYO TOM'S 320)
■Kotaka holds on for victory after a fierce contention for setting the fastest lap of the race
With the lead two fighting the tense mid-stages scrap Kotaka recorded a new fastest lap of 1m22.430 on lap 11, extending his advantage to more than a second.
However, it took another three laps to settle the contention for setting fastest lap. On lap 12 Ohta posted 1m22.321, and on lap 14 Kimura did 1m22.281, which was eventually the fastest lap of the race.
Kotaka held on to end up 0.961 secs ahead of Kimura, the result adding 10 points in the drivers' standings to bring him the 2022 title as his closest title rival Ohta only picked up five points after finishing third.
The newly-crowned SFL champion smiled in a relief after the intense race. Kimura looked disappointed to have settled for second.
The third-placed Ohta was too disappointed to immediately take off his helmet, but in the end congratulated Kotaka.
Hibiki Taira (Kuo MOBILITY CHUKYO TOM'S 320) completed the points finish in sixth behind Suganami in fourth and Furutani in fifth.
Robert Merhi Muntan (in B-MAX Racing R30) pitted on lap 12 to serve a drive-thru penalty that had been handed for overtaking under the safety car just after making one place on the opening car, and ended his race for some reason without coming out once again.
There was no master class winner as both drivers retired.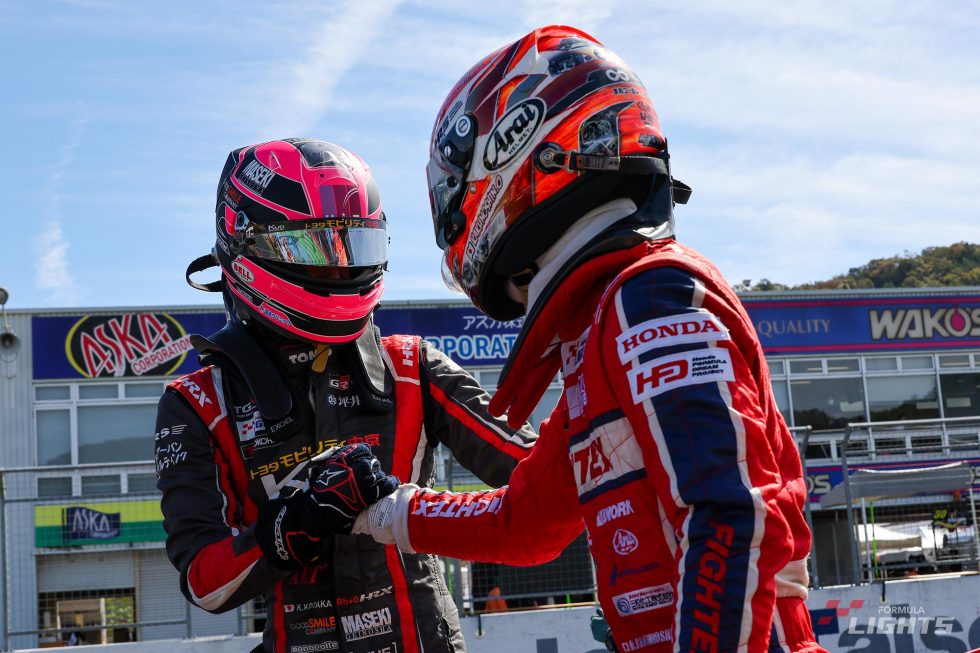 Kazuto Kotaka and Kakunoshin Ohta