Ritomo Miyata closes out the 2020 Fuji finale with a commanding lights-to-flag win
2020/12/23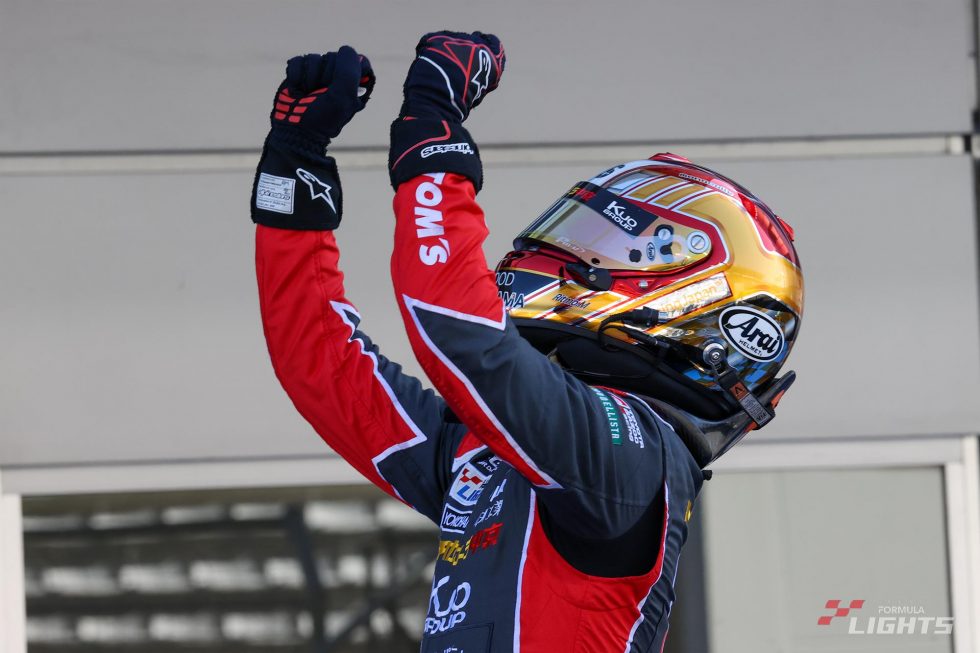 Ritomo Miyata(Corolla Chukyo Kuo TOM'S 320)
The Super Formula Lights championship cars came out on track at 0:15 pm for the 2020 season finale at Fuji Speedway.
According to the finishing order in Rd 15, Ritomo Miyata driving Corolla Chukyo Kuo TOM'S F320 took pole position with Sena Sakaguchi (in Buzz Racing with B-MAX) in second, Kazuto Kotaka (in Corolla Chukyo Kuo TOM'S F320) in third and Teppei Natori (in TODA FIGHTEX) in fourth.
The formation laps started five minutes behind schedule at 0:40 pm in warmer conditions than Rd 16 that took place in the early morning.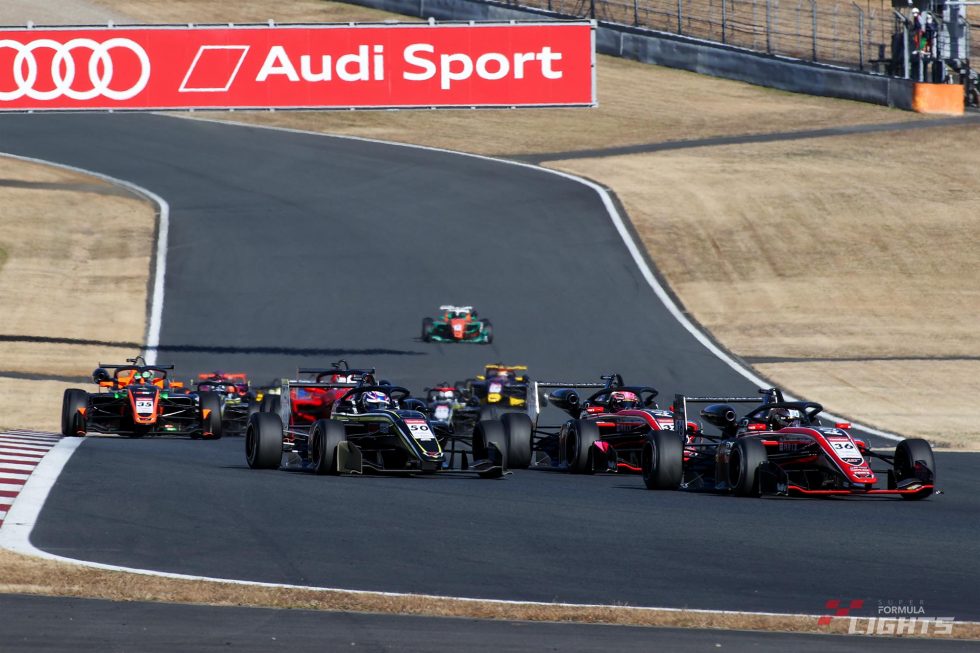 Start of Round 17
■Fierce top 3 tussle on the opening lap
When the lights went out Sakaguchi dived down the inside of Miyata, going side-by-side exiting TGR in front, but Miyata quickly reclaimed the lead on the run down to Coca-Cola.
Sakaguchi was then almost caught by the fast-starting Kotaka at Coca-Cola, but firmly defended the second spot.
The early stages saw Miyata struggle to build up a healthy lead over Sakaguchi charging on fresher tyres saved for the last race, and Natori and Shunsuke Kohno (in RS FINE K&N F320) play a close battle as in the previous two races behind Kotaka in third.
Further back down the field, two veterans on their special appearance in the weekend (both in REBELLION Buzz 320) engaged in an exciting battle. Sakon Yamamoto overtook Satoshi Motoyama at Dunlop on lap two, while Motoyama caught up and went into side-by-side on the main straight.
Motoyama's machine, however, soon appeared to suffer a trouble, allowing DRAGON (in TEAM DRAGON SFL) and Nobuhiro Imada (in JMS RACING with B-MAX) to ease past him before coming in at the end of lap seven.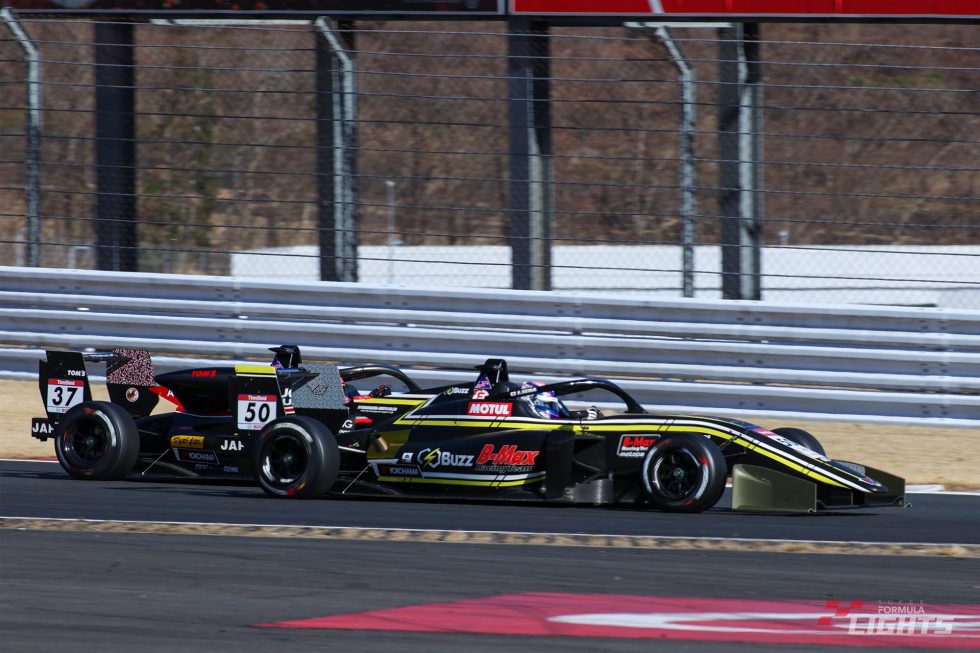 Sena Sakaguchi and Kazuto Kotaka
■2-way master class scrap between DRAGON and Imada
Setting the fastest lap of 1m32.569 on lap eight Miyata began to gradually extend his advantage, crossing the line 4.661 secs ahead of Sakaguchi. It was the 2020 SLF champion's 12th win of the season.
The podium was taken by the top three drivers in the standings as Kotaka finished third after having a lonely race in the closing stages.
The battle over fourth spot was settled on the final lap when Natori held on to fend off Kohno.
Tsubasa Iriyama (in Albirex-RT) rounded out the points in sixth.
In the meanwhile, the master class effectively became a two-way scrap between DRAGON and Imada as Masayuki Ueda (in Rnsports320) pitted on the opening lap due to a clutch issue.
A tense battle with Imada running within a second of DRAGON was decided when the latter beat his rival by 0.499 secs to claim his 13th win of the season.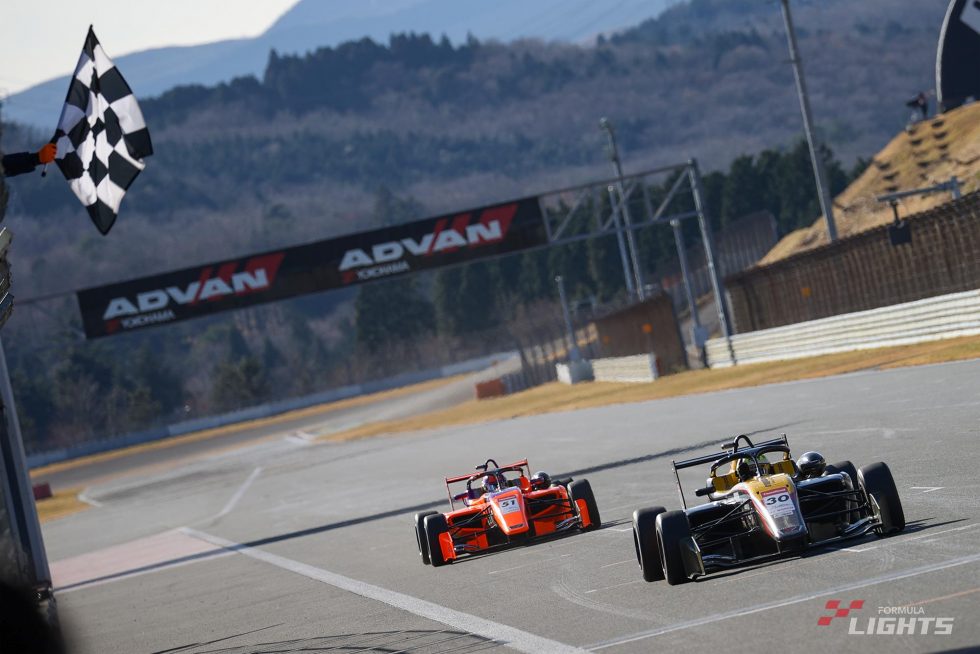 DRAGON(TEAM DRAGON SFL)