Ritomo Miyata holds firm on opening lap to win Rd 4 Okayama
2020/09/28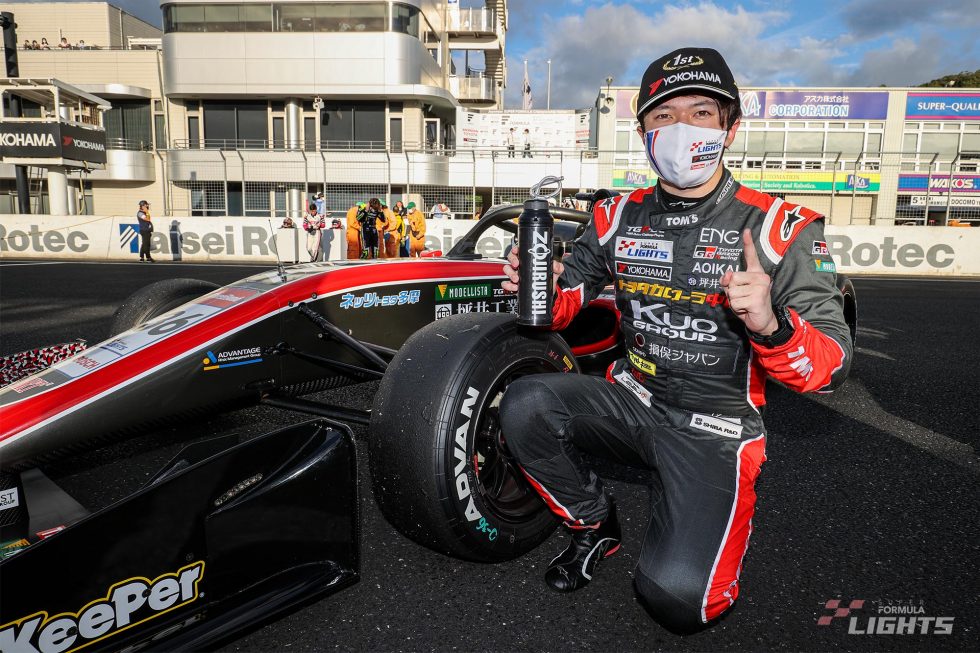 Ritomo Miyata(COROLLA CHUKYO Kuo TOM'S 320)
The rain falling the previous day had let up when the qualifying for Rd 4 and Rd 5 of Japanese Super Formula Lights championship started at 9:30 in cloudy conditions at Okayama International Circuit on Saturday.
Each driver came out for attacks with Ritomo Miyata in Corolla Chukyo Kuo TOM'S F320 in front, who had topped the times in the 2-day practice sessions.
Posting a better time just after Miyata set 1m21.983 Sena Sakaguchi (in Buzz Racing with B-MAX) topped the times during first attacks on first set of tyres with 1m21.957.
Each car pitted before setting out for second attacks with less than 10 minutes to go, and it was Miyata who improved his times to post 1m21.430 on his 10th lap and 1m21.349 one lap later, with which he claimed a pole position for Rd 4.
Sakaguchi qualified second with Kazuto Kotaka (in Corolla Chukyo Kuo TOM'S F320) third and Yoshiaki Katayama (in B-MAX RACING with OIRC) on his special appearance fourth.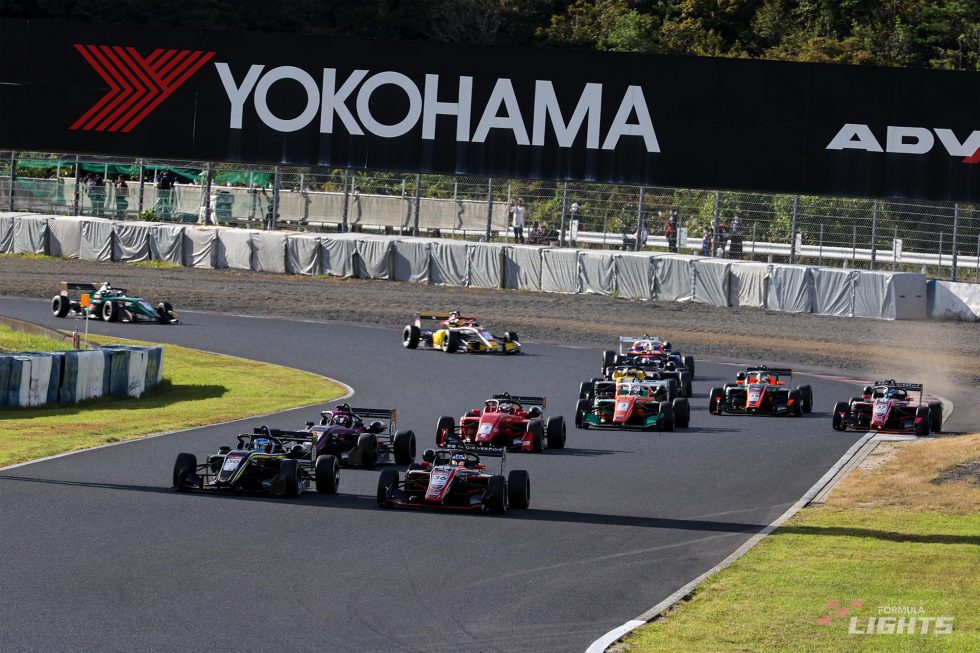 Start of Round.4
■ Opening lap sees fierce lead battles
With a rainy Super Formula's practice session in between the Rd 4 race got underway five and a half hours after the qualifying under a clear autumn sky.
Miyata and Sakaguchi each got a good getaway off the front row, going side-by-side on the run to the first turn. Miyata defended the inside line to enter the turn still in the lead.
Kotaka fought a close fight with a fast-starting Katayama, only to slightly run wide under acceleration, dropping himself down to seventh.
With a momentum after Attwood Sakaguchi lined up with Miyata into the hairpin in a bid to brake late to get ahead, only for Miyata to hold firm in the inside line to complete the opening lap in the lead.
Sakaguchi would see the gap to the race leader gradually increase. As the race passed five laps it extended to more than two seconds.
Katayama in third was now closed in by Teppei Natori (in TODA FIGHTEX), who had started from fifth.
As the gaps among leading pack were increasingly becoming greater in the latter stages there was a tussle over eighth spot fought among Masami Kageyama (in MASAMI PROJECT with B-MAX) in his first formula car race in years, Tsubasa Iriyama (in Albirex-RT) and DRAGON (in TEAM DRAGON SFL).
With the trio circulating within a second Kageyama put out a solid performance with his experienced driving skills, preventing Iriyama – who was under pressure from DRAGON – from overtaking.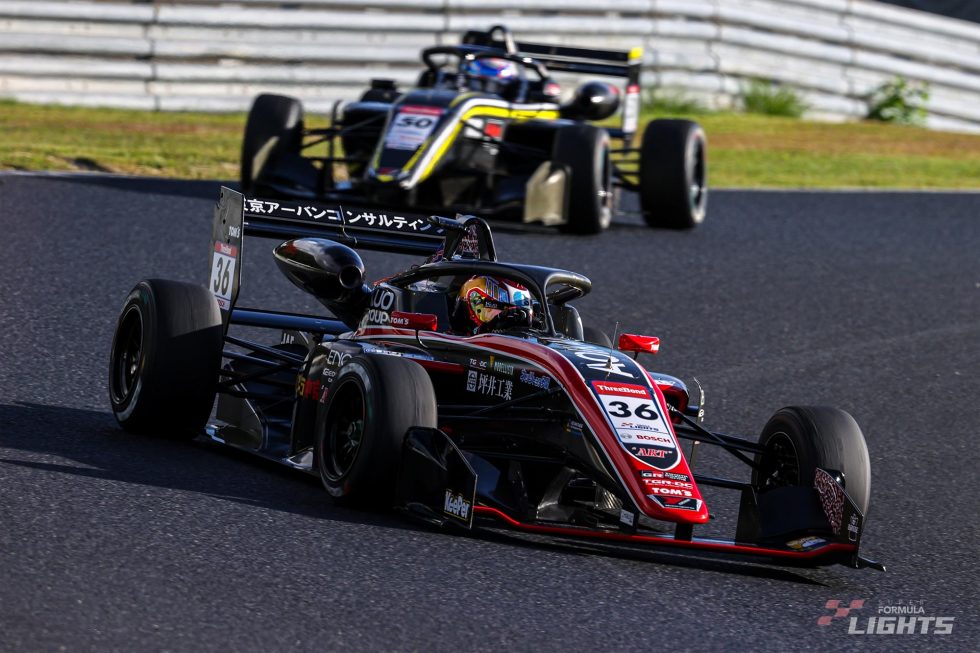 Ritomo Miyata(COROLLA CHUKYO Kuo TOM'S 320)
■ A late safety car intervention
The three-way battle was brought to an end on lap 13. Iriyama made an overtaking attempt down the inside of Kageyama at the hairpin, which the veteran successfully held off, the three cars bunching up into Redman where Iriyama attacked Kageyama's inside again, which the latter firmly protect with a faster pace. Instead, DRAGON dived down the inside of Iriyama at Hobbs, only to cause contact, forcing the Albirex to spin out and stop.
This prompted a late safety car intervention, and Miyata's advantage was wiped out.
When the race resumed on lap 16 Miyata quickly got up to speed from Hobbs to keep his lead and took the chequered flag 1.759 secs ahead of charging Sakaguchi for his fourth straight win. He scored full marks from the race as he set the fastest lap on the final lap.
Katayama finished third, with Natori in fourth and Seiya Jin (in Albirex-RT) in fifth.
DRAGON finished nineth on the road, but was relegated to 10th after a 30-second time penalty (equivalent to a drive-thru penalty) for the contact with Iriyama was applied, ceding the Master class victory to Masayuki Ueda (in Rnsports320).