3 consecutive wins at Okayama play Shun Koide into title contention
2023/09/13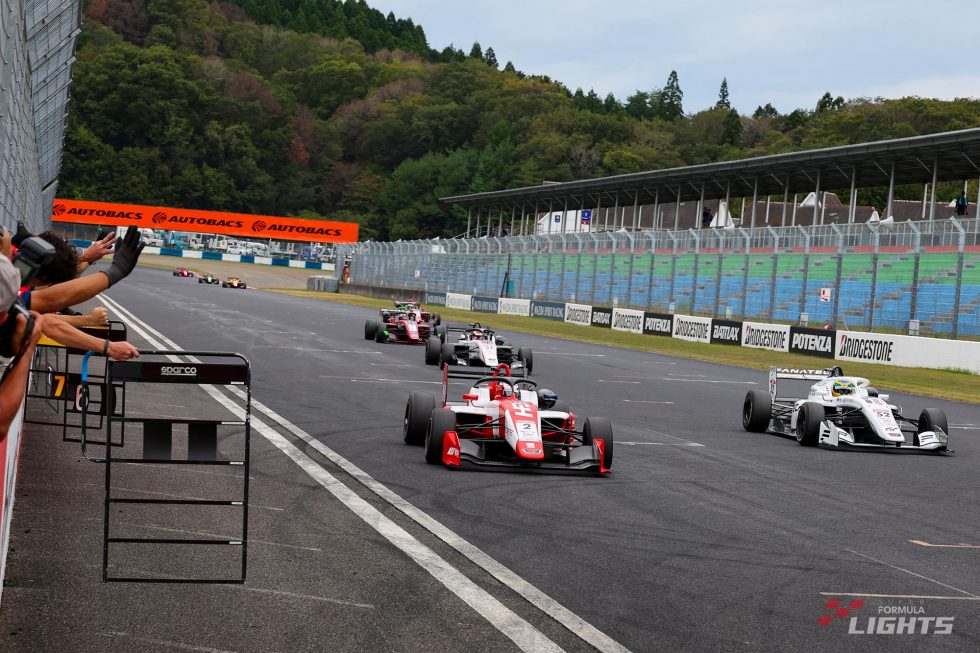 小出峻(HFDP WITH TODA RACING)
The Japanese Super Formula Lights Rd 15, the last race of the series' fifth event in 2023, started with the formation lap at Okayama 25 min late at 2:45 pm due multiple crashes caused on lap three of red-flagged TOYOTA GAZOO Racing GR86/BRZ Cup's Rd 5 Professional series.
According to the finishing order of Rd 13 Shun Koide in HFDP WITH TODA RACING claimed pole position, with Igor Omura Fraga (FANATEC-GRAN TURISMO with B-MAX) as a fellow front-row sitter, followed by Seita Nonaka (PONOS Racing TOM'S 320 TGR-DC) in third, David Vidales (B-MAX RACING 320), in fourth and Hibiki Taira (Mobility Chukyo TOM'S 320 TGR-DC) in fifth.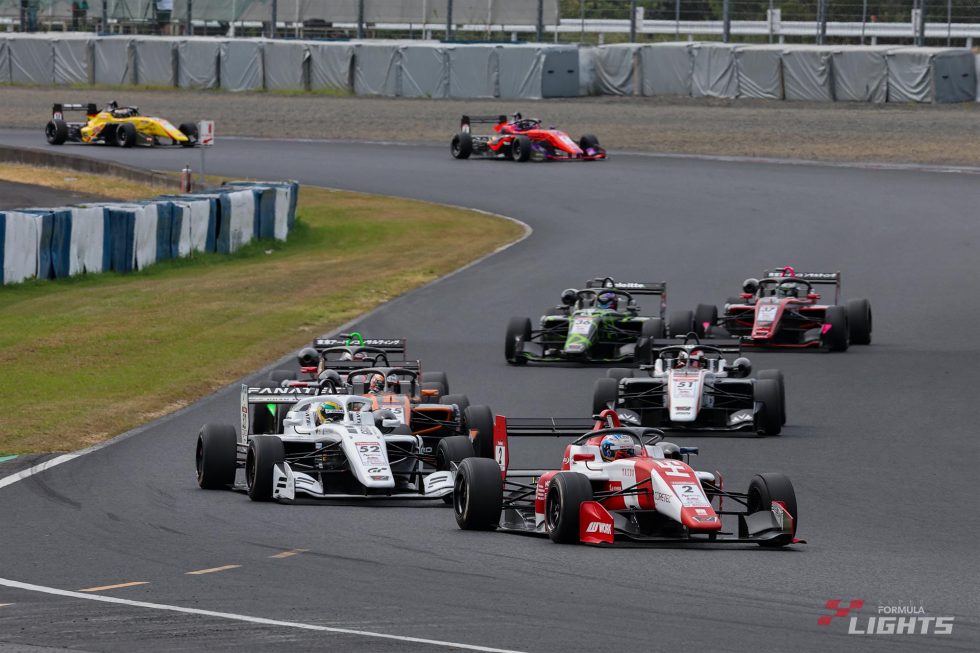 Start of Round.15
■ Koide set about building a healthy lead from the opening lap
Despite a chance of rain in the afternoon predicted, the race started in dry conditions under cloudy skies. Enzo Trulli's Mobility Chukyo TOM'S 320 that had crashed in Rd 14 managed to make it to line up in seventh on the grid.
Trying to take a lead from Koide this time Omura Fraga made a good start, only for the pole-sitter to defend the position into Turn one. Nonaka and Vidales followed the lead two.
The Brazilian held on and got alongside Koide heading into the hairpin, but fell just short, allowing the TODA driver to retain his lead before proceeding to build a healthy buffer with determination to 'keep pushing on every lap'.
Behind Omura Fraga saw fierce battles take place. Vidales made use of his fresher tyres to pass Nonaka in third at the hairpin on lap two. Iori Kimura (HFDP WITH B-MAX RACING) moved up to seventh after overtaking Yuga Furutani (Deloitte, HTP TOM'S 320) on lap three, and went on to give rapid chase on Taira in fifth and Trulli in sixth for the final point on offer.
Building up 3.815 secs lead at the end of lap five, Koide continued to make a strong progress with a flurry of fast laps including 1m25.348 on lap 14 that would turn out to be the fastest lap of the race, leaving six cars behind with Omura Fraga in second up to Kimura in seventh circulating within a second of each other.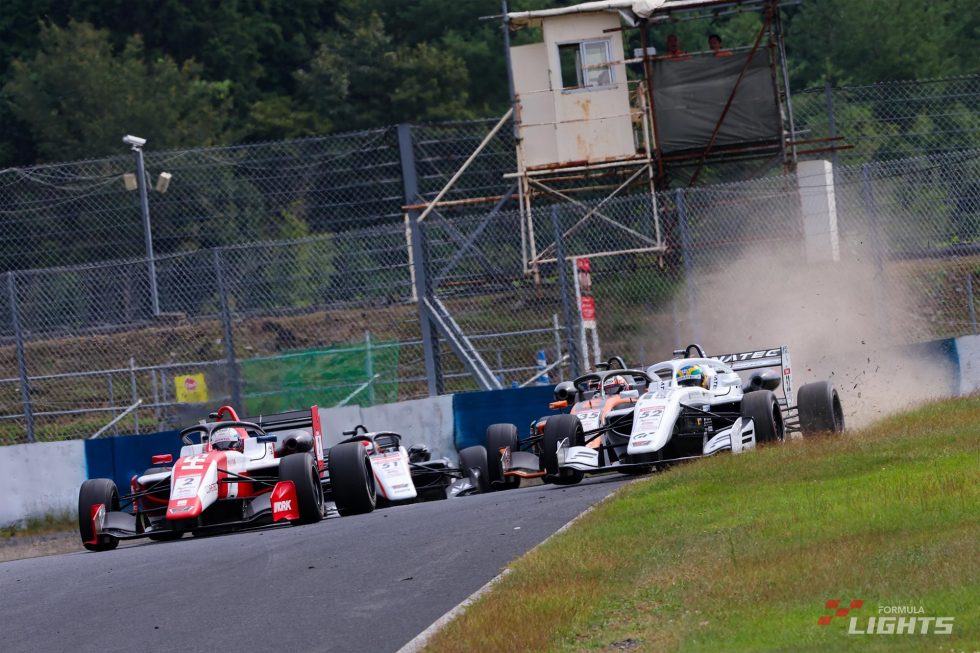 Koide and Omura Fraga
■Vidales scores first SFL podium finish
Towards the closing stages of the race Omura Fraga began to pull away, and now with Vidales setting the pace of the pack trying to maintain the third position for first SFL podium result, Nonaka ran wide at Revolver into the gravel and parked up, bringing out the safety car.
At that instant Koide's huge lead was wiped away, but he ended up leading home without his fastest lap being broken as the safety car eventually pulled in on the final lap, resulting in him concluding the Okayama weekend with big points for three consecutive wins, two fastest laps of the race and a pole position. He will go into the next Motegi event having scored 76 points, 6 points behind Kimura and 16 points behind Taira at the head of the standings.
Omura Fraga settled for second throughout the weekend. Vidales held on for his first SFL podium finish in third.
While in the master class, Nobuhiro Imada (JMS RACING with B-MAX) charged from start to take win, going into the season's finale with some advantage over his rival.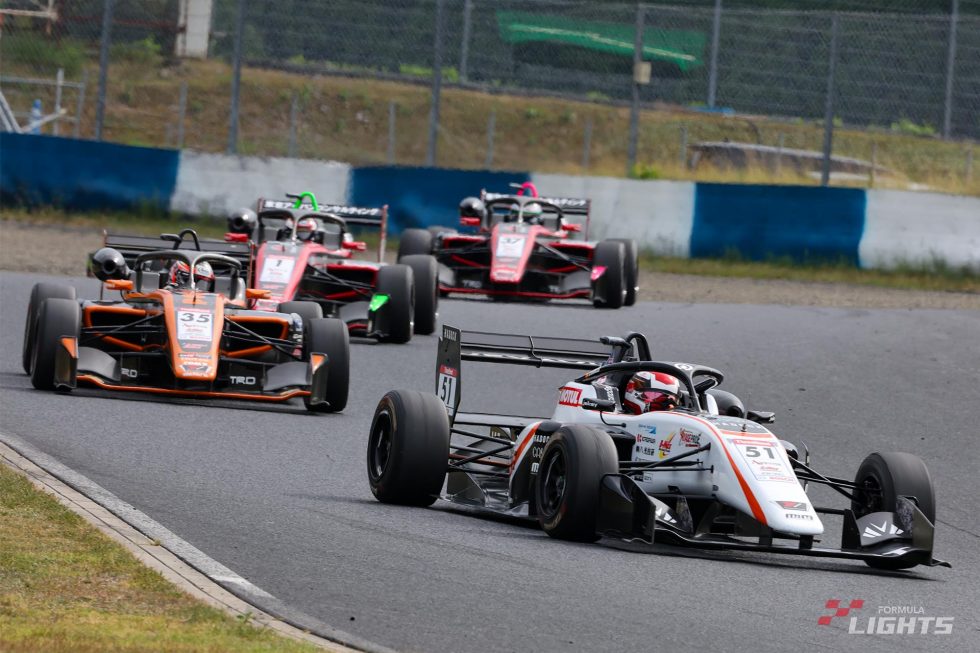 David Vidales(B-MAX RACING 320)