Ritomo Miyata snatches a lead at the start which he would never relinquish to clinch his 9th win
2020/12/06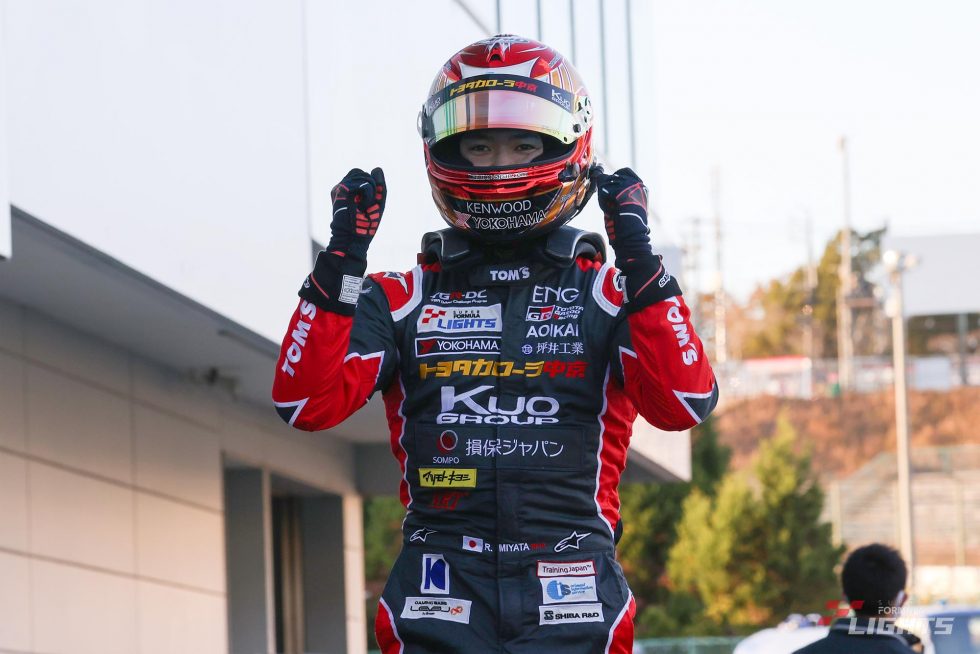 Ritomo Miyata(Corolla Chukyo Kuo TOM'S 320)
When qualifying for the Super Formula Lights' Rd 12 and Rd 13 started at 8:15 am on Saturday at Suzuka Circuit under fine winter weather each car came out and set out warming its tyres for doing attacks.
Ritomo Miyata driving Corolla Chukyo Kuo TOM'S F320 briefly came out on top after posting 1m49.957 on his fifth lap and Kazuto Kotaka (in Corolla Chukyo Kuo TOM'S F320) followed, but the time would soon be broken by Sena Sakaguchi (in Buzz Racing with B-MAX), who did 1m49.799 on his fourth lap, having started his attacks at a different timing from the others as he had done recently.
Each car came in and out again for their second attacks with less than 12 minutes to go, and it was Sakaguchi who secured pole position for Rd 12 with an even better time of 1m49.046.
Miyata qualified second with Kotaka in third and Shunsuke Kohno (in RS FINE K&N F320) in fourth.
Kotaka as well as Teppei Natori (in TODA FIGHTEX) and Takashi Hata (in A-NeKT with B-MAX), however, would start the race from eighth, 11th and 12th respectively by virtue of five-grid penalties for changing their engines after different troubles during the practice sessions.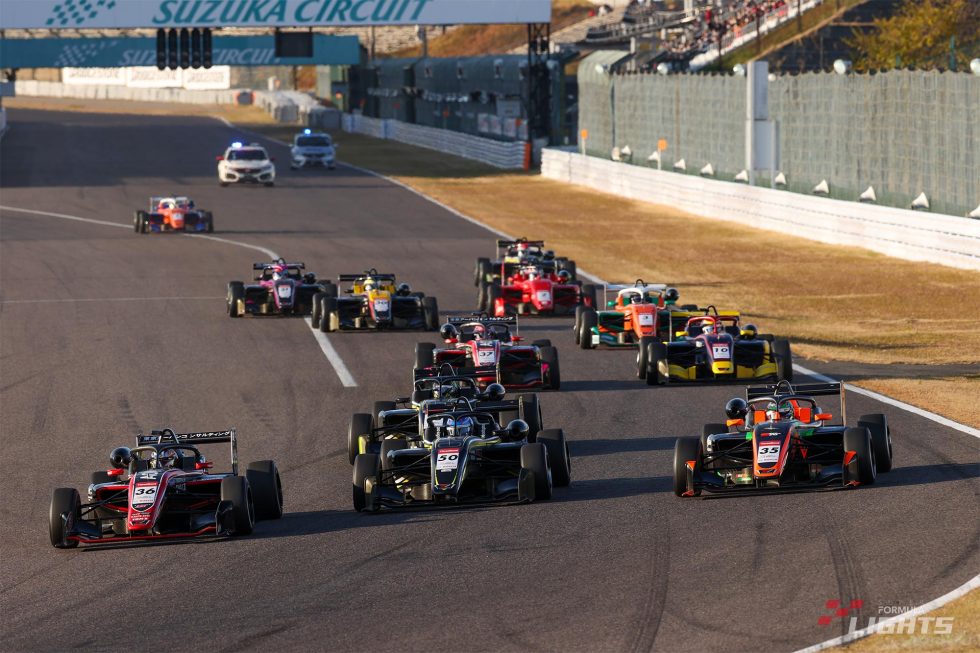 Start of Round.12
■ The start of the race sees a change in the running order of lead 3
Rd 12 race started 10 minutes late at 3:20 pm in the late afternoon sunshine due to a prolonged Rd 5 race of the Super Formula championship.
As the lights went out pole sitter Sakaguchi moved sharply to the inside towards another front-row starter Miyata, only to see the TOM'S driver get a holeshot with better acceleration, and even Kohno quickly get up to speed to overtake him into Turn two.
The opening lap was completed with Miyata in front, followed by Kohno and Sakaguchi.
Having jumped up to fifth and put his car behind Yoshiaki Katayama (in B-MAX RACING with OIRC) at the Hitachi Automotive Systems chicane on lap two Kotaka passed Katayama at Turn one on lap three.
With Miyata gradually opening up his lead Sakaguchi closed in on Kohno, and while the two were playing a tense battle Kohno would find himself under pressure from a charging Kotaka.
Displaying impressive catch-ups as well from 11th on the grid Natori now challenged Katayama in fifth.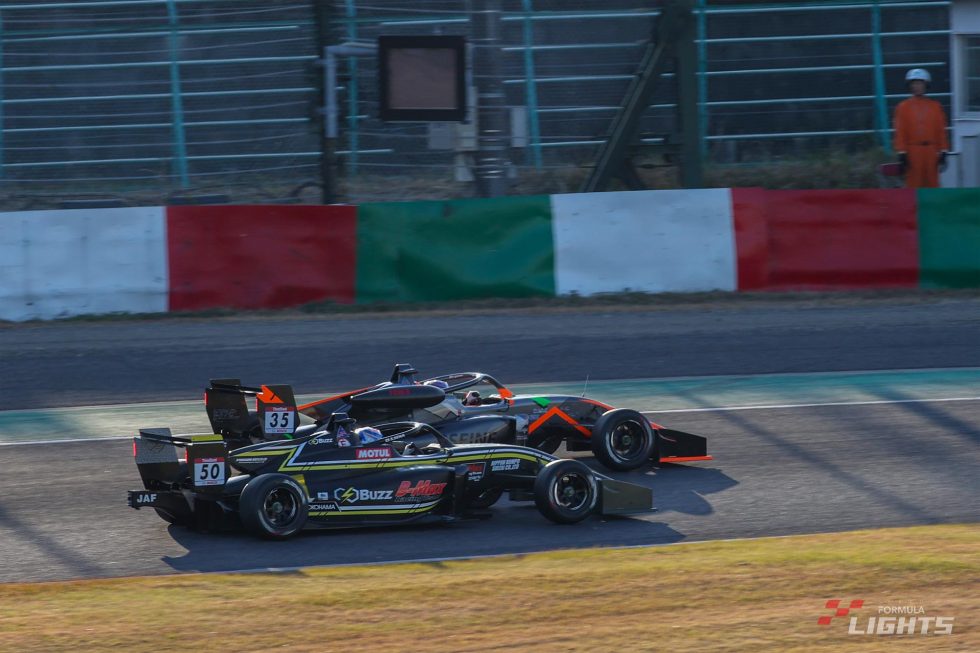 Battle of Sakaguchi and Kohno
■ Sakaguchi hit by unexpected penalty
Miyata set the fastest lap of 1m50.714 on the final lap by bettering 1m50.914 that he himself had posted on lap seven before cruising across the line for his nineth win of the season.
The battle between Kohno and Sakaguchi was concluded at the Hitachi Automotive Systems chicane on lap five when the latter finally got ahead for second spot. Kohno's overtaking attempt through Turn one on lap six to take back the position didn't work this time.
Sakaguchi finished second on the road, but was relegated to eighth due to an unexpected 30-second time penalty handed just before taking the chequered flag for dangerous driving at the start (forcing Miyata off the track).
Kohno was promoted to second as a result, his first podium finish of the season and best ever result in his Japanese F3 and the SFL career.
Third place went to Kotaka who had never stopped charging.
Katayama maintained the fourth position from Natori till the end.
Lucca Allen (in Albirex-RT) won an inter-team battle with Albirex counterpart Tsubasa Iriyama (in Albirex-RT) to secure his third podium finish of the season in sixth.
DRAGON (in TEAM DRAGON SFL) passed a master class' pole sitter Masayuki Ueda (in Rnsports320) on lap four to mark his 10th win with eighth straight victory.
Nobuhiro Imada (in JMS RACING with B-MAX) took second place as Ueda settled for third after drive-thru penalty for a false start.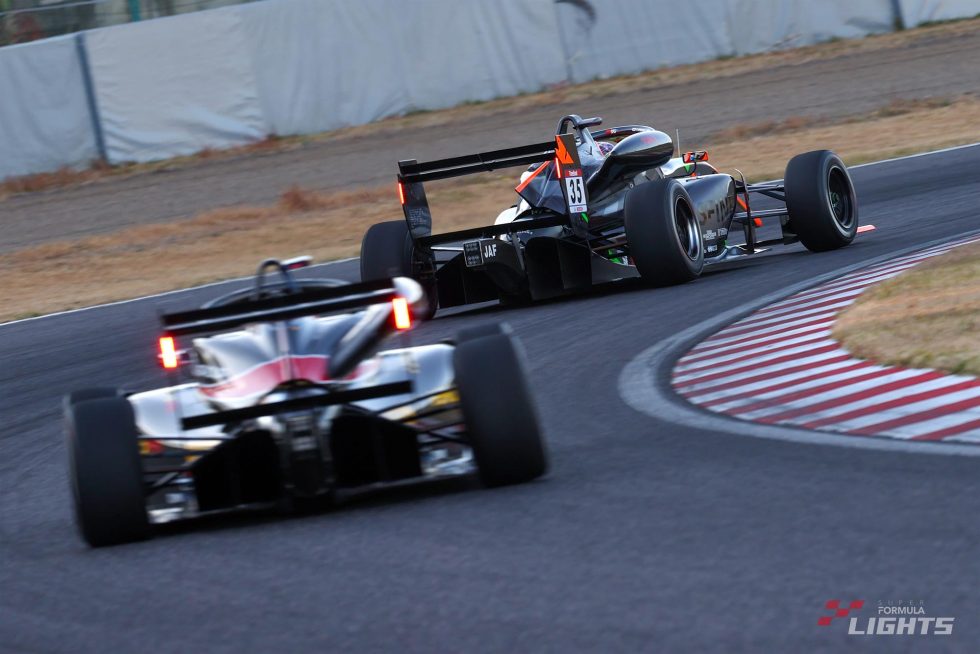 Shunsuke Kohno(RS FINE K&N 320)