Enzo Trulli claims maiden win with lights-to-flag victory
2023/07/16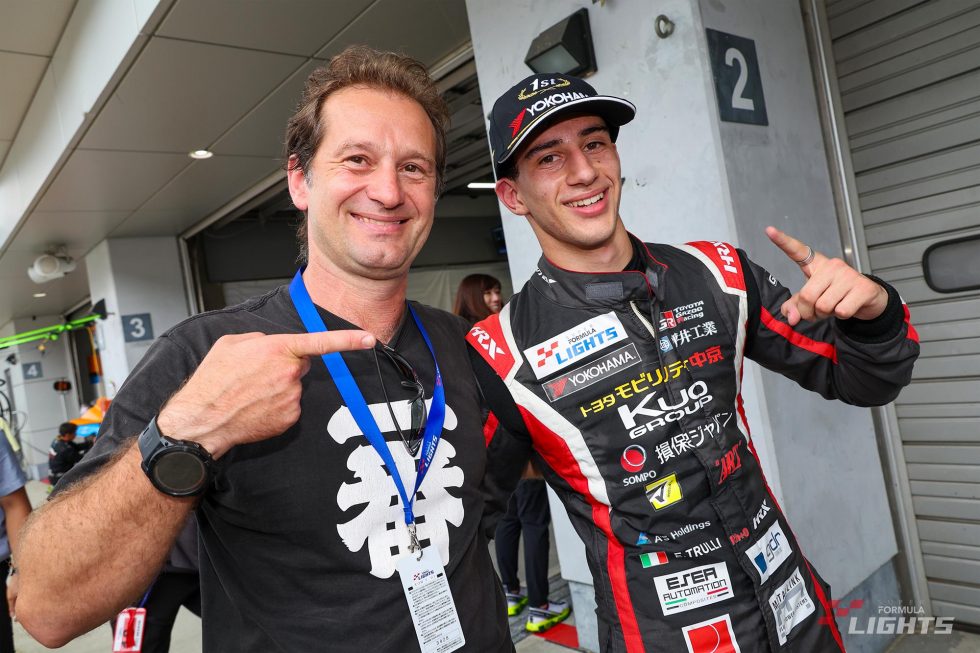 Enzo Trulli and Jarno Trulli
After two-day practice sessions in wet and unstable conditions, the 2023 Japanese Super Formula Lights championship's fourth event went into qualifying for Rd. 10 and 11, and Rd. 10 race on Saturday. It was cloudy, but hot and humid, and the track had completely dried up. All the cars had switched to the Yokohama tires since the beginning of this Fuji event.
The qualifying began at 8:20 am. With each car setting about trying to post qualifying times on its fourth to sixth lap, Enzo Trulli in Mobility Chukyo TOM'S 320 fist took the lead with 1m34.392, but it was soon bettered when Yuui Tsutsumi (Rn-sports F320) – who had been in good form in practice sessions - posted 1m34.166 on his fifth lap.
Tsutsumi looked set to take a maiden pole position, but it was Trulli who actually did it, as the TOM'S driver improved his times to 1m34.153 on his sixth lap.
Despite settling for second place it was still his best grid position for Tsutsumi. Shun Koide (HFDP WITH TODA RACING) was the third fastest.
Drivers at the top of the standings were not really good in the qualifying as the championship leader Hibiki Taira (Mobility Chukyo TOM'S 320 TGR-DC) 'screwed up' and placed fifth, and the runner-up Iori Kimura (HFDP WITH B-MAX RACING) was seventh.
Start of Round.10
■Race leaders remain close with one another in the early stages
As the lights went out at 1:05 pm under cloudy skies Trulli nailed his start to retain his lead.
Yuga Furutani (Deloitte, HTP TOM'S 320) got a sluggish start from fourth on the grid, allowing Taira to get ahead.
Trulli pushed hard from the opening lap, and the second-placed Tsutsumi kept up with him.
Taira gradually closed in on Koide in third to pass him at TGR on lap three, and then quickly set about chasing the lead two.
From lap five onwards, the field was beginning to bunch up with a pack led by Trulli up to Igor Omura Fraga (FANATEC-GRAN TURISMO with B-MAX) in eighth keeping about a second gap with one another. How would these gaps change in the closing stages of this longer 21-lap race?
The gap between Tsutsumi in second and Taira in third began to close on lap 13, the close battle over second place continuing through the final stages.
Several places back, Furutani beat David Vidales (B-MAX RACING 320) to proceed to chase Omura Fraga.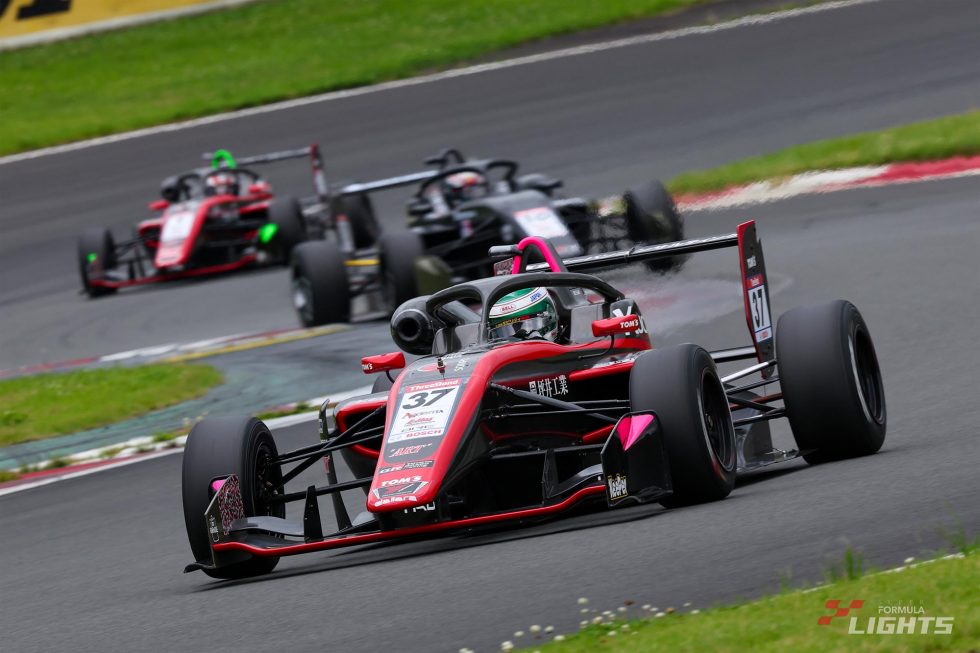 Enzo Trulli(Mobility Chukyo TOM'S 320)
■Tsutsumi fends off Taira to finish second
The gap of one another in the leading pack extended to about two seconds in the closing stages except that between Tsutsumi and Taira fighting for second place. Nonetheless, the tense situation went into the last lap showdown.
However, no changes in order were seen, as Trulli claimed his maiden win with lights-to-flag victory, and Tsutsumi fended off the closely chasing Taira for his first podium finish in second.
Trulli also picked up a point for setting the fastest lap of 1m35.248 on the final lap.
Fourth and fifth places went to Koide and Togo Suganami (JMS RACING WITH B-MAX) respectively, with Kimura rounding out the top six.
In the master class Nobuhiro Imada (JMS RACING with B-MAX) grabbed the lead on lap two and made it to the chequered flag with 4.208secs advantage over DRAGON (TEAM DRAGON B-MAX 320) to take his fourth master class win.