Natori beats Sato for his 6th win
2021/06/21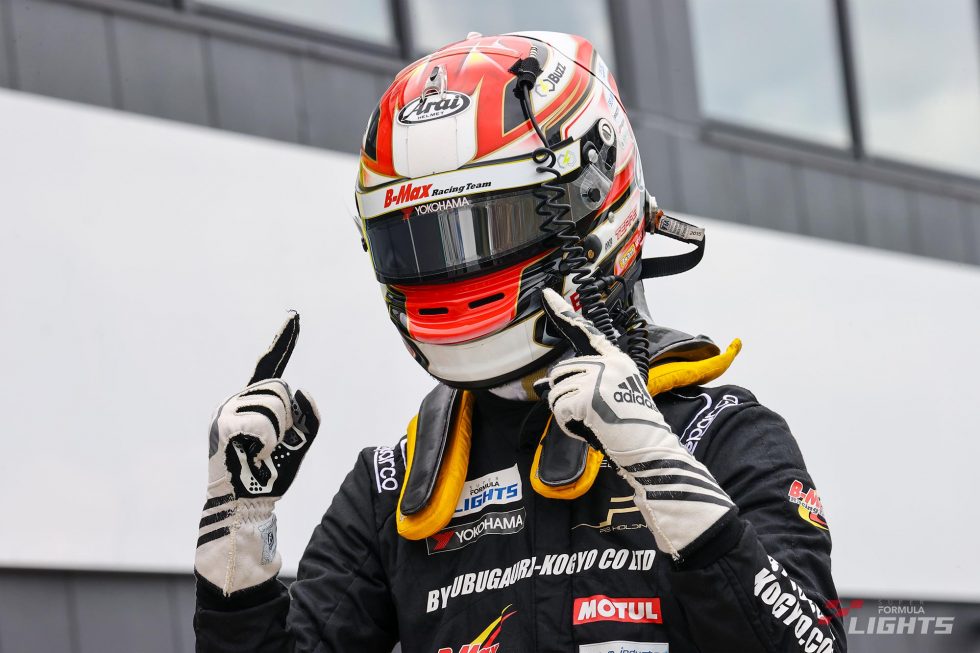 Teppei Natori(Byoubugaura B-MAX Racing 320)
The rain, which had fallen all day on Saturday, stopped during the night, and despite wet patches still remaining on the straight and some other places under cloudy skies the record line was almost dried on the final day of Buzz presents Japanese Super Formula Lights' Sugo event.
In the Saturday's qualifying Ren Sato in TODA FIGHTEX was able to improve his times after the red flag interruption, but it was Teppei Natori (Byoubugaura B-Max Racing 320) who took pole position for Rd 11 with his second-best time of 1m30.107. Sato placed second ahead of Giuliano Alesi (Deloitte. TOM'S 320), who had gone lights-to-flag in Rd 10.
The fourth and fifth spots on the grid were secured by the same pair of Hibiki Taira (Kuo Corolla Chukyo TOM'S F320) and Shunsuke Kohno (RS FINE K&N 320) as in the previous round.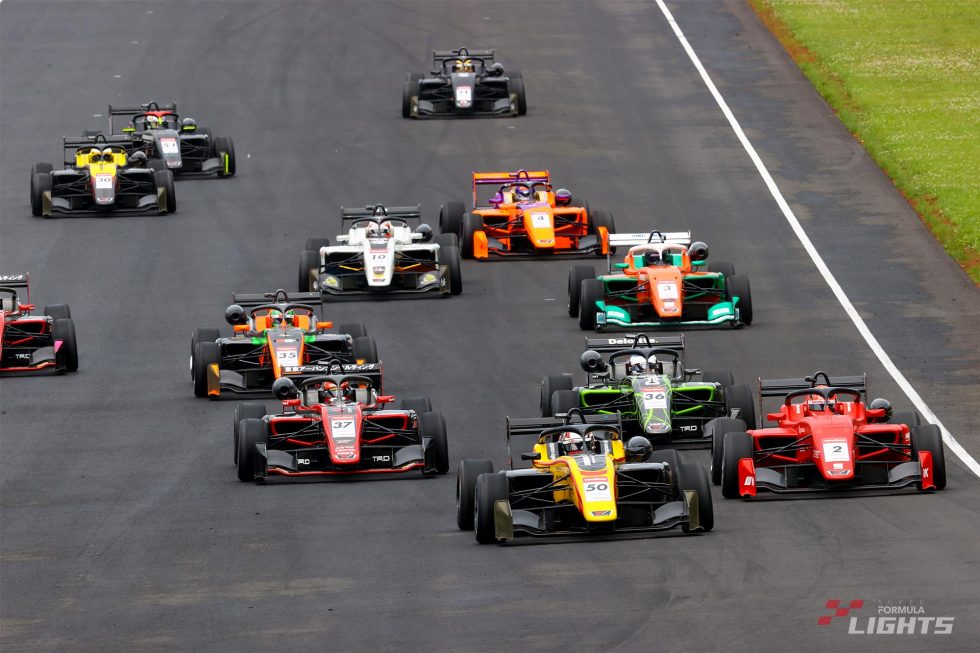 Start of Round.11
■An accident occurs just after the race start
Each car came out to the track at 9:55 am and left the wet grid for the formation lap at 10:20 am.
The front row starters both got a good start and entered Turn one in the grid order, while a fast-starting Taira snatched third spot from Alesi.
A little back, Kohno went three-wide with sixth-starting Seita Nonaka (Kuo Corolla Chukyo TOM'S F320) and seventh-starting Lucca Allen (Albirex-RT), with himself sandwiched in between, and Nonaka's wide run towards the outside caused a contact with Kohno's tyre, the RS FINE driver being launched in to the air and flipped around.
Both Kohno and Nonaka were able to extricate themselves, but the safety car was summoned to remove the two cars.
At the restart on lap five Natori held off the other race leaders to come out of Turn one in front of Sato, Taira and Alesi.
Atsushi Miyake (MAX RACING 320) closed in on Allen and overtook him around the outside of Turn one on lap seven for fifth spot.
In trying to build up a healthy buffer Natori broke his own fastest lap of 1m14.135 posted on lap seven by setting the fastest lap of the race with 1m13.925 on lap seven, but Sato didn't easily allow him to extend the lead to over two seconds.
Behind the lead two Taira went into three-way battle with chasing Alesi and Miyake.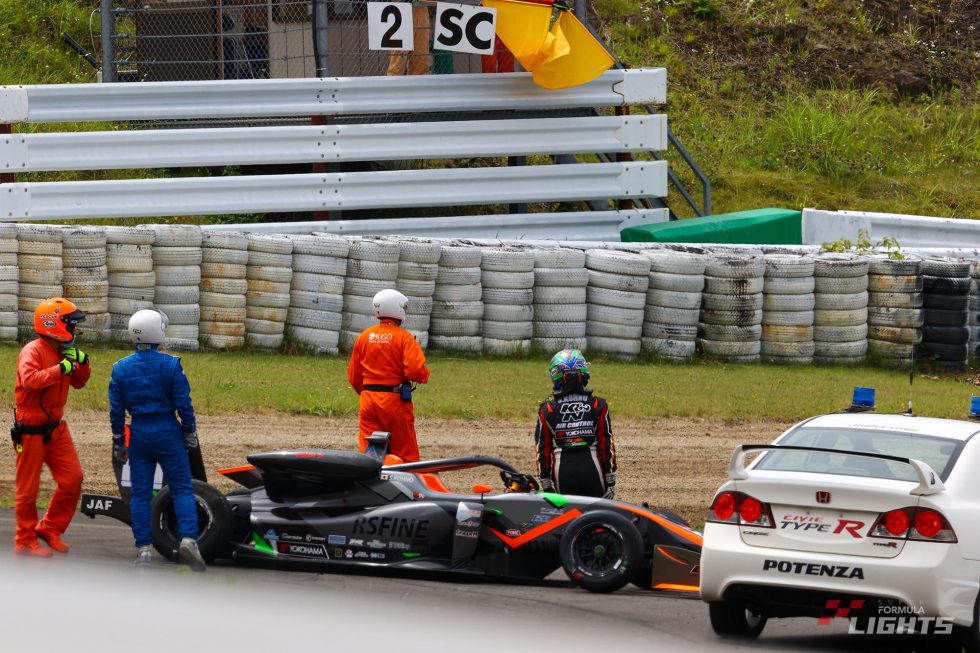 Shunsuke Kohno(RS FINE K&N 320)
■Natori holds on for victory as Taira completes the podium
Natori's lead had remained between one and two seconds until lap 13 when Sato slightly ran wide, seeing the gap open up to around three seconds.
Natori ended up 2.883 secs ahead of Sato for his sixth victory of the season and extended his championship lead to 31 points by scoring full marks including one from setting the fastest lap.
Sato's result brought him the first podium finish since Rd five at Suzuka.
A nose-to-tail scrap over third place came down to the very final lap, with Taira retaining the position till the end for a back-to-back podium finish. It also marked the end of Alesi's streak of podium finishes since Rd three.
Miyake was fifth. Allen was sixth, his first point-scoring result of the season.
Nobuhiro Imada (JMS RACING with B-MAX) built a comfortable lead early on to notch up his sixth master class win of the season.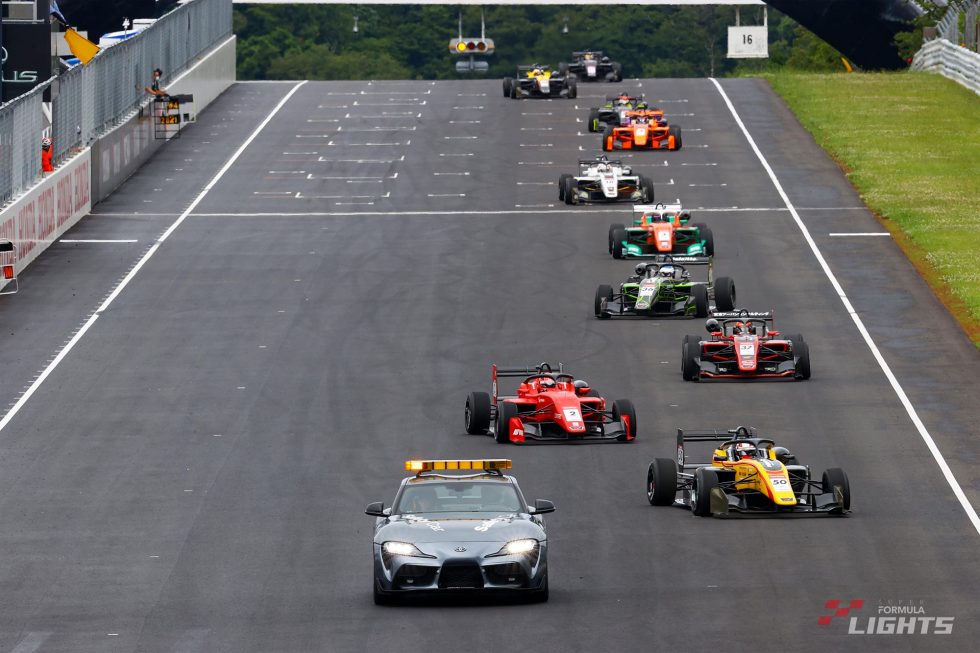 Safety car run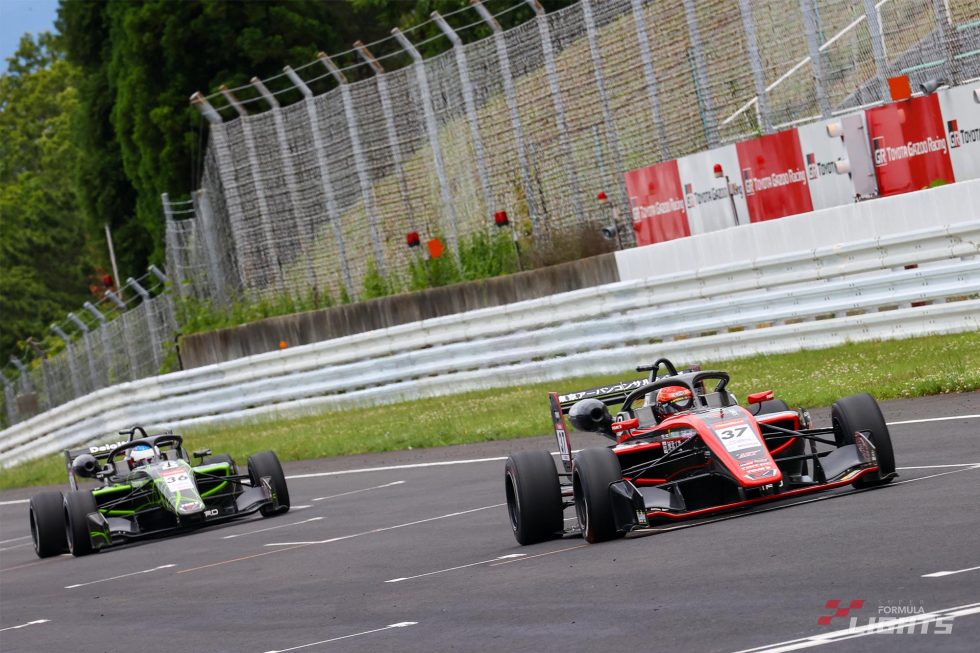 Hibiki Taira(Kuo Corolla Chukyo TOM'S 320)