Shun Koide claims lights-to-flag win with a perfect race
2023/09/10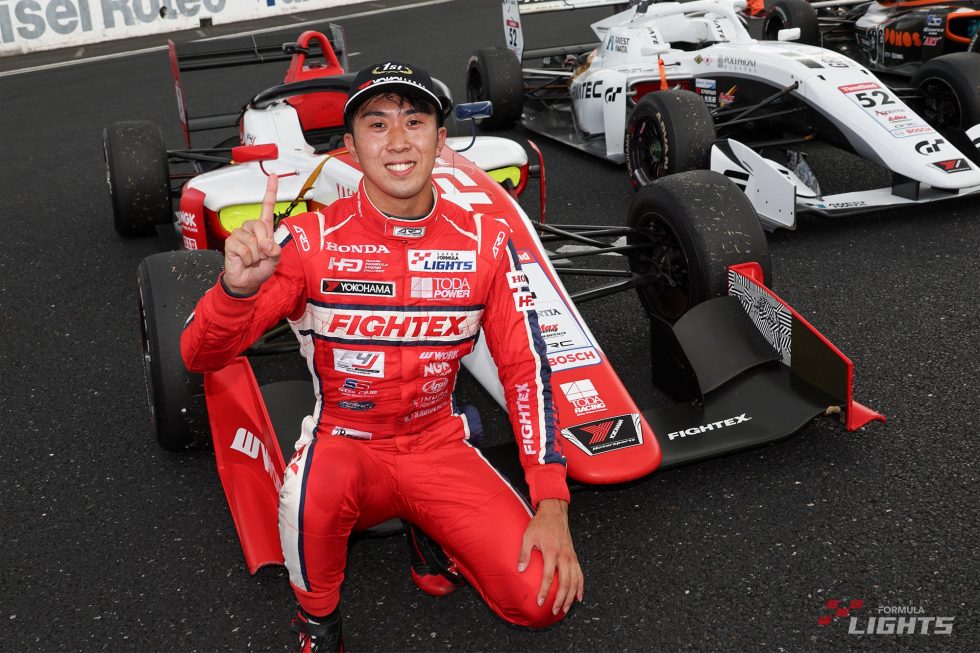 Shun Koide(HFDP WITH TODA RACING)
After the six sessions over three days qualifying for Rd 13 of the Japanese Super Formula Lights championship got underway at 10:30 am Saturday with summer skies once again spreading over Okayama International Circuit.
Nobuhiro Imada in JMS RACING with B-MAX was the first to enter the track when the track was opened, and the others followed one after another.
Shun Koide (HFDP WITH TODA RACING) quickly posted under 1m25 as each car launched attacks on its fourth to fifth lap, and he improved his time to 1m23.952 on a lap later.
Although Seita Nonaka (PONOS Racing TOM'S 320 TGR-DC) and Igor Omura Fraga (FANATEC-GRAN TURISMO with B-MAX) each put up a good fight with times under 1m24.500, Koide secured his first SFL pole position.
Omura Fraga was a close second with a time of 1m24.119. Third was Nonaka and fourth was Iori Kimura (HFDP WITH B-MAX RACING).
Championship leader Hibiki Taira (Mobility Chukyo TOM'S 320 TGR-DC) unexpectedly failed to qualify. He wasted time with an off at Turn one, and could not make it to the chequered flag after coming in for tyre change. His best time of 1m28.647 was also erased for exceeding track limits.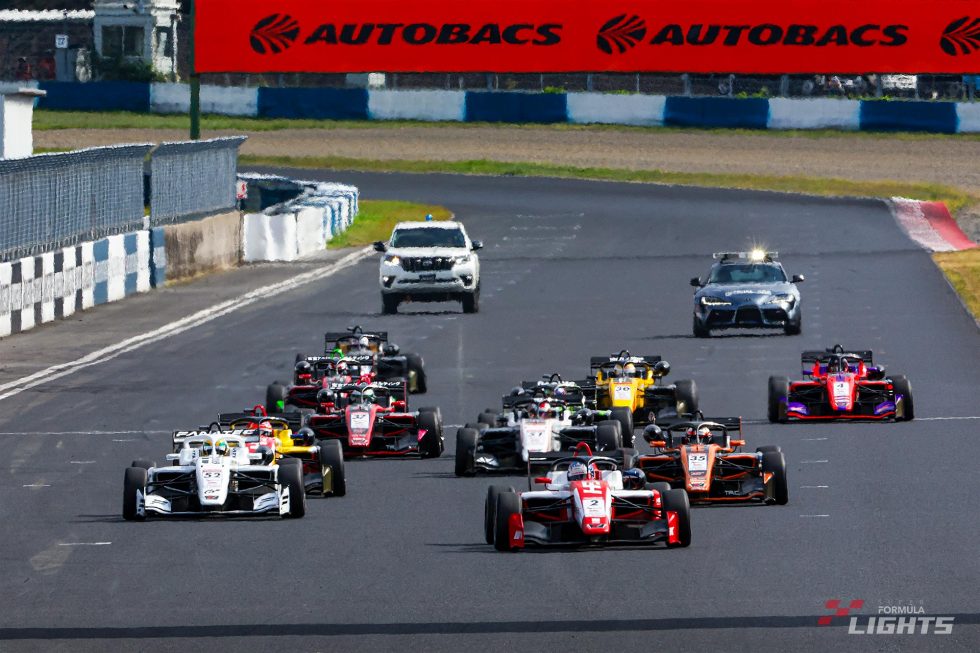 Start of Round.13
■Kimura unexpectedly drops down the order
The sky was slightly overcast when the pit exit was opened but by the time the formation lap started at 2:50 pm, it had cleared up and the grid was bathed in strong sunshine.
Koide made a clean getaway from pole to retain the lead heading into the first corner ahead of Omura Fraga.
Having started from fifth, David Vidales (B-MAX RACING 320) mounted a furious charge on Nonaka in third and Kimura in fourth, but Kimura held on to his spot. On lap two, instead, the Spaniard found himself under pressure from Enzo Trulli (Mobility Chukyo TOM'S 320) and Taira – who had charged from the back of the field.
Gap between Koide and Omura Fraga gradually opened up, and behind them a fight for third between Nonaka and Kimura gradually intensified.
Further back, a tussle over fifth broke out with Vidales heading Trulli, Taira and Yuga Furutani (Deloitte, HTP TOM'S 320). Taira was waiting for any opportunity to overtake to finish inside the points.
There was drama at the halfway stage when a transmission trouble forced Kimura to slow down on lap 11, dropping him down the order to eighth. This promoted Vidales to fourth behind Nonaka, and Trulli to fifth. Taira finally moved up to sixth.
The trouble was soon resolved, and Kimura immediately passed Furutani for seventh, and then closed in on Taira before forming a pack with Trulli at the front.
On lap 18 Taira overtook Trulli for fifth, and then started chasing Vidales.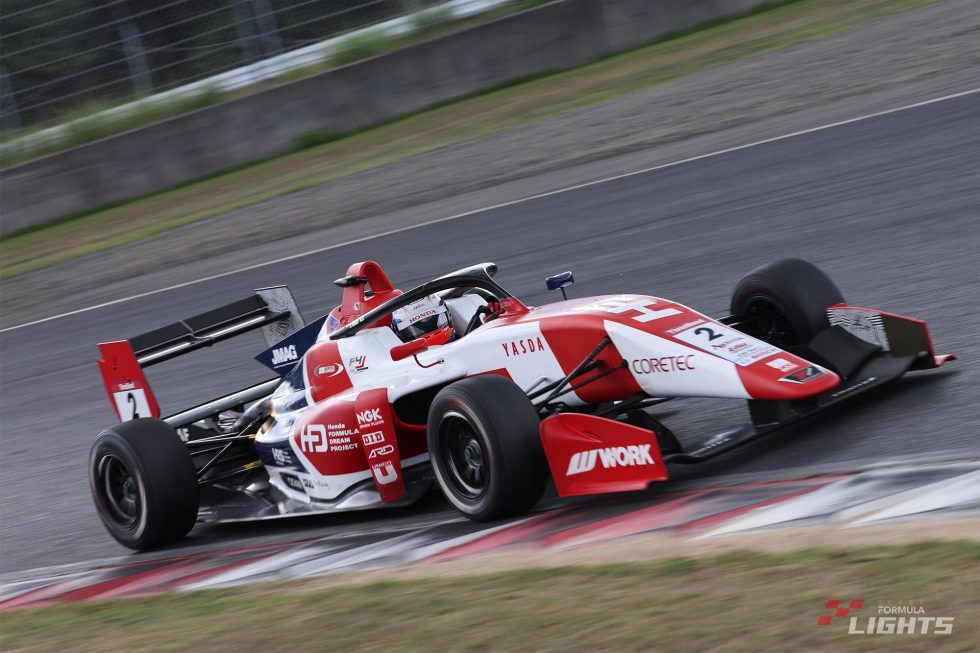 Shun Koide(HFDP WITH TODA RACING)
■Battles for P4 to P7 come into the final stages
Koide was never challenged to end up 5.370secs lead at the line, delivering TODA RACING its perfect home win with a bonus point for recording the fastest lap of 1m25.380.
Omura Fraga got second ahead of Nonaka.
A scrap for fourth place between Vidales and Taira continued to be tense till the end with Vidales holding off Taira for fourth. Taira turned in a superb recovery drive to from the back of the grid to seal fifth.
Kimura had a contact with Trulli on lap 23 while running side-by-side into the hairpin, sustaining damage to his suspension and coming to a halt at the side of the track.
Trulli finished sixth on the road, but would be given a 30-second time penalty for the contact, and be relegated to seventh behind Furutani.
In master class in the meanwhile, Imada took a lead from a slow-starting DRAGON (TEAM DRAGON B-MAX 320) at the start, and despite a late charge from his rival, held on for the class victory by 0.595 secs.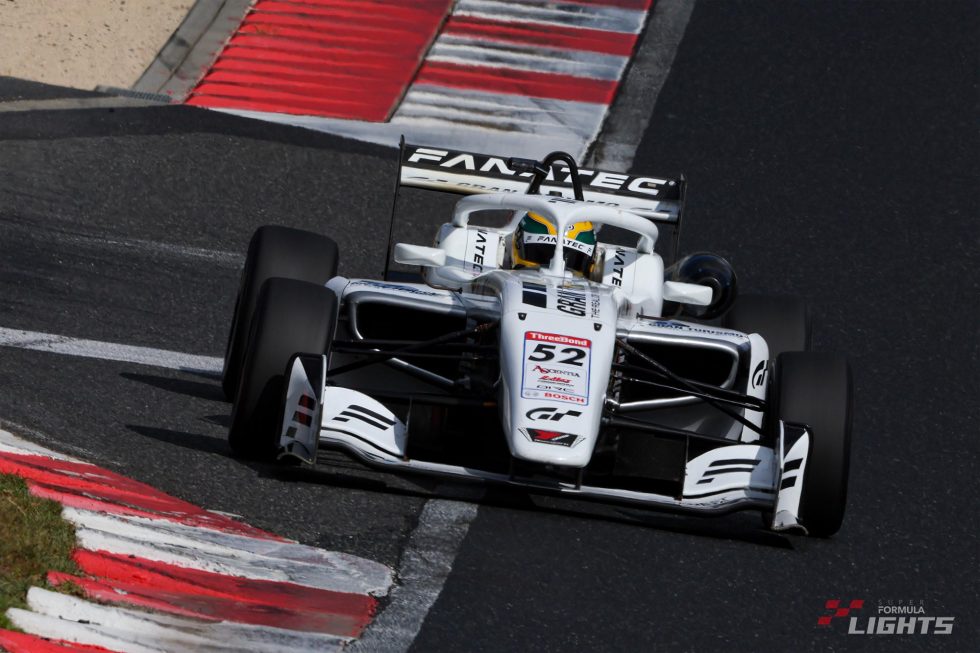 Igor Omura Fraga(FANATEC-GRAN TURISMO with B-MAX)